Bitter remoaner insufferable woketard 3Dice shill
webby

Joined

Mar 25, 2012
Location
@Unibet Rep
Hopefully I'm missing something here and someone can show me how stupid I'm being.....
However, I can't find a way to list slots by provider at
Unibet
. This is absolutely my preferred way to find a slot I want to play, and also how I tend to branch out into finding new games to play, by trying other slots from the same provider when I find a slot I like.
There are quite a few categories such as these, (and no providers is not an option under 'More'):
Whereas over at 21Casino for example, you get this:
Which leads to a nice alphabetised list, click on a provider's name, get all the slots from that provider.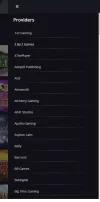 Typing the provider name into the search box at Unibet doesn't work either (off the top of my head this works at
LeoVegas
, for example).
So that's all I want to do, list slots by provider - is there a way to do it?
Thanks