Really getting peed off with them...
Email is direct from them (
[email protected]
).
I have emailed them saying to stop spamming me.
I have also used the unsubscribe button numerous times, it confirms I am unsubscribed but still they keep emailing me (First time I unsubscribed was over a month ago).
Something more sinister is "black diamond casino". I guess its their sister site or something. (email
[email protected]
)
They are sending emails that are hiding unsubscribe buttons so people cant unsubscribe... take a look at this: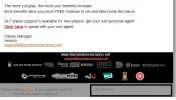 Notice The bit I have put a box round?
"Click here to". "Unsubscribe" is to the right of that which is a live link, however you cant see it as they have made it the same colour as the background. Also below it is "Report Spam". Again a live link which is completely hidden (I guess they have the report spam button to comply with Spamrobocop). This wasnt a hyperlink that changes colour when clicked... The email came through like that before any link was clicked.
Very sneaky. Not the most ingenious plan but it may fool a few and keep them on their spam database for a while longer.
Another is emails titled "Read your new message before it expires". All the same format, mostly from RCH casino (Rich reels... Typical casino rewards). This 1 comes from an email @ Newsepsilon.com. I have unsubscribed too many times but still they keep contacting me.
EDIT:
Only just realised in email it says blackdiamond are topgame... Me thinks that says it all