After losing entirely my first deposit with 100% bonus of EUR 100 at Betsonic, I decided it's not a good-luck place for me. Then after a few months they've sent me another similar offer due to their website remake, and I've decided to give them a second chance. Deposited EUR 100, received 100% bonus, made 2 bets of 100 (the maximum by their T&C, which I always carefully read, of course), lost the first one, but the second, made on a big sports underdog, won 1176. Maybe not an unlucky place for me, after all? So I've continued playing to fulfill the rollover, while not exceeding the max bet of 100, and combined a few INDEPENDENT bets of 100 on one slip (a standard time-saving tool at many sportsbooks), a player select a few events and then bets the same amount (100 in my case) on them all, and since they are completely independent separate sport events, of course they count as separate bets, even though they are "united" in one slip for saving time (attaching printscreen of this standard option and my bets+balance at Betsonic). Completed the rollover of 1400, while continuing the lucky streak and rising until 2534, and requested withdrawal. However, Betsonic told me they only count up to 100 for rollover per each bet, so my two bets of 500 (5*100 of independent bets, united in one slip) and 6*100 only counted for 100, for rollover requirements. Being a peaceful person and having a lucky streak there, I didn't argue that (maybe I would've won more while betting on this lucky streak), and accepted their claim I should wager another 900, after all, I like gambling, especially while being lucky! But from that point on, all hell broke loose from BetSonic and they've decided to turn into very bad losers and simply fraudsters, since they didn't want to admit their loss of EUR 2534, which is not even close enough for a sum for which any REPUTABLE casino would even think of ruining the reputation and become fraudsters, it's not millions we're talking about. They decided to screw me, whatever it takes, and with whatever the consequences.
First they've demanded I'll do the remaining rollover 900 with bets of 1(!!!), lying that "their traders limited you at 1 per bet" (a lie which they later admitted, in writing, it was an obvious revenge/screw me attempt), and when I've realized they are not playing fair and are only after avenging and screwing me and 99.99% will later find ridiculous excuses to confiscate my balance even if I followed their trick and made 900 bets of 1 (my obvious assumption later become 100% true, unsurprisingly), and decided not to waste my time on these silly 900 bets (and THEN be confiscated by their lame made-up excuse) but tried to get them straight at that point, first trying to talk sense to them myself, then with Gambling Grumbles - they've only continued with their fraudulent line and closed my account with all my money there, for me only trying to make them behave well and straight, as a casino should behave in this industry - rather than screwing paying at will and deciding to confiscate whichever moneys they want. They even had the audacity to point me to Curacao "regulator", knowing ahead it will do nothing, just as an ass-cover. I've tried it, and sure enough, it did nothing, with Betsonic replying to them and me in such childish BS it was funny and sad altogether - if I posted their replies here (which I might do), you wouldn't believe their smugness and audacity, they are not even ashamed to be that corrupt and answer complete BS to me and their "regulator" . They've tried about 5 different lame excuses for robbing me, with me easily refuting their excuses time after time, and eventually they thought they've found the "winning" excuse by accusing me of overbetting, these 6*100 and 5*100 bets instead of their max bet 100. And when I've explained them the simple true (which they also have, of course, all the history and records), that it were NOT single bets of 500 + 600 but a simple bet-unification in one slip of 5-6 bets of 100, they decided they don't really care about the truth (how surprising) and stopped communicating with a stupid slam of the door "We've explained to this player and the regulator more than once why his money is confiscated, bye". Another BS by these bad losers and fraudsters.
Lawyers have an expression, "If the law is on your side, argue the law. If the facts are on your side, argue the facts. If neither is on your side then bang the table."
ThePogg also wasn't able to persuade them to behave as they should, and neither did the very experienced Max (Casinomeister's PAB manager), all they got was another redirection to talk to Curacao "regulator" - "Talk to the hand!", in simple words.
So any player thinking about playing there - it's very simple: as long as you lose, or maybe even win A LITTLE - it's fine, they like you and behave well. As soon as you have luck and want to withdraw substantial winnings (a mere EUR 2534 were enough for them to shed their "nice" masks and show their real color of corrupt fraudsters) - BEWARE, you are HIGHLY likely to be completely balance-confiscated, screwed and bullshitted all the way through. They are "creative" like kids with their silly BS excuses and have an iron "defense" - "Talk to the hand, hm, pardon, our Curacao regulator". Another disgrace for the industry. Since I cannot and will not tolerate such an outright scam and behavior, and must retaliate and restore justice and regain my rightfully hard-lucky-earned money, I'm consulting with a few lawyers about how and where to sue them, a long and tedious process - just another indirect damage caused to me by these scammers, not considering the direct ones.
For further details see:
These are also useful to see who Betsonic really are:
"Moderator: I do not think you have the ability to take the post down do you? And if it were me I would not be concerned by their lame threats.
I'd say the book knows they are wrong and have effectively admitted it by giving you half your money. I'd just submit the complaint form and let an SBR agent deal with the book for you and not respond at all. "
Another objective industry expert says what he thinks about them... Their profile is quite clear, IMHO.
Old / Expired Link
Old / Expired Link
etc., there are plenty of complaints about them if you just search the web with BetSonic + "problems" or "rogue" оr "scam" or "fraud". Which is what I did, when I understood they are unscrupulously screwing me, taking advantage of their non-existing "regulation" and demanding me to play the silly 900*1, after which, undoubtedly, they'd come with some lame excuse to rob me anyhow, AFTER having me wasted lots of time on these stupid 900 bets of 1. So I was forced to start the fight against these crooks immediately via GamblingGrumbles, and then ThePogg, PAB, etc., they've even admitted in writing a few times their "900 bets of 1 since the traders limited you at 1 per bet" demand was a pure lie (as if I didn't know it) designed to screw me, after they got angry with me winning too much for their liking, and behaved in the same smug, unscrupulous, corrupt and fraudulent way ever since.
I've tried very hard to save the publication in many major forums as a doom's day weapon, and still tried to talk sense to them without burning them completely, though they are as stupid as they are corrupt, it seems

To take all this negative PR from major mediators, risk a big lawsuit from me etc. is much more damaging than simply doing the right thing and paying me a non-substantial (from a SERIOUS casino's standpoint, that is) deserved winnings, this is a terrible and dumb business management, speaking as an experienced entrepreneur myself.
[Max says: uploading two attachments at the OP's request.]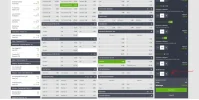 Last edited by a moderator: