Unofficial T&C's Editor
Staff member
webmeister
PABnonaccred
PABnononaccred
CAG
mm3
Here we go again! FFS! It's hard keeping up with these bastards lately. Usual Cup-o-cocoa shit, take UK players unlicensed, hid the 8084/JAZ 'licence' as tiny as possible in the bottom left of the 'about us' etc.
I was able to sign up from the UK as you can see: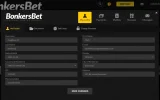 By the way, they offer unlicensed
BTG
slots to UK players too!