The annual report (2010) from Net Entertainment was released last week. I have read it and it was very interesting. Actually fun to read. Yes, they are a publicly traded company so they are legally required to publish information. But they also publish information that goes beyond what is legally required. It shows great commitment to openness.
Their report was so nice, both graphically and financially, so I have copied some interesting parts.
The first I want to show is the estimated geographic distribution 2010 and expected growth. This is from their annual report, but their source is H2 Gambling Capital January 2011. This overview applies to the gambling marked in its entirety (as a whole, regardless of provider)
I also want to show some interesting things about NetEnt. As I have said before, they are truly an underestimated provider in this forum.
First its the financial ratios for NetEnt in the year 2010 (SEK 100 = ~US 15,7). Great growth.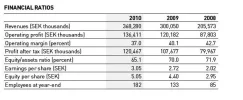 By the way, NetEnt estimates their marked share to approximately 8%
Numbers of game transactions for NetEnt passed 6 billions last year. (+55% from 2009!)
I find the age/game distribution interesting. No surprises of course, just interesting to see.
Finally, I read something interesting about administration tools. Nice to see how they keep an eye on us

And of course, Mister Jack Hammer on a mission.