Unofficial T&C's Editor
Staff member
webmeister
PABnonaccred
PABnononaccred
CAG
mm3
ALCHYMEDES by Yggdrasil:
No, it's not a slot about winos and street drinkers....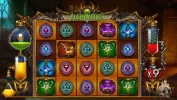 New one out tomorrow RTP 96.20% 5 reel and 4 rows with 60 lines L-R and R-L.
Multipliers for successive levels when you cumulatively fill all reel positions with wins making those positions gold in the background. There's over 15000 all-ways expanding Wild patterns too and a new one is randomly allocated to every level you reach. Once 200 levels are complete on the game at that casino, all upgrades are in play.
When you complete a each level you can choose red multiplier or green Wilds potion to the mix for the next one and so-on. No bonus round as such though. Looks fun and what better way for the Yggdrasil 'compensation' to work like in VGB than to have more cumulative achievements.....