Bitter remoaner insufferable woketard 3Dice shill
webby

Joined

Mar 25, 2012
Location
So I did 'it' today and placed a max bet by accident, my first time ever, and it was a doozy!
£125 (!!!) gone at the press of a button on a slot called Trip Trap Troll at 21Casino. I was looking around providers I hadn't tried before and loaded this game in (so I wasn't familiar with the interface), if I'm entirely honest I don't quite know how I managed to do it, part of the problem is that the bet level 'rolls over', so if you click on the 'decrease bet' button to the minimum bet level of 25p,
and then click the same button again
, it then changes the bet to £125, and I think that's what I must have done.
I immediately opened up a Live Chat and the person I got was polite and helpful, and understood the problem, but apologetically informed me that all bets are final with no chance of a review or refund.
As you know I'm a low-roller, the biggest bets I've done at 21Casino were (IIRC) £1 when I was on the SUB, and since then I've only done minimum bets or up one level from minimum bets, so between 20p and 40p. As such the £125 spin is clearly a horrible mistake, but no joy on it being refunded. And yes I completely understand the counter-argument of 'Well what would you have done if you had landed a win? Given it back?'
So yes it's my fault and I should have been more careful, but still, ouch.
Just to show you what I mean, if you click on this button here down to the minimum bet level of 25p: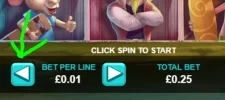 And then you click on the same button one more time, this happens:
And I did indeed press spin and made a £125 spin.
The 25p spin I did afterwards was my 'what the fuck did I just do?' moment......