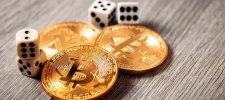 Hi guys

Today I would like to tell you about some dice games you can play with cryptocurrencies.
Aside from slot machines, dice games are popular pastimes that people have loved to play throughout the years. Gambling experts and enthusiasts alike continue to enjoy these games on digital platforms.
To make the most of the journey ahead, you'll need to equip yourself with some sure fire strategies to help boost your gameplay. Get to know the best crypto dice games and their winning strategies in this guide.
All you need to know about crypto dice games
With uncomplicated rules and a whole host of different variations to pick and choose from, crypto dice games are starting to bring in the future of online gaming. What makes them stand out?
These games may have differences in terms of how you play it, but variations generally follow a standard set of rules in playing crypto dice games. Therefore, you can still expect to easily pick up any crypto dice games you want and get a chance to win massive amounts of payouts.
How to play crypto dice games
You'll have to remember the following set of
basic rules to get you started
:
Select the minimum and/or maximum bet value of the game you are playing.
Decide on the number that you are going to bet on.
Choose whether you want to roll over or roll under. This means what number you have to roll over or under based on what you picked to win.
Select the 'Roll the Dice' button to start the round. The game will do the rest automatically. A random number generator (RNG) will supply the winning numbers.
If you win, you will get the calculated payout. If you lose, you get nothing.
Knowing the basics of crypto dice games will help you decide on how you would like to bet. If you know the objective of the game, it will be easy to predict the outcome of the roll. Understanding these basics will also give you ideas about the Bitcoin dice strategy that will be useful during the gameplay. You can even form your own crypto dice strategy.
Crypto dice strategy guide
Strategy on alternating patterns
Look for any pattern in the gameplay. They usually come in sets of 3, for example, you roll under 50, then over 50 and under again. There's a good chance that this pattern will end soon.
Martingale crypto dice strategy
Increase the amount you bet in stages when you are on a losing streak. As such, when you finally win a bet, the payout from the bet covers the losses incurred from the previous losing streak. For example, you lose a 5 mBTC bet to roll under 50. If you lose once more, wager a 10 mBTC bet to roll under 50. If you take a loss again, bet 15 mBTC to roll under 50. This pattern is repeated until you correctly predict a roll.
Break-Even Martingale strategy
Similar to the standard Martingale crypto dice strategy, the break-even Martingale can help you hold out against a losing streak for a longer period of time. It staggers the staking process, slowing the rate at which stakes are increased. For example, you lose a 5 mBTC bet to roll under 50. Instead of increasing your bet on the next round, you bet 5 mBTC again. If you lose once more, bet the same amount again. If the second bet loses, you then increase the bet to 10 mBTC.
Paroli Bitcoin dice strategy
The purpose here is to take advantage of winning streaks, allowing you to minimise losses and capitalise on winning streaks. To do this you'll need to decide on the base stake. Then, after each win, you will double your bet. After three progressive wins, you will cease to raise your stake and wager only your base stake after a loss.
Best crypto dice games you can play
Want to focus on learning how to use a Bitcoin dice strategy in one of the best crypto dice games on the market today? Here are our picks:
Old URL
Provider: Evolution
RTP: 99.17%
The aim of Evolution's Craps is to predict the outcome of the roll of two dice. Craps is actually quite a simple game that moves in different stages. The first stage is the Come Out roll, the first roll of the dice. The second stage is the Point roll. In Craps some bets are resolved after one roll while other bets can last several rolls before they are resolved which makes the game more entertaining.
The user interface in both Craps and First Person Craps will guide you in what bets you can place, and even show potential winnings for your bets. You can also place bets by choosing all available bet spots for a specific total of the dice. But there is no loss of excitement! You will constantly be updated on how the other players are playing – and how many of you are rooting for the same number.
The game will be attractive to both experienced and novice players. Playing our live Craps is a great opportunity to learn the game in a more controlled environment.
Old URL
Provider: OneTouch
RTP: 97.22%
If you're someone who wants a fast-paced dice game where you can rack up wins quickly, OneTouch's Sic Bo
Old URL
is for you! It's a highly entertaining dice game that offers a lot of betting options and a chance to win as much as 50 times your wager on every roll!
Sic Bo is played using three dice. Using chips with denominations between 1 and 100, it provides you with an option to place your bets on many outcomes at the same time, so every roll can win in multiple ways.
This crypto dice game has a layout that is extremely simple and easy to navigate. The red accents nicely complement the green background of the game, drawing from its Asian roots for its unique aesthetic.
Old URL
Provider: Evolution
RTP: 96.03%
Lightning Dice is an easy yet deeply engaging crypto dice game that also offers random multipliers of up to 1,000 times your stake! Its allure also comes from its live table game style, allowing you to interact with various elements in the game.
It also features a superb User Interface to go with its stunning black and gold Art Deco aesthetic. You will also be greeted by a charming game presenter who you can communicate with throughout the gameplay for a more interactive experience.
Get a clearer look on the result of each round with the help of camera close-ups. This feature lets you follow the dice as they tumble down through the tower's maze-like section and come to a stop at the base.
You only have to bet on what the total of the three dice will be when they draw to a stop at the base of the tower. You also have the option to put a wager on all 16 bet spots at once with the 'Bet on All' button.
Using crypto for dice games
Crypto has grown throughout the years, so it's no surprise that it is now integrated into the system of online casino gaming. Aside from the booming market of Bitcoin, there are also many other cryptocurrencies you can use to play crypto dice games.
Here are some of the reasons why you should use crypto for dice games:
Faster transaction speed. Unlike regular money transfers, crypto transactions will not take more than a few hours regardless of how large the amount is or where you are located. This also means that you can get quicker payouts and enjoy a more convenient withdrawal option.
Lower transaction fees. With no third parties involved, crypto transactions have lower fees than other banking options.
Security. Fraud is almost impossible to be done with crypto transactions because of decentralization. This means that your crypto transactions will remain anonymous, therefore they cannot be seized.
Are you ready to play the best crypto dice games?
Get your hands on some crypto coins and discover the excitement and adventure of winning. There's nothing stopping you from playing the best crypto dice game from your desktop, tablet or mobile anywhere, anytime!
Let me know if you need or want any help setting up the account. Just send me a PM and I will explain how to buy coins and make a deposit to start a journey in a cool crypto casino world

Cheers,
Karl
Bitcasino.io
Last edited: