32RED removing online "take a break" option
Until recently you could activate the "TAKE A BREAK" option directly on the 32RED website, you can see the change on the screenshots below. This has now been removed and you have to email support to have it done.

This is absolutely atrocious from 32RED and in no way in line with "RG" guidelines.


Probably too many players were using it, beating 32RED at their own game by taking the break to avoid reversals when they had a WD pending.

Now they make it more difficult and leave the account active for longer as nobody can guarantee that your email will be dealt with immediately after you sent it. It takes often hours or 1 day to get an answer from support, hence more time for the player to reverse

WTF 32RED, that is just so pathetic, all i can say.

They have such a stellar reputation, yet decide to utilize such conning tactics to potentially fleece winning players

......... makes me

32RED has just lost even more of my support, respect and future deposits.

1. Screenshot 27th March 2016
2. Screenshot Feb 2016 from WaybackMachine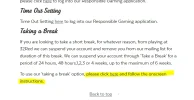 Last edited: