Good(w)ill Ambassador
CAG
MM
Joined

Apr 27, 2009
Location
We're rolling up into holiday season and year's end.
What are some of the things you'd like to see in 2020?
Be as broad as you'd like, personal, industry, casinos, slots
Ex:
A new exciting games mechanic rather than further retreads
New or some set and consistent regulations
A purchase you've been gunninng for.
Came across this sweet man cave ...not like I've 9k to toss around but boy, be nice for the hot tub I finally got in 2019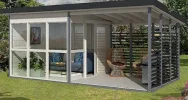 Sky's the limit..have at 'er.