Dormant account
PABnononaccred
Joined

May 12, 2016
Location
Im going to give a more detailed version about the case in the thread, but since i was logged out before i managed to post it last time, i will write a short version first just to get this posted.
I deposited money to 18bet.com using my MasterCard that's connected to my bank account, it usually takes 5 banking days for 18bet.com to book my payments.
I have gotten confirmation from my bank, together with documentation from their own transaction systems, that the deposits indeed was accepted, and that the only thing that remains is for 18bet.com to book the payments.
18bet.com is refusing to pay me out my winnings, and here is the statements/questions from them sent to me in their last contact with me, with all the sensitive information masked, together with my answer to them to each and every question:
-
"As you have already been informed couple of times credit card transaction processing takes a bit more time comparing with other payment methods. "
Answer: Yes, I have noticed that deposits made with MasterCard to 18bet.com takes around 5 banking days to get posted.
"Indeed there is a problem with the last two credit card transactions you performed which caused the delay. We see few attempts but they are failed ones - money is not with us."
Answer: No, there is no problems with the last two succesful credit card transactions with order id #***** and #*****, this is for other #-ids, as I just explained above.
"As you let alone noticed, when everything is fine - your withdrawals are being executed (you got paid your winnings twice already)."
Answer: Yes, I have done 2 succesful withdrawals, to the very same MasterCard, with the very same bank, Swedbank. There is no reason for my winnings to be executed
or confiscated, considering they have been done through succesful transfers of order id #*****, and #*****.
"Hence, since now you played with money that you actually haven't deposited, no outgoing transactions will be processed and the accumulated amount will be redeemed."
Answer: Wrong, I have played with money that I have deposited, with order id #***** and #*****, which means that I am entitled to get a outgoing transaction for my winnings.
In the documents I provided from my bank, it also clearly shows that the transactions was accepted, and I think you are mixing it up with transactions that shows as failed under the transaction page because of some other problem, but there is also transaction directly after shown as sucessful in the very next order id. The documentation from the bank also shows that these were accepted.
"Since you claim that your credit card issuer confirmed that the problematic transactions were actually successful, please ask them to provide you with a proof of that as we only see failed attempts and no money was received."
Answer: I have now provided you with proof of documents regarding this, and also with a logical explanation towards why 18bet.com might have seen my transactions as unsuccesful.
The logical explanation to this is the following:
When checking my transaction page at 18bet.com, the transactions looks like this, and here is also transactions for deposits made earlier, deposits that I then also made succesful withdrawals from (sensitive information masked with ****):
#***** 05/01/2016 *****.00 Deposit Credit Card SUCCESS
#***** 05/01/2016 *****.00 Deposit Credit Card Failed
#***** 05/04/2016 *****.00 Deposit Credit Card SUCCESS
#***** 05/04/2016 *****.00 Deposit Credit Card Failed
#***** 05/06/2016 *****.40 Deposit Credit Card SUCCESS
#***** 05/06/2016 *****.00 Deposit Credit Card Failed
The amounts on the transaction is the same, and the order id # in the transaction page is for example "1113" for the failed ones, followed by a transaction with order id "1114", meaning the very next one. I am not sure if 18bet.com is mixing these transactions up, and therefore now wrongfully thinks they werent accepted, or if they are doing this on purpose.
With this post, i am also attaching the documentation sent to the bank from me, with all the sensitive information masked, just to show what the documentation sent from them, to me, looks like, and how detailed it is, meaning there shouldn't be any reason for 18bet.com to have any problems at all with tracking down my payments. This is attached with this thread, in the image below:
"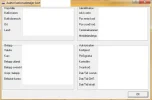 ".
I have masked all the sensitive information, just to show what kind of information that can be shown by this document from the bank.
Since it's in Swedish, i have translated it to english:
butiksnamn = store name
butiksbransch = retail industry
ort = location/herb
land = country
valuta = currency
kurs = course
belopp utland = amount foreign
belopp svenskt = amount Swedish
belastat konto = charged account
arkiv referens nummer = archive reference number
pos entry kod = Item Entry Code
pos cond kod = pos cond Code
terminalnummer = terminal number
meddelandetyp = message type
korttjänst = card service
pinsignatur = pin signature
kontrollnummer = control number
svarskod = response code
date/time sweden
date/time gmt
date/time locally
-
I have provided them will all of the needed documentation, but they are still not giving me my winnings, and tomorrow on the 5th bank day, I will actually see if they book the payments or not.
I now come to casinomeister to try and get support in how to proceed with this.