Joined

Jun 30, 2015
Location
I had this win approx one year ago on SMM.
The story behind the win is a friend of mine came into my apartment, pretty upset because of a parking fine.
He was in "between jobs" at the time, and he didn't have cash to pay this parking fine.
He knew that I was playing slots every now and then so he cried for help and wanted to deposit his last cash hoping to win some.
I laughed at his pitifullness and we deposited €20 in total, €10 each.
Played the minimum stake €0,35 and we hit this.
Bonus symbol on first wheel and wheel 2,3,4 & 5 with free parking.
Obviously we hit the bonus cash symbol.

If I'm not mistaking we got a total of 145 free spins that became €53,05 in wins.
We agreed to go for the cash out in the bonus wheel(x5 guarantee option).
But my adventurous and bold friend took the cursor and hit that little monopoly man, we came into community chest, and there we hit "All multipliers" (Or whatever it's called).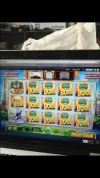 In ended up with a 15157 times our stake of 0,35.
He could then pay his bills...