Me so angry
From 2003
Evil Player's failed blackmail attempt
One thing I find common amongst most evil players is that they underestimate the intellegence of some of the casinos they try to scam, and they don't realize I'll go after them just as hard as I would chase down an evil casino. This player, code name; Cassteal (as in casinos steal, I guess) posted in our forum thinking that the forum members were stupid sheep, ready to believe every word he had to say about Casino-on-net.
It was his first posting, and what he had to say was shocking:
Posted by Cassteal Tuesday, October 07, 2003 – 12:53 am:

---

Casino on net stole $720,128.98 from me! They told me there software screwed up and it paid me $49,000 for every win and it was only supposed to pay me $1500.00 for each win! ok I told Mr. Ori D. at casino on net I told him To let me see my game history which they refuse to this day to give me I contacted Ronald Maginley Directorate of offshore Gaming he told me they are opening this case on casino on net for possible fraud charges.

I try to reach casino on net but all i get is email's saying they can not discuss this matter and that they have turn this over to there lawyers so I ask them for there lawyers email or phone # so I can discuss this with them they tell me to contact support and around I go same thing everytime with no closure I also contacted Ernest Gomez in Gibraltar where casino on net now resides he Won't do anything I think he's paid off too (casino on net) address is suite 601-701 Europort Gibraltar if anyone wants to know. I will keep all who wants know posted about what Happens to Casino On net all I know Is these people are Thiefs and should Go to jail!!all I got from casino on net was $1500.00 and it took 2 months for that if anyone wants proof of anything mention above drop me a line. thanks for listening, Brian
Listen we did, and I gave him the benefit of the doubt that there may be a problem, but in the back of my mind I was a little skeptical. I contacted Vahe Baloulian, Casino-on-net's casino manager to see if he could enlighten me on this player's problem. This is what he had to say:
Here is the story with the player. He opened an account with Casino-on-Net on February, 2003.

On the 15th of March, 2003 during a regular security check we detected discrepancies in his account. Investigation proved that due to a malfunction, which we have a reason to believe was deliberately caused by the player, his bankroll showed a bigger amount than it should have. The player was informed of this discrepancy. We also informed him that his account will be closed while this matter is being investigated. Five days later he contacted us threatening with a lawsuit and demanding the amount that he saw in his bankroll to be paid. The player was then contacted by our Fraud Department manager and an agreement was reached. The Player agreed to receive a settlement; he signed a disclaimer and provided us with a copy of his ID. We sent the funds to a bank account specified by him and considered the matter settled and resolved.

Later, on the 28th of May, we received a new complaint from the player through the Directorate of Offshore Gaming where he made the same claim. We complied with the Directorate's request and provided them with all the information about this case. After review, the Directorate found that there was no merit to the claim. In August, the player contacted our new regulators in Gibraltar. Again, Gibraltar's decision was the same as Antigua's. At this time, the player denied that he ever reached an agreement, accepted the settlement, and signed documents agreeing that the sum we paid "shall be in full and final settlement of all and any claims and causes of action of whatever kind against Cassava…" This matter has now been passed to our lawyers since the player repeatedly threatened to take a legal action against us.

To address the points raised in his posting:

1. We typically have no problem sharing the game history with the player, as it is a standard feature of our software. However, in some cases when the account is closed because of suspected fraud, we, like any land-based casino, may decide to release the game history only to our regulators, if they request it. It is up to the regulators to share this information with the player.

2. When we are threatened with a legal action, the case goes to our legal advisors. If the legal action is taken, which has never been a case although we served over 8 million players during the last 7 years, the ex-member's lawyers contact us and we put them in touch with our lawyers.

The player is well aware that he has no case. I realise that he is also aware that he has nothing to lose by complaining – may be we'll pay some more. We will not. I think that we were overly kind in the first place. I just want to assure him that this is an absolute waste of his and our time.

If you have any questions, please let me know.

Best regards,
Vahe
He also went on with an analogy:
Basically, if we compare this to a soccer game, if the score board shows 3-1, but there were no goals during the game, the score board results don't really matter, specially if they malfunctioned "thanks" to the "winning" team.
So I posted this, and noticed that the email address that Cassteal used for his forum account was [email protected] I thought, "That's odd. Using a support email account. Perhaps this dude is a casino operator." So I checked out his site SlotcityUSA.com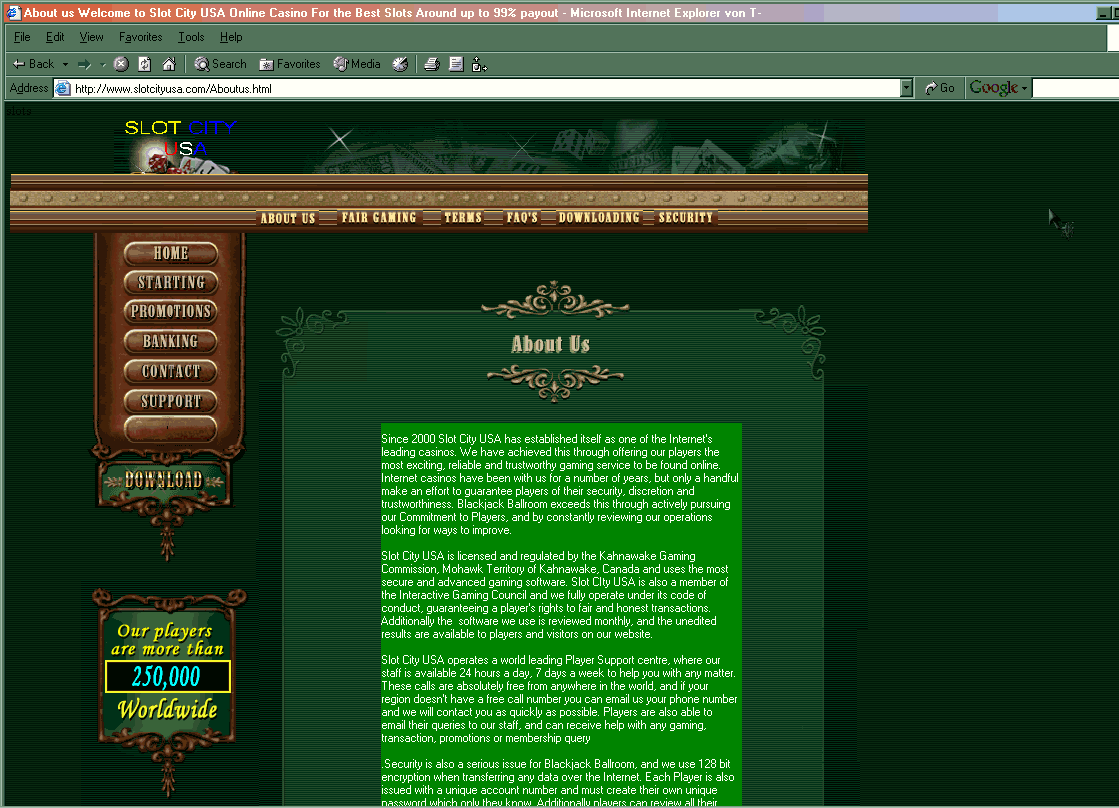 and lo and behold, there was a site that looked vaguely familiar with Blackjack Ballroom text. The casino software that could be downloaded from this site was from Gambling Federation. So apparently, this "Cassteal" who was so adamant on a casino ripping him off was the "ripper-offer".
He was busted. Gambling Federation took down his sites (there were two of them) within hours, which made this guy quite angry. He decided to vent his anger by posting this: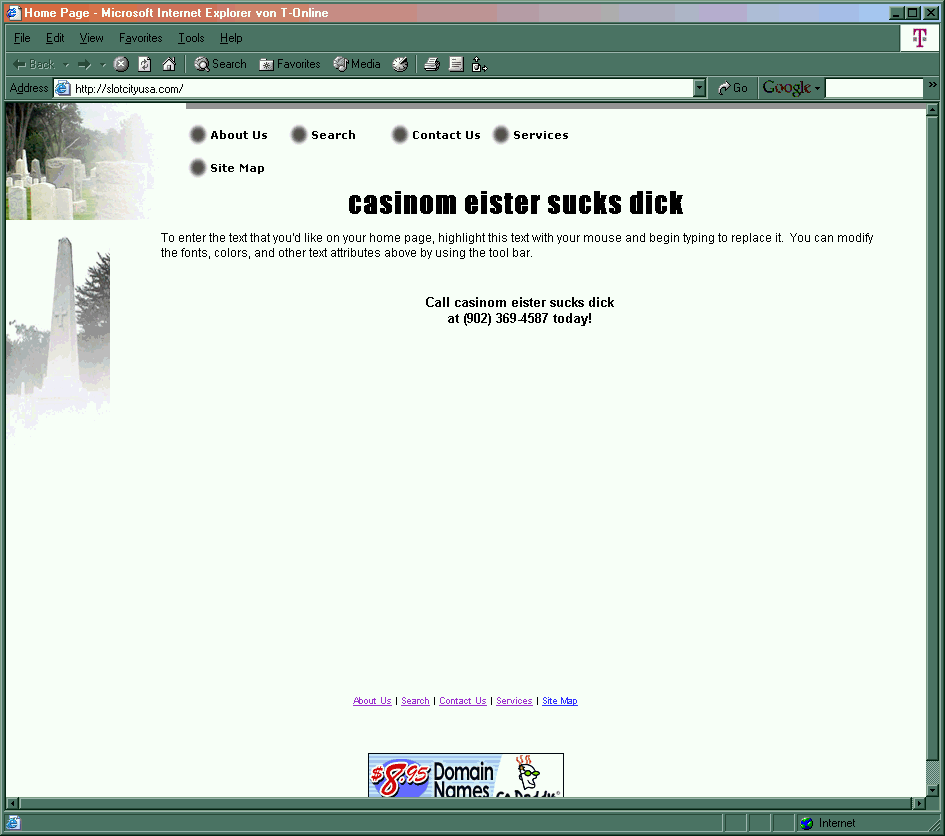 And he changed his Whois information to reflect his frustration: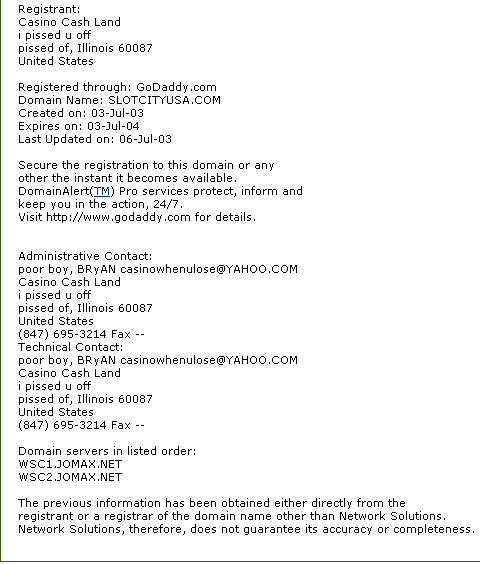 What a baby. Too bad he forgot to change the whois information on Casinocashland.com:
For a crook, he's not so bright. The entire episode can be read here in our forum.