Winward Casino Review - Rogue
"Confiscating winnings of advantage players"
Confiscating winnings of advantage players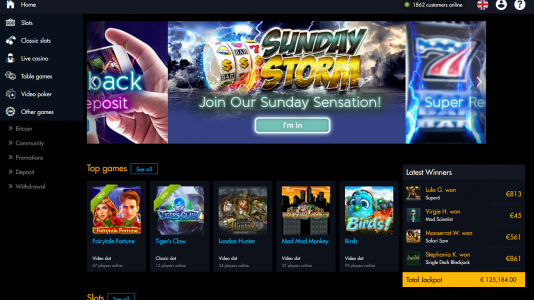 Overview
First Impression
Blasts from the past:
The most recent grievance case with Winward illustrates the problems with this casino: a player had accounts at both Winward and Slots Village where she deposited and played freely. When problems with a bonus offer occurred she was first told she could not withdraw from both casinos in the same week, and was later told she could not withdraw her $439 winnings from Slots Village until she had "played" her $2383 Winward winnings to $0. Several casino staff repeated the same thing over the course of many weeks: the player must "play" her winnings at one casino to $0 before they would release her winnings at the other casino. Forcing a player to forfeit some of their winnings in order to have access to other winnings is Rogue behavior.
In discussions with casino executives she was told that she was a "bonus abuser" and that they considered her a fraudulent player. Once we were brought into the case we were informed that the player had committed this so called fraud by using the "parasite betting" which the casino people defined as a pattern where the player begins by "making very small bets in slots for days to simply reach the wagering requirements" and once the requirements are met they "start making aggressive bets usually with their bonus money to increase their winning".
The casino went on to state that they didn't have an explicit rule against such betting patterns but that they were "in the process of establishing a black list for players categorized under these criterias." In other words there are no rules against it, nothing stating that they did not want their players to do it, but players would nevertheless be "blacklisted" for it. Punishing players for breaking unwritten rules is Rogue behavior.
Furthermore a betting pattern of the type is not fraudulent activity, it is simply conservative play to meet the WR followed by more aggressive play to potentially increase winnings. Would the casino prefer that the player play wild and erratic in order to increase the chances of losing money? In this case it certainly seems so.
Finally the casino presented an ultimatum to the player: either she could have her winnings paid to her in which case she would have to admit in writing that she had been a fraudulent player, or they would confiscate her winnings and she could start over from scratch. Simply stated this is blackmail and Rogue behavior of the most brazen kind. When the player decided to go for the pay-out the casino simply ignored their offer to her, payed her nothing, and again refused to reply to her subsequent inquiries.
This is just one specific case. Over the past six months several Winward Casino issues have come up both on the forums and in Pitch-A-Bitch complaints. Throughout it all the representatives have proven to be unreliable and unpredictable: sometimes they respond immediately, other times they have to be harassed into responding at all. When the reps do respond they are generally quite friendly and quick to offer soothing words and assurances but in the end very little is ever done. The net result, pleasant words aside, is that the casino cannot be trusted to follow through with promises made in it's name: in the end the issues are ignored and unresolved and the players go unpaid at best. This kind of deception is commonplace at Winward and is practiced by the part-time reps, the support staff and the casino manager.
May 2007: Winnings confiscated…
The problem: I deposited $500 for the welcome bonus. I had a good run playing BJ and ended up with $2200 excluded the bonus. Now I withdrew this amount, wait for them to transfer the winnings they only pay on Mondays. Nothing happens. It seems they have cancelled the withdrawal. I try once more, this time the money comes through, but only my initial deposit. I log back into my account, there is no money left. I check with support, and they tell me that the account is closed due to management decision. I call them and finally get to talk to the management. The guy I talk with keeps on telling me the same story. The account is closed after talking to their risk and fraud department. I tell them that they should take their reputation seriously as I definitely will complain. His reply tells everything about this casino. He simply say "Oh, I'm so scared now."
I realize theres no way I'm getting my money, I just think its strange that this casino is not yet in the Rogue Pit.
The problem: Well, here is my story on Winward: On Saturday the 5th of May, I signed up for the $500 bonus they promote. When I tried to log in for the first time, my account was disabled. Figuring some security, I contacted Live Support. They apologized for the trouble, enabled my account and gave me $10. I deposited $500 and went to check if the bonus was added. It said that I had an unqualified bonus of $500 I contacted Live Support again, and the problem was fixed via e-mail. Time to start playing…
I played BJ and kept track of my wagers. At the right time, the bonus was added to my available funds, so I could up the ante a bit. After playing enough during 2 days, I was up $500, for a total available fund of $1500 of which 500 was sticky.
Just to make sure, I contacted Live Support, and asked if I had met the WR just in case I wanted to cash out a bit. She told me Id better contact the accounting department on that. Because of the time difference, I couldn't at the moment and left it to that.
On Tuesday the 8th, I tried to log in for some more BJ-action, only to find my account was disabled. Stunned, I contacted Live Support. All she could tell my that my account was closed by Management Decision and my initial deposit would be refunded So apparently they don't like winners and just take away any profits like that I had to send an e-mail to johan@winwardcasino.com for further explanation. Of course, I did immediately. Although they advertise with a 24hr response time, I did not receive any word. So I contacted Fred from Live Support…basically, he tells me its no use in trying to contact them because the decision was final.
This means they lure you in with juicy bonuses, but when you win and have the nerve to merely inform about a withdrawal, they'll void your winnings, close your account, ignore you.
Again, we have a casino that confiscate players' winnings after they decide they don't like how the player plays. Simple fact: if a player meets the wagering requirements and there is no fraud involved, pay 'em THEN lock them out. I know many operators don't like to hear this, but it's something casino operators need to come to terms with. You make the offer, the player accepts and plays out the offer, you pay the player. To deviate from this casinos venture into the dark side of online casino management.
They are "regulated" by one of the most flaccid licensing jurisdictions out there: "This Service operates under the License No. 1668/JAZ issued to Curacao Egaming, Authorized and Regulated by the Government of Curacao." These are the same jokers who allowed Affpower to run pirated NetEnt games for months without being detected.
Avoid this casino at all costs.
General Information
Website
winwardcasino.ag
Software
Microgaming
, Pragmatic Play , Betsoft Gaming , Habanero , Octopus Gaming , Vivo Live , VIG
Casino Reps
Live Games
Yes
Loyalty program
Yes
Founded
1999
Certified
No
Jackpots
Accredited
No
Publicly traded
No
Mobile
Yes
Other products
Supported languages:
Authorized Countries
Iran
Contact info
support@winwardcasino.ag