Stryyke Review
No Pay - No Response
By Casinomeister, Last updated Jun 15, 2023
Casinomeister's Verdict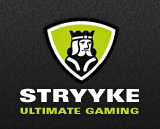 First Impression
The desire to be more than they've been
Max Drayman and I met with the CEO of Stryyke and one of his administrators at the ICE in London in January 2010. They were concerned that they had been rogued at Casinomeister and were looking for a way to get out of the pit. We discussed their previous issues and came to an agreement that they would be placed in our "probation" section for six months to see how things would go. We had a direct line of communication, and they seemed to have been genuinely concerned about their business and their players.
From February 2010:
There were several individual casinos/poker rooms that expressed a desire to improve customer relations — pretty generic stuff really, what operator wouldn't want to have the punters soaking up that warm and fuzzy message? — but Stryyke was one that made a point of sitting down with us, finding out what our beef was (see our Warning here), and starting talking nuts-and-bolts about how to make things better. Like Kahnawake, they've appointed a single person point-of-contact for dispute resolution and we've already heard back from them requesting a list of unresolved issues. So far so good.
To make a long story short – they failed. We've received a number of complaints from players who had been stonewalled after their winnings had been confiscated. We contacted Stryyke only to be given a number of excuses – none of which were thoughly clear; they were too vague. And it has become clear to us that Stryyke is not interested in dealing with players fairly. It's back to "business as usual".
So it's back in the pit for Stryyke. Too bad they have such a short memory. It's a good thing we don't. Avoid this casino at all costs.
Past Issues
From our Warning Section in the forum (27th April 2009):
Posted by Maxd in our forum's warning section:
Over the past couple months I have received a number of complaints from former employees and "pro" players at Stryyke. In all cases thousands of dollars are being withheld. Communication with Stryyke on these issues varies from difficult to non-existent. While these are not player issues they do indicate a general tendency for Stryyke to freely break their commitments.
It is my assessment that this internal strife is alarming and may well indicate a general deterioration in Stryyke's willingness and/or ability to meet their financial obligations. My perception of this situation is severely worsened by Stryyke's refusal to communicate with us on these issues. It is on these grounds that I am renewing this Warning against Stryyke, albeit under somewhat different circumstances than what prompted the original Warning.
Read about it here.
Top 5 casinos
BANKING AND PAYMENT METHODS
Withdrawal Speed
Casino Facts
| | |
| --- | --- |
| Is this casino certified at Casinomeister | No |
| Payout time | 48 hrs |
| Reverse time | 48 hrs |
| Weekend payouts | No |
| Locks withdrawals | No |
This casino is unavailable to you. Please see other options