Slots of Vegas Review
A once-rogue casino aiming to turn things around
By Jess Plowden, Last updated Nov 16, 2023
Casinomeister's Verdict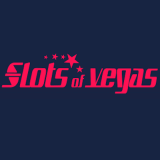 First Impression
Slots of Vegas Casino has a checkered past, being one of the flagship casinos of the Ace Revenue group of casinos. They were in the rogue pit for a while – then out – then in again. They had gotten their act together a couple of years ago, but they were recently sold, and their support moved from Costa Rica to Eastern Europe. After that move, we had many complaints from several casinos in the group — mostly unresolved payment issues.
However, once again, the group has promised to get its act together, and this time, the Realtime Gaming (RTG) online casino-powered sites appear to be doing a better job. In this Slots of Vegas Casino review, we'll be showing you why we recently decided to move them from "Not Recommended" to "Neutral" and what you can expect when playing at Slots of Vegas Casino yourself.
Writing this Slots of Vegas Casino review, slots are the site's focus. There are no live dealer games and a limited selection of casino table games. The Slots of Vegas mobile casino is operational but not amazing, and there is still an old-school downloadable desktop client available.
One area the online casino does do pretty well is with bonuses and promotions. However, when writing this review, the terms and conditions page was unavailable. This made it incredibly hard to look into the terms of Slots of Vegas bonuses, so proceed with caution when you play slots, progressive jackpot slots games, or other titles, as you may break bonus terms without realizing it. Always reach out to the customer support team if you need clarification on whether you can play certain casino slots or not.
Regarding payment methods, the site does a pretty good job, and you'll be able to use conventional and crypto payment methods at Slots of Vegas Casino. We will cover payment methods shortly. Firstly, let's examine the deposit bonuses and promos at Slots of Vegas.
Pros
Huge number of bonus code promotions

Some wager-free bonuses

Good selection of video poker games
Cons
Part of the notorious Virtual Casino Group

No online gambling license

Low weekly withdrawal limits
Top 5 casinos
Slots Of Vegas: Casino Bonuses and Promotions
In the upcoming section, the focus will be on the bonuses and promotions available at Slots of Vegas Casino. While deposit bonuses can be appealing, it's important to proceed with caution.
Given that the terms and conditions are not readily available, it becomes even more critical to play Slots of Vegas Casino slots and casino games with care when claiming a bonus.
Welcome Offer
Slots of Vegas offers two primary bonuses for new players. While these bonuses may appear generous at first glance, we always strongly recommend reading the terms and conditions in full to ensure all deposit bonus rules are followed. However, as noted, the terms and conditions page at Slots of Vegas Casino isn't working. The only terms we could find were on the main promotions page itself.
250% New Player Bonus
Slots of Vegas provides a 250% new player bonus for those interested in slots and keno. To activate this bonus, you'll need to use the coupon code NEW250. The welcome bonus is worth up to $2,500, but it's restricted to slots and keno games.
The wagering requirements for this deposit bonus are 5X, and, thankfully, there is no maximum cashout limit. A minimum deposit of $30 is required to qualify for this bonus. Despite the seemingly large bonus amount, it's important to note that this is limited to specific games; online casino games aren't eligible.
190% Sign-Up Bonus
For players not interested in slots, the casino offers a 190% sign-up bonus applicable to all "allowed games." The coupon code for this bonus is NEW190. The maximum bonus amount is capped at $1,900. Playthrough requirements vary: they're 5X for most games but 30X for Blackjack and Video Poker. There's no maximum withdrawal limit, but a minimum deposit of $30 is required. Once again, the terms and conditions page isn't available, so it's impossible to know which online casino games you can – and can't – play.
Bonus Code Promotions
In both the Slots of Vegas Casino instant play and the Slots of Vegas Casino mobile casino, you'll find a wide variety of bonus code promotions; there's seemingly no shortage of them to claim!
They offer a wide array of bonuses tailored for different games – and, apparently –  times of the day. If you're a night owl, there's the 190NIGHT bonus code, which requires a $60 minimum deposit and awards you with a 190% matched deposit bonus. If you prefer slots, there's a 199% matched deposit bonus slots-only bonus – with an odd minimum deposit of $39 – with the code 199LUNCH.
If jackpots are your goal, you'll find codes explicitly designed for that, such as JACKPOTHUNTER, which awards you with a 220% matched deposit bonus on a $30 deposit. A VIP version of this exists, too, but raises the minimum deposit to $75.
New game releases also have bonus code offers. The BIGCATWIN200 code gives you a 200% "New Game Bonus" for a $50 deposit. Codes like COPYCAT200 award you with free spins and extra comp points. We counted well above 50 bonus codes on the "Promotions" page, but, as always, tread carefully, as all of these bonuses and promotions come with terms and conditions – that aren't accessible.
How to Claim Your Bonus
Claiming a bonus at Slots of Vegas involves a few steps. First, you'll need to register for a free Slots of Vegas account. The registration process is straightforward and requires choosing a username and password. You'll also need to provide some basic information to verify your age and jurisdiction.
After registration, navigate to the cashier section to make your deposit. This is where you'll enter the bonus code of your choice. For example, if you opt for a 250% Match Bonus, you'll enter the corresponding bonus code during the deposit process. Once the deposit is made, the bonus is immediately credited to your account, and you can start playing.
If you run into any problems claiming a bonus at Slots of Vegas Casino, you must contact the customer support team before you begin playing. If you wait – and start playing online casino slots before contacting the team – they cannot retroactively add the bonus funds to your online casino account.
No-Deposit & Free Spins Offers
Looking at the bonus code page, we also found several no-deposit bonuses available. This included 25 and 65 free spins on RTG's new-ish Big Cat Links video slot. While these no-deposit bonuses may sound good on the surface, again, the terms and conditions page won't load.
That's problematic, as you won't know the terms applicable to the bonus you're claiming. You may inadvertently begin playing gambling games or online casino slots excluded from the bonus. However, if the Virtual Casino Group's other online casino sites' terms and conditions are enforced at Slots of Vegas Casino – which we suspect they are – you can expect high wagering requirements and maximum cashout limits on the bonuses.
VIP and Loyalty Programs
Slots of Vegas offers a VIP program to reward high rollers and regular players. Without a dedicated VIP page, we're basing our understanding on a snippet from their main promotions page. They have four tiers: High Roller, Silver VIP, Gold VIP, and Platinum VIP. Each comes with perks like monthly insurance on losses, free chips, comp points, higher table limits, and faster withdrawals.
It sounds good on paper, but the absence of a detailed VIP page leaves us guessing about the specifics of each tier. It may be that, once past the Slots of Vegas Casino login page, you'll find more information – but we could not find any.
Slots of Vegas Casino also has a comp points program that, at first glance, seems straightforward to get something back for your gameplay. For every $10 you wager in the casino, you get one comp point. Once you accumulate 100 points, you can redeem them for $1. But before you get too excited, there are some limitations and rules you should know about.
First off, if you're playing with free chips or already redeemed comp points, you can't earn any new points. To redeem any comp points at Slots of Vegas Casino, your account balance must be zero – and you're not allowed to have any pending withdrawals.
Thanks to an archived version of the site's terms and conditions page, we found some terms and conditions for their comp points bonus. All funds redeemed using your comp points come with wagering requirements of 30X, or 60X, depending on the gambling games you play. A significant disadvantage of the comp points program at Slots of Vegas Casino – and most other Virtual Group real cash sites – is that you're also limited to a maximum withdrawal of just one times the amount you redeem your comp points for!
So, even if you accumulate many points, your ability to hit good casino wins on the best games from Real Time Gaming is severely restricted. We understand these withdrawal limits on no-deposit bonuses, but to see them on comp points funds is, quite frankly, insane.
BANKING AND PAYMENT METHODS
Deposit Methods
As for deposit methods at Slots of Vegas Casino, it's another unclear area. The website footer shows icons for Bitcoin, Litecoin, VISA, MasterCard, American Express, and Discover. While these payment options look decent, there's no way to confirm if these are the only options or if there are more. The banking page, FAQ, and terms and conditions are inaccessible, leaving you in the dark about critical details like transaction fees, processing times, and withdrawal limits.
Operating under a cloud of uncertainty isn't the best practice for a casino that wants to reinvent itself and instill confidence in its players. For a casino operating in 2023 – with a history of terrible customer service and delayed payments of winnings – it's almost unbelievable that essential pages like banking and terms and conditions don't load. This is not only frustrating but also raises questions about what would happen if a player breaches site terms and conditions without being able to access them. However, going on what we know about the banking options:
Bitcoin and Litecoin as deposit options indicate Slots of Vegas Casino, like most Virtual Group properties today, are moving towards crypto. As Slots of Vegas Casino accept deposits of Bitcoin and Litecoin, it's likely they also accept Ethereum and Dogecoin. If we had to guess, we'd assume the minimum deposit was $30, but this is just a guess.
Turning to fiat-based banking options, debit and credit cards like VISA, MasterCard, American Express, and Discover are standard deposit methods at online casinos. Funds are likely credited to your account immediately, but before depositing your hard-earned money at Slots of Vegas Casino, you may want to check with the customer support team.
Slots of Vegas Casino Withdrawal Speed
Turning to withdrawals, again, there's a complete lack of information. We can't access the banking, FAQ, or terms and conditions pages, making this part of our review also speculative and based on other Virtual Casino Group sites. We assume players at Slots of Vegas Casino can withdraw via a wire transfer. Most sister casinos have a minimum withdrawal limit of $300 for a wire transfer, with the withdrawal process taking up to ten working days.
If you're withdrawing $300 or more, you can likely request a mailed or couriered check, which arrives in three to eight days with an unspecified fee. However, again, this is just our personal experience with the site's partner casinos and not verified information.
Cryptocurrency withdrawals are likely the fastest, processed, usually within 24 hours. However, the minimum/maximum withdrawal limits for crypto – and other payment methods – are unclear.
What we do know from other Virtual Casino Group sites is that the maximum weekly withdrawal limit at Slots of Vegas Casino is just $2,000. This is incredibly low and is a significant downside to playing at any of the associated brands. While VIP customers can request higher withdrawal limits, there are no guarantees – and if you hit a big win playing with real cash, you may be paid out in weekly or even monthly installments!
You'll likely need to verify your account on your first withdrawal, too. This involves sending in a valid photo ID, utility bill, and proof of payment method. While Slots of Vegas Casino claims to be using automated Know Your Customer (KYC) software, it's too soon to speculate on the effectiveness of this, so we'll need to wait and see.
Responsible Gaming
In a surprising move for a Virtual Casino Group site, Slots of Vegas does feature a Responsible Gaming page on their website. While this is more than can be said for other sites under the same umbrella, the page itself leaves much to be desired. It provides a general statement about the casino's commitment to "a safe and secure environment" and "a heightened awareness of responsible gaming." The page does list several warning signs of problem gambling, but that's about the extent of it.
It lacks any responsible gambling tools or mechanisms to help players set deposit limits, loss limits, or self-exclude, which are all tools we want to see Slots of Vegas Casino and all other connected brands implement.
The page directs those who may have a problem to contact Gambler's Anonymous but offers no direct means of support. So, while the presence of a Responsible Gambling page is better than nothing, as is the case with other Virtual Casino Group sites, the actual usefulness of the page is, as of now, virtually non-existent.
Customer Support
Turning our attention to customer support, Slots of Vegas Casino appears to be doing a better job than it used to, offering players two ways of contacting the customer support team: live chat and email.
Live chat is our preferred contact method, as it allows you to talk with a trained operator in real-time. Plus, the group behind Slots of Vegas Casino has assured us they are revamping their live chat service, retraining staff members, and adding dedicated VIP support.
On the flip side, if you've got something more technical or sensitive to discuss, you can also reach the customer support team via email. The support team's email address is help@slotsofvegas.com. While response times will, naturally, be longer than live chat, it's useful if you want a paper trail of your communication.
Slots of Vegas Casino also has an FAQ page linked in their footer – but, as mentioned throughout this review, it takes you to a broken page at the time of writing.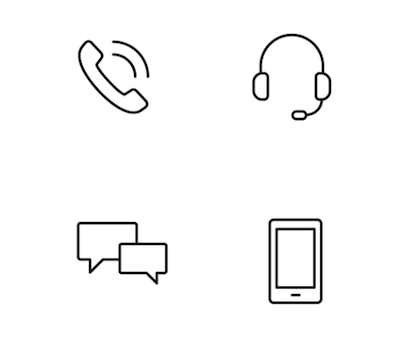 KYC
Regarding account verification at Slots of Vegas Casino, you should be aware that at most Virtual Casino Group sites, it's mandatory before a withdrawal can be processed.
According to the terms at Slots of Vegas Casino, they state: "Before a withdrawal can be processed, the player may be required to provide a government-issued photo ID and a clear selfie of themselves. We might also ask the player to verify their BTC crypto wallet address by making a small BTC deposit before any payout can be sent to said crypto wallet address. Slots of Vegas Casino reserves the right to request additional information to validate user accounts."
Let's not beat around the bush: Slots of Vegas Casino and other related brands have had a shady past regarding account verification. It's been a tool used to delay or even completely deny withdrawals. Given that Slots of Vegas is part of the same group, you should be on high alert.
With that being said, remember what their rep told us: "We've also employed Hooyu, a document validation service. With Hooyu, players simply upload their documents, and we are notified if the docs are acceptable or if further scrutiny is necessary. Between Coindraw and Hooyu, our Withdrawals and Finance teams are less overwhelmed, and as a result, payments have been consistent and far swifter."
If this third-party verification method is in place at Slots of Vegas Casino, and if it works as stated, then this may iron out one of the biggest issues players face with the group. However, even if the verification checks are automated, the ultimate decision to approve or deny withdrawals still lies with the casino. So, it remains to be seen whether this is an improvement or just the casino group telling us what we want to hear.
If you're going to play at Slots of Vegas, we strongly recommend verifying your account immediately after creating it. This is something we recommend at all online casinos, but especially those with a less-than-desirable past. This way, the casino is less likely to stall your withdrawals or come up with excuses as to why they're not paying your withdrawal quickly.
Website Experience and Features
Desktop and Mobile Gaming
When you first land on the Slots of Vegas Casino homepage, you may assume you're on the wrong site – if you have any experience with Virtual Casino Group sites. To be fair to Slots of Vegas Casino, their website is modern, good-looking, and responsive. The sleek red and white color scheme works well, and navigating the website is easy thanks to the main navigation menu and the extensive links in the footer.
The Slots of Vegas Casino login process is simple, and you can create an account by clicking the signup button in the top right-hand corner of your screen. Before you enter the instant play casino, the navigation menu is found on the left-hand side of your page, but once you enter the gaming area, it switches to the left-hand side.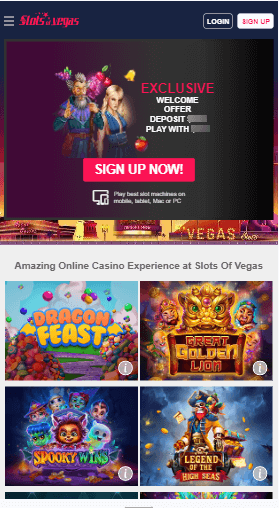 However, as we mentioned earlier, one of the major issues we found with the casino is that many of its pages simply are blank. This includes the main terms and conditions page, the banking page, and the FAQ page. We would understand if this was a brand new casino or just one page, but the fact that all three of these pages lead to blank white screens isn't a good look. This is something that needs to be addressed as soon as possible.
Now, when it comes to mobile gaming, the casino offers a mobile-optimized version of its website that can be played on all modern mobile devices. To get started, simply head to the casino website from one of your mobile devices, and you will automatically be redirected to a mobile-friendly version of the site.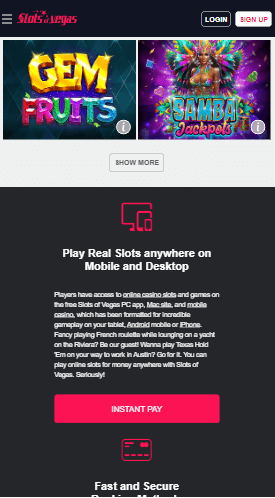 During our testing, we found the mobile site to be relatively smooth and easy to use, and loading times were acceptable. We like that you can play the games directly from your mobile browser, and while it's always nice to have a downloadable mobile casino app, this isn't something we expect to see soon.
Downloadable Software Client
Slots of Vegas Casino also offers a downloadable software client, a feature becoming increasingly rare in the era of instant-play casinos. RealTime Gaming powers this client and, according to the casino, gives you access to more than 130 games. Downloading the software is simple: click the download button, save the file, and follow the installation instructions.
While the downloadable client may not boast the same advantages it used to before HTML5 gaming, it does have some benefits. For one, it allows you to access the casino's full range of games without relying on a browser. It's also something old-school players may appreciate – for a nostalgic "blast from the past" more than anything else.
On the flip side, having to download and install software will likely be seen as inconvenient for most today, and there is no need to do so as Slots of Vegas Casino is available in instant-play mode.
Brand games
Providers
Slots of Vegas is powered by Real Time Gaming (RTG), a game developer known for its US-friendly online casino games. While RTG is a reputable developer, the experience at Slots of Vegas is impacted by the casino's own reputation and operational practices. Below, we'll be taking a closer look at the different types of games on offer at the casino.
Popular categories when writing this review include Slots, Specialty Games, Table Games, Video Poker, and All Games. Whether you choose to play with real cash or in demo mode, all of the gambling products at Slots of Vegas Casino are powered by RTG; you won't find other game providers, unfortunately.
One thing we do like at Slots of Vegas Casino is that you can play a huge selection of its gambling products in demo mode / practice mode. This lets you try out these gambling products without risking your own money.
Slots Of Vegas Casino Review: Slots Offering
Slots of Vegas Casino offers a wide range of slots, covering a variety of themes and styles, each catering to a different taste. Real Time Gaming powers all the games, and many have free spin rounds, "Pick me Bonuses", and some progressive jackpots. Below, we'll look at a few of the games on offer.
Sweet Shop Collect, a slot game themed around fruits and candies, is simple, pretty unremarkable – but popular. It's straightforward gambling and is well-suited to players wanting more of a classic slotting experience. Alien Wins is an action/adventure-themed video slot focusing on extraterrestrial themes, and there's a decent free spins bonus.
Giant Fortunes is a slot game that falls under the Sci-Fi & Fantasy category. While the game may boast good-looking graphics, this is one of the many Real Time Gaming slots that is bland and unintuitive.
Thankfully, many of Realtime Gaming's hit slots are available, including Rudolph's Revenge, Triple Twister, Shopping Spree, Fortune Buddha, Eagle Shadow Fist, Mighty Drums, Epic Holiday Party, Big Cat Links, Warrior Conquest, Jackpot Saloon, Great Temple, Masks of Atlantis, and Bonus Wheel Jungle.
Live Online Casinos
One thing that's missing at Slots of Vegas Casino is a live dealer section. In today's online casino world, a live dealer offering is almost standard, giving players the closest experience to a brick-and-mortar casino from the comfort of their homes. The lack of any live dealer games at Slots of Vegas Casino is likely to turn away many players; some of the best games today are found in live casinos, and virtually every online casino offers some live dealer games, at least.
In our opinion, it wouldn't be hard for Slots of Vegas Casino to partner with a game developer like Evolution (previously Evolution Gaming) or Pragmatic Play LIVE to bring a few live dealer games into the mix. So, while the Slots of Vegas Casino slots section isn't bad, they're lacking in the live gaming department.
Table Games and Video Poker
Regarding table games at Slots of Vegas, the offerings lean heavily towards the 'bare minimum' category. Like all sites in the Virtual Casino Group, the variety is sparse. You'll come across just one version each of Baccarat, Tri Card Poker, and Classic Blackjack. There is also European roulette, oddly categorized under "specialty games" instead of alongside other casino table games.
For players keen on classics like Poker and Blackjack variants, this limited selection will probably not cut it. Conversely, if video poker is your game, the situation improves slightly. You'll find 15 different video poker machines, with classics like Deuces Wild and Jacks or Better, Double Bonus, and All American Poker, some in single and multi-hand variations.
There are also a few Specialty games: European roulette, as mentioned, Keno, Banana Jones, and Fish Catch. While these can be fun for a quick distraction, they hardly make up for a rather uninspiring array of table games.
Progressive Jackpots
Now, let's talk about the progressive jackpot games at Slots of Vegas. These games are, again, all developed by Realtime Gaming, and the Slots of Vegas mobile casino and desktop site offers a decent array of progressive jackpot casino slots.
Great Temple is one of the popular jackpot games, taking you on an ancient adventure – with some lucrative progressive jackpots to boot. Legend of the High Seas has a pirate backdrop, and while it's visually engaging, it's the potential winnings that most players will be looking for. Cash Bandits Museum Heist sticks to the well-worn path of RTG's heist-based games. It's an interesting addition to the popular series.
Some other popular progressive jackpot games at Slots of Vegas Casino include Cat Links – the game you can claim no-deposit free spins on – Lucky Tiger – Asian-themed, complete with appropriate symbols and music – and Run Rabbit, Run!, a cute, more laid-back slot.
However, given the group's track record of slow payments, we'd be wary of playing progressive jackpot slot machines at Slots of Vegas Casino – especially with no terms and conditions page live.
About the Team and History
When looking at the background and history of Slots of Vegas, there's a lot to take in. The casino was once part of the Ace Revenue group, known for its poor reputation. There was a time when Slots of Vegas had seemingly got its act together, only to go downhill after being sold and moving their support center from Costa Rica to Eastern Europe.
After that move, Casinomeister saw a sharp increase in player complaints, particularly concerning payment issues. However, as Max noted:
"Around the beginning of 2021 or so, we began to notice fewer complaints regarding Virtual casinos. Our forums were pretty quiet on the subject, and indeed, the Player Arbitration (PAB) requests we received had dropped noticeably. Talking to other people in the industry later that year seemed to confirm this, at least insofar as public complaints — complaints players had taken to 3rd parties — were concerned.
We watched that trend continue through 2022: a steady decline in complaints. By mid-2022, the rep for Virtual was available and responsive to all issues we sent to her, so much so that we were handling issues person-to-person again rather than having to refer players to the Virtual Issues forum as we'd had to do in the past. All issues were promptly and fairly dealt with.
By early 2023, it was clear: complaints regarding Virtual casinos were down dramatically, as much as an 80% drop over what they had been in 2017 and the following years."
As a result, Casinomeister decided to move Slots of Vegas Casino from "Not Recommended" to "Neutral."
As for licensing, let's say it's a murky area. The Virtual Casino Group initially started with unlicensed games, with some sites – like Cirrus Casino – having to rebrand due to its abysmal reputation. For a while, the Virtual Casino Group operated from Costa Rica, although they now appear to be based in Eastern Europe. They claim to be fully licensed but provide no information on this.
Regarding restricted countries, if you're from Afghanistan, Algeria, Brazil, Cambodia, Zimbabwe, Yemen, Somalia, Serbia, Myanmar, Belarus, Liberia, or Kuwait, you cannot play at Slots of Vegas Casino. The restricted countries list also includes Denmark, Romania, Iran, Iraq, Israel, Libya, Nigeria, North Korea, the Philippines, Sudan, Syria, and Ethiopia. European players from Denmark, Romania, and Serbia, and the UK are also now allowed to play. US players, however, can.
Complaints and Track Record
A quick search in the Casinomeister forums brings up many complaints surrounding Slots of Vegas Casino. To give you an idea of how they used to operate in the past, we will show you a few examples below. Take this thread, for example:
"Hello, everyone. I have no idea what to do but to post this on the internet and warn other people about this casino. On the 6th of June, I registered at Vegas Slots casino and deposited 200 EUR for a 200 EUR bonus. After playing some poker games, I was happy to withdraw 606 EUR after one day. Then they send me an email to send documents, which I have sent immediately.
Now I got the following ridiculous mail about why they do not want to pay me my winnings:
'Dear Roger. Unfortunately, your account has been locked by request of the Casino Management following an investigation into your account details. This has been because you have been highlighted as a high-risk player. The management has decided to lock your account and pay the money you purchased but not your winnings. We apologize for any inconvenience as this decision must remain final.'"
Rightfully so, the OP posted in the Casinomeister forum and was met with many responses claiming similar experiences.
Things looked as though they might be turning a corner back in 2013 when Max posted in this thread:
"FWIW, the Virtual/Ace Revenue guys seemed to want to come in out of the cold, so they agreed with us about 1.5 or 2 years ago that they wanted and would deal with any complaints that we forwarded to them. They more or less did that for a while, though it seemed as though what we reported got solved, but "unreported" issues never got looked at.
To be honest, we haven't seen that many complaints about them coming through, perhaps because we'd previously said we wouldn't accept them, perhaps because things might have been changing. In any case, their people fell off the radar, and the whole effort pretty much crapped out sometime earlier this year.
So yeah, like KK said above — and predicted many months ago, too, if I recall — Virtual seems to be back to their old ways."
However, it's unfair to say that the casino was always at fault. For example, in this thread, the OP posted:
"I am alleging that SoV has tampered with my transaction history in order to satisfy paying out only $30K (max) and still owes me the remainder of my winnings (approx $43K). MANY transactions on my bank statement are now not showing on my Slots of Vegas transaction history.
I have confirmed and have proof that all of the missing deposits were in fact deposited, successfully funded, and played with on my casino account. I can confirm that these are not fraudulent transactions. At first, I had an issue with delayed payment.
I finally had this somewhat resolved and received only $30k of my winnings, as Tawni with SoV said that the majority of my winnings was due to a certain coupon code with a $30K max. Therefore, I am also alleging that it is not true that the "majority" of my winnings were due to a deposit with said coupon and restrictions."
The rep came in, posting: "Just to update, I've sent everything requested to the OP, and I've copied Max with everything. There was no tampering whatsoever with the player's transaction history. The player used a coupon that carried a $30,000 max cashout, which was precisely what was paid to her.
I do want to point out that this issue came to me via AskGamblers back in November of last year. After issuing the $30,000 in payments and providing AskGamblers management with the coupon and evidence, the case was closed as 'resolved.' I sincerely hope that the same will be true once Max reviews all of the player's history."
Max gave the final word, stating: "Ok, I'm a little slow to get to this one, but I've seen the transaction records from the casino:
It's not at all suspicious looking, meaning no evidence of tampering that I can see.
There very much was a bonus coupon in play. Thus, the max WD cap seems perfectly justified.
OP, if you've got evidence to the contrary, I'll need to see it ASAP. Otherwise, it would seem an apology is called for here."
So, while it's clear Slots of Vegas Casino operated unethically in the past, they are being given another chance here at Casinomeister. Rest assured, we'll be monitoring complaints every month and act accordingly.
Casino Facts
| | |
| --- | --- |
| Founded | ? |
| Accredited at Casinomeister | No |
| Is this casino certified at Casinomeister | No |
| Payout time | 48 hrs |
| Reverse time | 48 hrs |
| Weekend payouts | No |
| Locks withdrawals | No |
Bitcoin, Cheque, MasterCard, Neteller, Visa, Wire Transfer
bank check, Bank wire transfer, Bitcoin, click2pay, Neteller, Wire Transfer