harry's casino Review
A rogue casino illegally taking bets
By Casinomeister, Last updated Jun 20, 2023
Casinomeister's Verdict
Harry's Casino is a site that's gone straight to the rogue pit here at Casinomeister. They're a clip shop joint that doesn't pay out players, illegally take bets from those in the UK (and other countries where they're not allowed to operate), and doesn't hold a valid online gambling license.
If you're looking for a reputable casino to play at, instead, make sure you check out the list of Accredited Casinos here at Casinomeister, all of which have been hand-picked and tested by our team of iGaming experts.

First Impression
At first glance, Harry's Casino looks like a perfectly reputable and legitimate casino; the site is well-designed, it's easy-to-use and easy to navigate, and they appear to offer a decent selection of games from some well-known software providers.
However, after further digging, it becomes clear that things aren't as they seem. Harry's Online Casino is pretty much as bad as it gets for rogue casinos. They have a habit of not paying out winners, don't hold a valid online gambling license, and even accept players from countries they're not legally allowed to.
Read our Harry's Casino review in full to find out why this scam casino should be avoided — and where you should play instead.
Pros
Cons
No online gambling license

It doesn't pay out players

Targets problem gamblers

May be using fake and pirated games
Top 5 casinos
BONUSES AND PROMOTIONS
As with any scam casino, Harry's Casino likes to make things look as good as possible to potential new players. That's one of the reasons why their selection of deposit bonuses and welcome bonuses looks to be far better than what you'd find at most casinos you're familiar with. In fact, the deposit bonuses on offer at the Casino are, quite simply, some of the best we've ever seen if the Casino were legit. Let's take a look at what they entail.
VIP and Loyalty Programs
Harry's Casino has quite a poor loyalty program, and it's simply a cashback scheme where you can get 5% cashback on your losses each week. Of course, while the Casino may well pay this cashback into a player's account, the chances of it honouring a withdrawal from it are incredibly slim. It's just yet another attempt to try and make themselves look appealing to potential new 'victims.'
BANKING AND PAYMENT METHODS
Harry's Casino only offers a few when it comes to payment methods. They only accept deposits made with debit and credit cards, via an instant bank transfer, via instant bank payments, and with Coinspaid, the latter of which is a crypto purchasing portal.
Of course, all of these payment methods are designed so that it's virtually impossible for players to get their money back once they realize they've been playing at a scam casino. Although if you have made a deposit using a credit card, you do stand a slight chance of being able to issue a chargeback.
However, you will need to prove to your bank or credit card provider that Harry's Casino doesn't hold a valid online gambling license and legally isn't allowed to accept deposits — something that may not be easy with your everyday customer support agent.
Harry's Casino Withdrawal Speed
"Your withdrawal request is subject to a full verification process and can take up to 48 hours to be reviewed and processed by us. For amounts higher than specified, the company may use bank transfer or another alternative payment method."
This is what the Casino says on their withdrawals page, and you can rest assured that if you ever do try and cash out your winnings from the site, you're going to run into a lot of problems. While they may pay out sometimes, it's not going to be the norm, and you absolutely should avoid this site at all costs, especially since there are so many better options available out there.
Responsible gaming
While writing this Harry's Casino review, we were, in short, disgusted at the site's approach to responsible gambling. While they have a responsible gambling page outlining steps that players can take if they feel they have an online gambling problem, make no mistake; this is nothing more than a guise. And the first indecision of why this is complete and utter nonsense is shown in the Casino's footer area.
You'll see that they proudly showcase links to casino review sites that have written reviews about them, and one of these review sites is called non-other than non-GAMSTOP casinos.
GAMSTOP is a UK government-regulated scheme to which any online casino accepting UK players must adhere. In a nutshell, it allows players to instantly block themselves from creating accounts and playing at any online casino that holds a valid online gambling license from the UKGC. Once you use GAMSTOP to enter into a self-exclusion agreement, this action cannot be undone.
The fact that Harry's Casino is working with review websites that deliberately target these kinds of keywords is predatory at best, illegal at worst, and it just goes to show how few morals these criminal casinos really have.
It makes a complete mockery of those struggling with addictions, and Harry's online casino is a despicably-ran operation to be doing things like this on their casino site.
Customer support
One of the things we noticed when writing this review of Harry's Casino was that many players online were complaining about not being able to contact the customer support team. We were expecting this, as rogue casinos like this tend to give you a 'talk to the hand' attitude when you run into actual problems that require real, human help.
For example, while the site boasts of offering customer support 24 hours a day, seven days a week, this is only designed for players who haven't yet joined or for those from whom the Casino feel they can extract money. Once you make a deposit and try to withdraw, well, you can virtually expect the customer support team to vanish, leaving you high and dry.
We were also really disappointed to see that the site is actively encouraging problem gamblers to sign-up and join while knowingly allowing players from the UK to sign up despite the online Casino not holding a valid online gambling license from the UKGC.
For example, one of our online gambling experts told a customer support team representative that they were experiencing problems with the amount of money they're spending gambling online. Rather than helping them, and of course, not allowing them to create an account, the team at Harry's Casino actually encouraged them to sign up — even going so far as to offer them a special welcome bonus offer to incentivize them to join!
This behaviour is about as predatory as it gets, and it just goes to show how scummy some sites will act to try and get players to sign up. Avoid Harry's Casino at all costs — you'll literally be throwing your money down the drain if you decide to play here.
KYC
Know-your-customer (KYC) checks are an annoying yet essential part of playing at any online casino. In some countries, you can't even begin depositing and playing online casino games or live dealer games without completing these checks. Harry's Casino doesn't require players to complete any identity or know-your-customer (KYC) checks before depositing. Although, as many players have complained, Harry's Online Casino does request know-your-customer (KYC) documentation when you try to make a withdrawal.
Naturally, these documents aren't asked to ensure that you're of legal age to gamble, and they're not trying to adhere to any online gambling regulations (they hold no online gambling license, after all.)
Instead, they request that you undergo a know-your-customer (KYC) check to simply stall your withdrawal request and stop you from going straight to review websites and leaving complaints.
It's completely unethical, and it's yet another reason why Harry's Casino should be avoided like the plague.
Website Experience and Features
Something pretty common to see at many scam casinos is that the online gambling operator behind the sites tries to make everything look as legitimate and professional as possible. As a result, Harry's Casino certainly looks like any other online casino; the site is well-designed, easy to use and easy to navigate. The user interface is really user-friendly.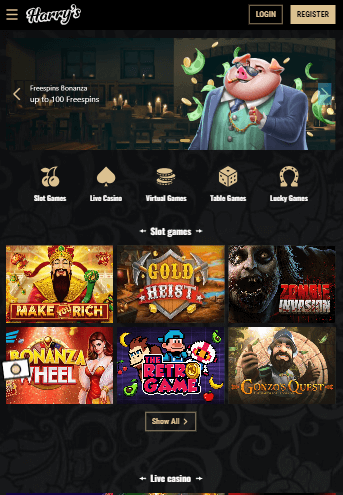 The top-most navigation menu allows you to easily and quickly access the different parts of the site. There are even images telling you the minimum gambling age to use the site and links to responsible gambling pages.
However, when you think about it, this makes quite a lot of sense. In today's day and age, players are savvier than before, and if a casino looks like a scam, players will not join it.
Harry's Casino hopes to trick more unsuspecting players into joining up by maintaining a professional-looking appearance. That's quite a shame, and we hope our readers can spread the message about Harry's Casino and why players shouldn't join this Casino under any circumstances.
Shady Sports Betting
While writing this Harry's Casino review, we were surprised to find that the casino site doesn't just offer casino games. They also have a fully-functional (and large) sports betting portal where you can place bets on sports betting events from all over the world.
It's unclear precisely who provides this sports betting platform, as, without an online gambling license, Harry's Casino can't take real money sports bets from anyone. However, it's clearly a shady company that provides the software.
While you can't fix or fake sports betting software as you can with casino games or table games, Harry's Casino doesn't really care. Why? Because even if your bet is a winner, they're not going to pay you out anyway.
Please, don't be caught off guard just because their sportsbook looks the part; Harry's Casino is happy to take bets from anyone, even if they're not of legal gambling age. They will also happily take UK players, despite not being legally allowed to do so. And then, of course, when it's time for you to make a withdrawal, you're going to find yourself ignored by the casino site, and you'll never actually receive any money back.
Brand games
Providers
Unlike some of the other rogue/scam casinos we review, Harry's Casino doesn't offer as many casino games as we'd expect. This fact is promising, at least, as it could point towards game developers being pickier about who they work with. Or, if Harrys casino is using fake games, it could also mean that it's getting harder for fraudsters to steal fake casino games.
However, some relatively big-name brands are still on the site, including 1X2 Gaming, Kalamba Games, Bongo, Iron Dog Studios, Wazdan and Mr Slotty. It's unclear whether these software providers willingly provide their games to the Casino or whether Harry's Casino is running pirated copies.
Slots
Most players looking to play games at online casinos will have an interest in video slots, and that's why at most sites, you'll see slots are, by far, the most common type of game. The same goes for Harry's Casino, and there are around 400 different video slots to try out.
Of course, many of these slot games are likely fake because Harry's Casino doesn't hold a valid online gambling license. So when you're playing these games, there's a high chance you're not getting a fair game at all.
Live Dealer Games
Harry's Online Casino has a live dealer casino powered by some less-legit Asian game developers, including SA Gaming and Vivo Gaming. Still, it's disappointing to see a wide variety of casino table games available to UK players. The live dealer games & other table games aren't regulated in the same ways they are in Europe. So again, you have no chance of whether or not the games you're playing are actually fair and genuinely random.
About the Team and History
"We commit ourselves to always putting our customers first. This starts with a very swift registration process which takes only 2 minutes to create an account. You may then begin experiencing all that Harry's has to offer, which includes over 400 titles of Slot & Table games. Once you have created your Harry's account, you will be entitled to our industry-leading welcome offer. 

We offer a wide range of both fiat and crypto-currency methods and will throw in extra benefits when choosing Bitcoin. We take your security very seriously, which is why we use 128-bit SSL technology to protect your data and maintain airtight compliance with international data protection and privacy laws. We strive to offer top-level customer service for whichever query you might have; you will find our team available round the clock who are both friendly and highly professional."
That's pretty much all the information Harry's Casino are happy to give out on their "about us" page, and, as you can see, it doesn't mention anything specific about the company, who owns them, and which jurisdiction they're regulated in.
Well, in short, this is because a group of criminals runs the site, and they don't have a valid online gambling license. It appears as though the site is linked to several other rogue casinos. If you want to play at an online casino or a sports betting portal and have a chance of actually getting your winnings, you should avoid Harry's Casino at all costs.
Complaints and Track Record
Harry's Casino has an awful track record – and the site does just about everything it physically can, wrong. Even a quick Google search will bring up tons of player complaints, and even some of the more lenient casino review websites are also pretty open with just how evil, and scammy this rogue casino really is.
One of the most prominent complaints players seem to have with Harry's Casino is the fact that they don't like to pay out winners. While they do process some withdrawals, this is likely only the case when they're confident the player will then go on to re-deposit money. They may also choose to process cashouts for regular, long-term players.
However, if you sign-up to Harry's Casino, make your first deposit and end up hitting a nice win, well, the chances of your withdrawal being processed are next to nothing. This scam casino will keep running you around the block, making up excuse after excuse to avoid having to pay you out.
Even if you've somehow played at Harry's Casino before and have managed to get paid out, we strongly suggest that you stay well clear of this Casino as they have a terrible reputation and shouldn't, in any case, be trusted. If you'd like to play at a safe, reputable casino instead, make sure to check out our list of Accredited casinos, which you'll be able to find linked here.
Casino Facts
| | |
| --- | --- |
| Is this casino certified at Casinomeister | No |
| Payout time | 48 hrs |
| Reverse time | 48 hrs |
| Weekend payouts | Yes |
| Locks withdrawals | Yes |

Replies

15
Views

713
Active

1 hour ago

Replies

1
Views

55
Active

2 hours ago

Replies

42578
Views

2224340
Active

3 hours ago

Replies

12
Views

699
Active

3 hours ago

Replies

0
Views

32
Active

4 hours ago

Replies

11
Views

387
Active

11 hours ago

Replies

37
Views

1224
Active

14 hours ago

Replies

2
Views

145
Active

16 hours ago

Replies

21380
Views

1590930
Active

16 hours ago
Replies

22
Views

720
Active

20 hours ago

Replies

4
Views

469
Active

1 day ago

Replies

2
Views

89
Active

1 day ago

Replies

1
Views

141
Active

1 day ago

Replies

9
Views

353
Active

1 day ago

Replies

0
Views

132
Active

2 days ago

Replies

5
Views

313
Active

2 days ago

Replies

1853
Views

224820
Active

2 days ago

Replies

1293
Views

129009
Active

3 days ago

Replies

12
Views

387
Active

3 days ago

Replies

1
Views

216
Active

3 days ago
This casino is unavailable to you. Please see other options