BeTheDealer Review
Reneging on a Deal
By Casinomeister, Last updated Mar 7, 2022
Casinomeister's Verdict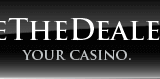 First Impression
Software provider: Propriety
Licensing Jurisdiction: Netherlands Antilles
Added 30 October 2008
On Probation 5 February 2009
Double Secret Probation 30 June 2009
Re-rogued 12th February 2010
Mother Ship:
Bethedealer.com
Offspring:
777Dealer.com
CasinoRoyaleTbilisi.com
EuropeBetClub.com
GoldBetClub.com
PlayAsDealerCasino.com
VipBetStar.com
WinAsDealer.com
Lights on – nobody home…
From Max, our Pitch a Bitch manager:
BeTheDealer: stalled payments, very poor Customer Service
I've had a number of Pitch-A-Bitch issues on the table for the past few months regarding BTD. They involve modest and larger sums where the casino was slow-paying the players so badly that the players came to us for assistance.
At first things seemed to be going reasonably well: BTD responded to the issues, agreed to payment schedules and gave their word to stick to them. Late last year things started to slide. They wanted to stall payments, asked players to be understanding and stick with them, reported cash flow issues due to the recession, etc. Suffice it to say that everyone was very civil about it and agreements were reached for payments to be caught up in the new year.
Here we are, well into the new year and the reports are now coming in that the promised payments are not being received … again. In one specific case three out of the last four monthly payments have been skipped. In another case a written agreement to slide a player's pay-out into January from last November has been completely ignored now that the time to pay has come and gone.
My attempts to raise these latest problems with BTD have gone unanswered. As if it should be me having to chase them: they asked for the stalled payments, the players agreed, and then they simply don't follow through, without explanation or notice to the players involved. Shabby, shabby behaviour, financial crisis or no. The least they could do is respect the players who have given them the extra time to pay. But no, just a hollow promise that the money is being processed, then nothing and now dead air.
Warning: BeTheDealer has been slow-paying players for several months now and the crisis seems to be worsening. Customer Service is there to ask for favours but absent when it's time to deal with the broken promises. Players are advised to avoid BeTheDealer until it is clear that they are capable and willing to meet their financial commitments: your deposits and winnings are at risk.
Bethedealer also has a spotted history going back several years.
Avoid the casino (and its sister sites) at all costs.
Top 5 casinos
BANKING AND PAYMENT METHODS
Withdrawal Speed
Casino Facts
| | |
| --- | --- |
| Is this casino certified at Casinomeister | No |
| Payout time | 13-23 hrs |
| Reverse time | 0-5 hrs |
| Weekend payouts | No |
| Locks withdrawals | No |
This casino is unavailable to you. Please see other options