Action Online Review
No Pay - No Response
By Casinomeister, Last updated Mar 3, 2022
Casinomeister's Verdict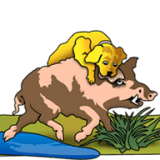 First Impression
Knock knock. Anybody home?
The problem: At the begining of March I have opened an account at Action Online Casino. I would like to point out that I have previously searched the Net for any incidents regarding this casino and also, I have sent an e-mail to check their customer support. They answered promptly…So, I started playing, I won some money, and on 13th of March I have made my first withdrawal attempt of 360 EUR. Immediately after my request I have received an automatic mail containing the transaction ID an also asking me for a proof of ID. Since then I have repeatedly tried to send a copy of my ID card via e-mail and also via fax. Every time I have received failure notices for the e-mails and the fax line was always busy. They suddently seem to be unreachable…6 weeks ago I have contacted the Kahnawake Gaming Comission about this issue. Their representative, Mr. Billie Jo Peterson, promised to contact to operator and then he didn't reply my e-mails. I have also contacted Playtech, but with no result as well. As you can see, there is nobody else to turn to. The money keep coming back to my account and I am still trying to withdraw, but it's becoming more and more obvious that the casino is scam, licensed by Kahnawake and powered by Playtech.
Please help me contact the casino in order to send the required documents and get my money out of there. There is nobody else to turn to. Thank you
The problem:I made a withdrawal of 990 Euros from actiononline casino on March 18th. When it didn't arrive I tried to get in touch with them. On their website they say "You can contact us from the Casino Lobby where you will find a link to our Live Chat." This just isn't true, theres no link to live chat in the casino lobby, or on their website.
I emailed them to the addresses on the support page on their website: customerservice@actiononline.com and cashier@actiononlinecasino.com. Both emails bounced back to me after 2 days.I phoned them not toll-free. From their website: Countries not listed above please dial 1-632-756-7866 for phone and 1-632-756-7867 for fax. Toll charges apply. It didnt work until I dialed it without the 1 and ended up at a recorded message saying I'd reached actiononlinecasino. It repeated itself three times and hung up on me.
I finally got through to somebody who told me my withdrawal had been returned to my casino account because I hadn't sent ID documents, and that I should send them to support@ actiononline.com.
I scanned my ID and sent it to that address. Two days later it bounced back to me. I tried sending from a different email address / domain, 2 days later it bounced back there too. I phoned and asked the CS guy, Ryan, to send me an email, which he did, and to stay on the line while I replied to it, attaching my documents. I received his email, clicked on reply and sent my documents back. He said it didnt arrive, although my email program yahoo said it had been sent.
Ryan said I could fax my documents to 1 268 481 2254. I tried, and it rang at their end, but never picked up. I phoned again, and was told their international fax number is 632 756 7867. I tried faxing my documents to that number 4 times, and had two no replys and two communication error fax reports back.
They will not process my withdrawal until they receive my documents, but every email I send is bounced back and their fax machines dont work. They also advertise a livechat feature that doesnt exist, and you have to be very lucky to get them on the phone, to be told again to send your documents by email or fax. The result is that I cant get my documents to them which I see as their fault, how about an email address / fax number that works, which they are using as a reason not to pay me. I sent an email with ID attached again on Sunday 6th May, once from my yahoo account and also from another email account. They didnt bounce, but when I phoned to ask if they received the emails, I was told actually we are still waiting for your ID.
I complained to Playtech on 6th May, and received a polite acknowledgement from Adam Ehrlich. I have heard nothing since. I'm writing this on 24th May, 18 days later. I included a link to this thread in my complaint and said that clearly others are being affected as well as myself.
I would like my withdrawal of 990 euros. The casino are holding it on the pretext of not receiving my ID, but they make it impossible to contact them by bouncing my emails or denying they were received, and giving me a fax number that doesnt work.
Is this a disappearing act? Casino gone bust? Who knows since no one seems to be able to get to the bottom of this.
Avoid this casino at all costs.
Top 5 casinos
BANKING AND PAYMENT METHODS
Withdrawal Speed
Casino Facts
| | |
| --- | --- |
| Is this casino certified at Casinomeister | No |
| Payout time | 48 hrs |
| Reverse time | 48 hrs |
| Weekend payouts | No |
| Locks withdrawals | No |
This casino is unavailable to you. Please see other options