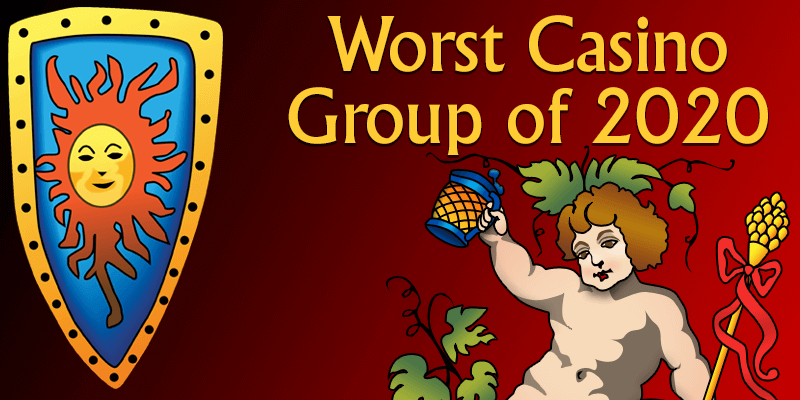 Looking for the Worst Casinos? You've come to the right place!!
Due to the masses of players who could not give a hoot with what casino they patronize, we are graced with a massive entourage of the crappiest, shadiest, dodgiest, craziest clip shot joint casinos that you could possibly imagine.
Yeah – it's more of the same from last year's awards, and the year before that. It's like the Energizer Bunny on crack – nothing will stop this annoying cacophonic smug-ass rodent – it keeps on going, and going, and going…thanks to the negligence and ineptitude of their Curacao "licensing" jurisdiction 1668/Jaz which could not give two flying frickety fracks that their casinos use pirated copies of popular slot games to target problem gamblers. What could be worst than that?
Well not much I am afraid, and there is nothing you can do about it, and no one else will do anything about it either. So players are basically on their own – and for those gamblers who are struggling with addiction, I feel for you. You have no protection here:
10Bet ltd (Not to be confused with the brand 10bet)
4Crownscasino N.V.
Alpha Interactive Solutions N.V.
Arescasino N.V.
Game Tech Group N.V.
Cerberlot N.V.
Infinity Media Group LTD
OceanBreezeTech (Lithuania)
Prism Marketing
Tall Mountain Limited
Topia Solutions N.V.
Vega World Solutions N.V.
Yeah – that's right – it's a multiple gift of this coveted award. All of those above mentioned casino companies are connected somehow (see Tangled Web Award 2020). And if they aren't, they ought to be and join hands and share this awesome award. Sharing is caring.
So here is a tip for players, there is a website called Google.com. It is what is called a "search engine". It can search the entire Internet and may find what you are looking for if you use it correctly. All you have to do is copy and paste any one of the above named craphole companies, add quotation marks around it like "Game Tech Group N.V." + Casinomeister, and click "search". You will get results that will possibly assist you in avoiding these Rogue Casino operations.
Historical Worst Casino Group Awards:
I have been awarding Worst Casino Group for 20 years now, and it is one of the toughest awards to dish out since there are so many contenders clawing at each other trying to grasp this award. The first award given in 2001 was for a major cock-up that put the Las Vegas Strip Casinos on the map. Like they say, there is no such thing as bad publicity. I bet loads of these casino operators cherish these awards and secretly thank me in their dreams.
Worst Group 2019 – Alpha interactive Group/GameTech/Tall Mountain
Worst Group 2018 – Alpha interactive Group
Worst Group 2017 – Virtual Casino Group
Worst Group 2016 – Affpower
Worst Group 2015 – Curgam Group
Worst Group 2014 – Revenue Jet
Worst Group 2013 – Affactive Group
Worst Group 2012 – Rushmore Group
Worst Group 2011– Affactive Group
Worst Group 2010– Affactive Group
Worst Group 2009 – Mighty Slots Group
Worst Group 2008– The Virtual Casino Group
Worst Group 2007 – The Virtual Casino Group
Worst Group 2006 – Sunny Group
Worst Group 2005 – Windows Casino Group
Worst Group 2004 – Popular Casino Group
Worst Group 2003 – Wager21 Group
Worst Group 2002 – Virtual Casino Group
Worst Group 2001 – Vegas Strip Group