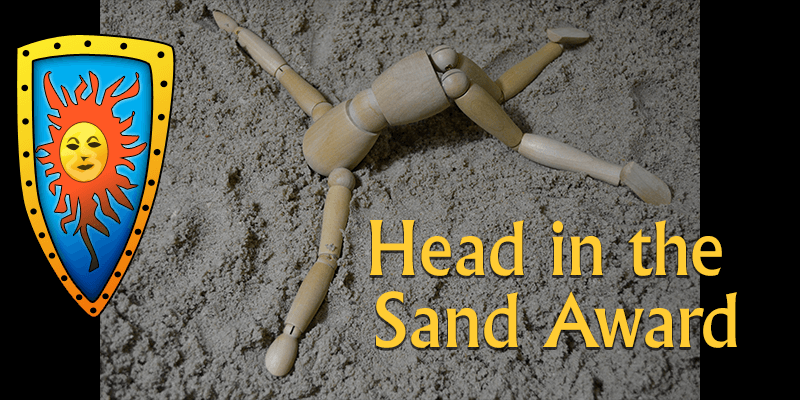 "Get yer head outta the sand, UKGC!"
The recipient of the Head in the Sand Award is awarded again to the UK Gambling Commission. With the regulator once again ratcheting up regulation to the extent that they could very well drive players to operators based offshore where no player protections are afforded.
This is not withstanding some good player friendly measures which have been actioned, such as the ban of the use of credit cards and making operators to sign up with GamStop being a prerequisite for licensing.
However, reports in the mainstream media that the UKGC are seriously considering introducing a monthly loss limit cap, when they commenced their consultation process concerning gambling harm, should be of serious concern to the future of the iGaming industry in the UK.
Alongside the already cumbersome and overbearing source of wealth checks and the denial that there is even an issue with over regulation causing players to look outside of the UK licensed operator. The UKGC are once again acting the Ostrich, in failing to recognise that overbearing regulation will drive players away from their shores.
It is not just players who are jumping ship either, as 2020 saw several operators decide to give up their UK Gambling Licence and stop servicing UK players.
Indeed the UKGC's failure to recognise the problem of unlicensed gambling in offshore territories has further been highlighted at the turn of this year, with the Chief Executive of the UKGC, playing down the risk of players taking their business to offshore operators. This is in direct contrast to what we are hearing and seeing in our own little corner of cyber space.
The UKGC's perceived lack of action against sites deliberately targeting problem gamblers specifically those that have signed up with the GamStop self-exclusion service, is another case of 'Head in the Sand'.
2021 is certainly going to be a make-or-break year for the UKGC and the players and operators that their regulation affects.
Hopefully they will wake up and smell the coffee, resisting in turn the mounting political and mainstream media pressure to introduce bet limits and loss limits. Moves that if come to fruition will likely see operators and players leave the UK akin to rats jumping off a sinking ship.
Head in the Sand Historical Awards
Head in the Sand award goes back to 2005 when I began awarding entities for their ignoring important issues like player protection, or being flippant towards player assurance. I've also awarded this amazing accolade for groups of people who are either oblivious, naive, apathetic, or just plain indifferent towards the responsibilities that they have towards either their own business interests, or the obligations they are endowed with by the simple fact of advertising online casinos. Needless to say, each year it is difficult to decide to whom to bestow this award upon since there are so many worthy candidates.
Head in the Sand Award 2019 – UKGC not understanding players
Head in the Sand Award 2018 – UKGC draconian regulatory methods
Head in the Sand Award 2017 – Affiliates not UKGC compliant
Head in the Sand Award 2016 – Betsoft
Head in the Sand Award 2015 – the "Bonus Beaters", the "Bonus Whores"
Head in the Sand Award 2014 – Oblivious Players
Head in the Sand Award 2013 – Naive Affiliates
Head in the Sand Award 2012 – Lazy Affiliates
Head in the Sand Award 2011 – Casino Operator Bonus Pimps
Head in the Sand Award 2010 – Lotteries and Gaming Authority
Head in the Sand Award 2009 – Affiliates and Affiliate Managers
Head in the Sand Award 2008 – Hypocritical US Politicians
Head in the Sand Award 2007 – Players who Patronize the Rogues
Head in the Sand Award 2006 – The Entire Online Casino Industry
Head in the Sand Award 2005 – iGlobalMedia
Head in the Sand Award 2005 Runner Up – Chartwell Technologies