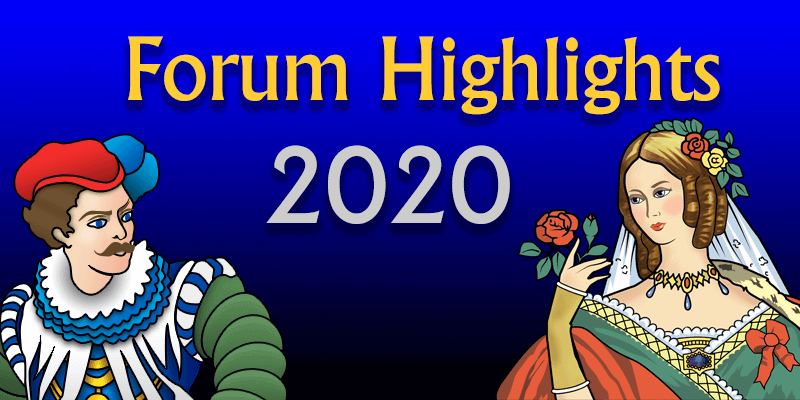 "Still the Best Forum on the Planet"
Well, each year I think about how lucky I am to have such an amazing community here hanging out in our forum. This year especially since I was a ghost for most of the time – for months I was in the California desert with limited or spotty wifi while working on some construction projects which kept me away from my wonderful (well, mostly wonderful) members.
The bottom line is that I missed out a lot. I wasn't here to give some of you the tender loving care that a few folks need, or chime in when you'd expect me to blab away, or put a stop to some of the squabbling we get when emotions might be getting the best of us. And yeah – emotions got the best of us with all the Covid restrictions and stress that comes with it. And then there is the 2020 the political BS that really was nerve wracking. Believe me, I have been affected by these restrictions in a big way, but that is a totally different matter in itself. What matters is you – the forum member – you are the one that keeps this place going, and you are the one who just might have a home-away-from-home here. And I hope that my absence has not hindered this.
So here's a cyber "cheers" to our community. Regular members and the moderators – the beers are on me.
Forum Highlights of 2020
This is a brief smattering of popular threads that appeared this year. There are many more, but these are the ones that stood out for me.
Casinomeister News
Are Slots Streamers a Threat to the UK iGaming Industry? Well are they? This is a thread that discusses the controversy of "casino streamers". These are advertisers of online casinos who video stream themselves playing casino slot games (yawn – snooze – ZZzzzz) and in many cases are making unrealistic bets and wracking up massive wins which can cause players to have unrealistic expectations receiving big jackpot wins like these "affiliates". Will the UKGC take action or create even more draconian regs to counter this? What are the casinos doing about this? Check out this thread and find out.
---
Is the end of Reverse Withdrawal in the UK nigh? Here is an interesting thread that indicates that yeah, people in Covid lockdowns might be gambling more and more tempted to reverse their winnings. This thread discusses this – and yeah it's about time.
---
And of course we have the interviews that Dionysus conducted throughout the year. Gambling Reps and Forum Member Interviews If you haven't read these yet, take time on your lunchbreak (if you are still working) and have a gander. They are quite interesting indeed.
---
Casinomeister Charities
CM's charity drive for Kenyan Single Moms We raised over $5000 for this organization which is assisting young women living in an underprivileged area of Nairobi, and who have been adversely affected by the Covid tragedies. Thanks for your support on this. Those of you who made contributions affected these women's lives in a very positive way.
---
Online Casinos
Affiliates Who Target Problem Gamblers Yowza!! Now this is some nasty stuff, but yes – it is unfortunately true. There are some real pieces of work who actively and knowingly target problem gamblers. What can be done about it? Well check out the thread and find out.
---
Are you spending more or less on gambling during the Covid-19 lockdown? Well, are you? I started this poll in April and it continued up until October with over 400 participants – and the poll results were…no, our members were not spending more but about the same. I wonder how it is now? Perhaps do it again this April when things are really messed up. LOL
---
Slots Announcements and Discussion
Ask Me Anything about Slots (AMA) 2020 with Trancemonkey – if you were going to choose one thread to read in the forum (if you are a player of slots) this would be the thread to be keeping up with. This is chuck full of questions, answers, slot myths touted – and slot myths shot down. Trancemonkey – our regional expert on slot design, mechanics, and behavior is here for your queries.
---
Dead or Alive 2! Yeah sure, this thread started in 2019 – but it's 2021 and 34 pages strong and still going. DOA 2 is by far the most popular slot game this year. Check out this thread if you are into this game – it's pretty amazing.
---
Hi! We are Nolimit City! This thread was started in February 2020 and is still going strong today – the official thread of NoLimit City – a relatively new slot developer. They have some amazing games and this is where you can ask your questions, have a discussion, and get some answers. Some great conversations here.
---
Casino Industry Discussion
Irresponsible streamers & affiliates? Aye yi yi! Another volatile thread! Folks getting spanked and banned in here. But it's all good – singing kumbaya at the end – or maybe not.
---
Casino Complaints – Bonus Issues
Betzest voids 3500 euro balance legit? Well this thread is a nightmare – well at least for the casino in question and for the player. This casino pretty much shows how much they don't know about their own slot games, and they confiscate a player's winnings for that. This episode of casino ineptitude and stubbornness became this year's "Faceplant of the Year" award.
---
nirankali vs King Billy Casino Here we have an entitled nut job who was just so freaking rude and annoying he ended up getting the boot. But his thread deserves a read if you want to understand why being a casino operator can be a living hell.
---
And unfortunately many other complaints, mostly with dodgy crap casinos that should not even be allowed to have a license – but then, some of them don't.
---
Casino Complaints – Non-Bonus Issues
Should I chargeback at Red Lion Casino? Well short answer = yes. Read the thread to find out why.
---
Casumo Source of Wealth issues: 42 pages detailing how Casumo Casino bungled these Source of Wealth document requirements, requests, and management, which pretty much caused their loss of our seal of Accreditation. They just stopped responding to these players complaints and tucked their heads into their tortoise shells. Quite sad really, not many firms are having the issues that they are having with SOW. And you could hear the champagne glasses clinking in Curacao – those operators know that these SOW problems just cause players to venture into the dark side.
---
Screenshots-O-Rama:
Oh, say no more! Say no more! Here we have the largest collection of slots and video poker screenshots (yes, some folks still play video poker) on the planet. Show me the Money Screenshots (Min 1000xBet) going strong for over 10 years, Screen Shots that Suck! going strong for 15 years, Mega Wins – Min 3000x Bet , going strong after five years, 5 Scatter/5 Wilds Screenshots going strong for 14 years, and loads, and loads of others to include the monthly screenshot threads we've been doing since 2004. This is by far one of the most popular destinations in the slot player's realm of online gambling. You can check out the threads here: Screenshots-O-Rama
---
Meister Social Groups
These Social Groups are pretty much controlled by our members – senior members can create them, new members can join them. Many of these are off topic interest groups like Oh, Canada oh, I wonder what that's about? Strictly Movies, The Game Shack nerds!!, Fight Club, and one of the most popular – Social Tournaments by Pragmatic – it is one of the most popular threads drawing in loads of members signing up just to have a chance to win some nice cash prizes.
---
Webmaster's Corner
This year we relaunched the Webmeister Code of Conduct and Signature links which details what we expect from those members who belong to the Webmeister group. We also brought on a service First Look Games – Widget & New Game Releases which allows webmasters to download game information and marketing assets from the most recent (and old) casino game titles offered by a massive range of software partners. really, some good stuff there.
---
The Meister's Attic
Ah yes, of course The Meister's Attic which as a magnet for flame wars, trollish behavior, spankings, and a number of admonishments. All thanks to 2020's lockdowns and political upheavals, we have the Corona virus – Covid 19 discussion which at 547 pages has shown how we have dealt with the restrictions, changes in our lives, rumors, misinformation and conspiracy theories. And then there is Brexit – whats the difference….. 185 pages of people getting riled up, and of course the infamous North Korea and US politics which was locked and then renewed afresh after 605 pages – this was probably the thread that caused more members to get infractions, spankings and suspensions than any other thread in the forum. Yay! (that was a sarcastic yay).
And the Rest
Yes, and the rest…there is no way in hell to be able to give you a full picture of how awesome and massive this forum is with its informative posts, not so informative posts, rants, jovial jocularities, heart aches, heartbreaks, wisdom, and bent postings. It is dynamic, it is strong, and it is the most entertaining and informative place on this planet – if you want it to be. Thanks to our members and volunteers and staff. You guys are the best – couldn't thank you enough.
---
And if you are not a member yet, why not? You are missing out on a lot of interaction with some very cool people – and a few lunatics as well. You can register here.
Forum Highlights Historical Awards
Actually, I only started publishing the forum highlights in the awards in 2008. Our forum dates back to 1998 – you can find these older posts in our archives – if you dare: Ye Olde Casinomeister Archives.
Forum Highlights of 2019
Forum Highlights of 2018
Forum Highlights of 2017
Forum Highlights of 2016
Forum Highlights of 2015 – Both a crazyman's and a gambler's dream part II
Forum Highlights of 2014 – Both a crazyman's and a gambler's dream
Forum Highlights of 2013 – It was a wild year
Forum Highlights of 2012 – A whole bunch of stuff
Forum Highlight of 2011 – De-roguing Grand Privé, Questions on RTP, Casinos and Responsive Gambling
Forum Highlight of 2010 – A Poll that Made a Difference
Forum Highlight of 2009 – Software Provider Intervenes with Rogue Casino
Forum Highlight of 2008 – Cynthial and Swede gettin' hitched