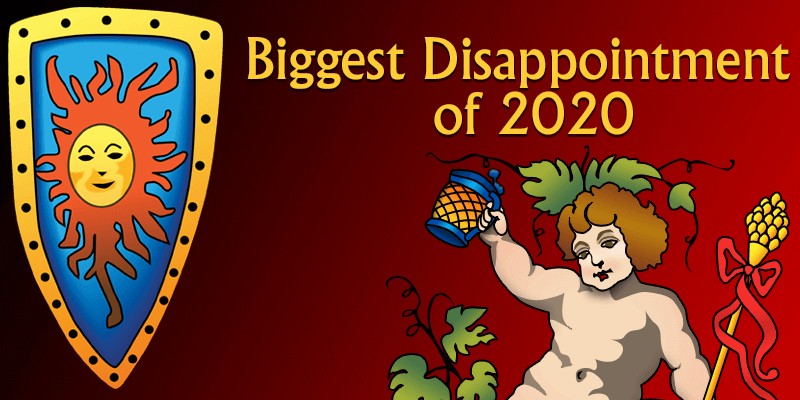 The Biggest Disappointment – Player Apathy
"Tolerance and apathy are the last virtues of a dying society."
― Aristotle
The biggest disappointment for the year 2020 is the fact that loads of players don't give a flying rat's wazoo about who they give their money to – as in patronizing known rogue casinos. And in the long run – loads of these folks tolerate it. It's quite sad really, seeing players posting in our forum saying "I didn't know that __________________ (fill in the blank with your favorite dodgy casino) was a scam." It would take a 30 second Google search to have that Eureka moment. I have never understood why most folks would spend hours if not a few days reading reviews on hotels, ship cruises, restaurants, travel destinations – well just about anything that is reviewed online, but they won't do the same amount of due diligence with an online casino – many of which will ask for ID documents and banking info from their players. Where do you think those documents end up? I will bet money on it that your scanned IDs, Credit Card info, bank statements, and copies of your utility bills end up somewhere east of Minsk. Think about that for a few minutes. Are you still apathetic?
When someone joins the forum complaining about a casino that has ripped them off as a no-pay casino, and that casino is clearly listed in our Rogue Pit – and comes up at the top of the search engine results for a scam/dodgy/rogue/not recommended casino, I take it as a personal affront. It's like the hard work that I and members of my crew is done for naught. Are we wasting our time writing Rogue Casino Reviews, or posting warnings in our forum? Are forum threads engaging in sobering discussions about whatever dodginess is afoot a bunch of blah blah blah? Think hard about that. Believe me, there are loads of snake pits that are doing whatever they can to fleece players and monetizing massive player databases – all with your playing habits, preferred games, and of course – player identification and banking info.
Players can be their own worst enemy at times – and a player that does not care what happens to his/her deposits are acerbating the problem of keeping unethical businesses afloat. What is even more annoying is that perhaps hundreds of thousands of these people just put up with it. You'll see them bitch and moan, and try to stir up a pitchforks and torches crowd, but they will be back months later with the same sort of grievance. I know – I have seen this happening for over two decades, and it is tiresome, aggravating, and downright disappointing.
Biggest Disappointment Historical Awards
I have been dishing out the "Biggest Disappointment Awards" for quite a long time now. Yes, there are loads of things, businesses, and people that I find not only annoying, but clearly disappointing. These awards were created to wake people the heck up and take some sort of action to counter the disappointment, but in most cases apathy wins over proactiveness. It is easier to be lazy and just let things go.
Biggest Disappointment Award of 2019 – The UKGC and draconian regs/Big Time gaming lack of ingenuity
Biggest Disappointment Award of 2018 – The Australian Government
Biggest Disappointment Award of 2017 – The Australian Government
Biggest Disappointment Award of 2016 – Curaçao License – White Label Runners
Biggest Disappointment Award of 2015 – Bad Attitudes and White Labels
Biggest Disappointment of 2014 – US Market
Biggest Disappointment of 2013 – US Corporate Arrogance and Naivety
Biggest Disappointment of 2012 – Betfair/888.com
Biggest Disappointment of 2011 – Betfair/GRA
Biggest Disappointment of 2010 – HR 2267, US Market, Rival Gaming, Top Gaming
Biggest Disappointment of 2009 – Microgaming, CAP Spring Break, Rushmore Group
Biggest Disappointment of 2008 – Malta's LGA, White Label Casino Operators, Microgaming
Biggest Disappointment of 2007 – Watching US players being thrown to the wolves
Biggest Disappointment of 2006 – Unlawful Internet Gambling Enforcement Act
Biggest Disappointment of 2005 – "Abused" Casino Operators (again)
Biggest Disappointment of 2004 – "Abused" Casino Operators
Biggest Disappointment of 2003 – Truegambler's Cheating Software report/Oddson Software