Meister Awards 2018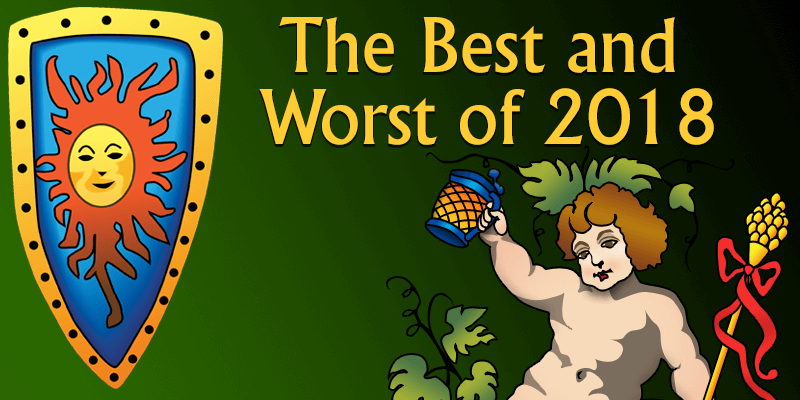 Best and Worst in Online Gambling for 2018
Tempus Fugit – and it is that time of year again to take a look back and see what the heck happened these past twelve months. In 2018, we were witness to a number of events – the manufactured crisis of General Data Protection Act and all of the dog and pony shows that this produced – sort of like Y2K, eh? We saw how the UKGC tried to own the Internet with its well-meaning but shortsighted self exclusion policies. We saw more redundant stupidity from the US – except for the fact that they have legalized sports betting, but maybe not, but maybe so, but maybe not – whatever. And loads and loads of player dilemmas, problems, love-fests, and other wanton behavior in our forums.
And Casinomeister celebrated 20 years online – whaaaa???
But that is only scratching the surface – it is time for the awards for the Best and Worst of Online Gambling 2018. So don your Kevlars, button your chinstraps and jump into the trenches with me.
Here are the awards:
Drum roll please…
And the winners are…
---
Best Casino 2018
What a Freaking Awesome Year – Double down on greatness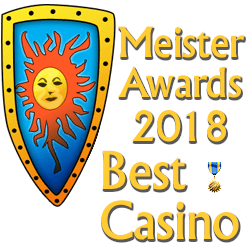 The Best Casino is traditionally voted on by the Casinomeister Advisory Group (CAG). This is about 35 members to include the moderators and myself. This year I broadened the voting spectrum by adding the Meister Minions who have achieved an award for their participation in the MM realm. This increased the voting population to about 58 (many CAG members are MM awardees). Anyway, the results are unprecedented: we have a tie. And instead of flipping a coin, or going einie minnie miney moe to chose the winner – I am giving the award to both casinos: Trada Casino and Videoslots. Both of these casinos are just freaking amazing.
Trada Casino came on board in 2012 and actually failed their initial Baptism by Fire. But after they got through their teething pains, they gave it another shot and passed with flying colors. They won Best New Casino 2013, and since then they have improved with each year winning Best Customer Service three times in a row – to include this year. Conor Dargle won Best Casino Manager 2018 and Rachel Morgan Best iGaming Rep Award for 2018.
Their operations are nearly flawless – no PABs this year (our formal submitted complaints) and the forum is chock full of kudos from our members and loads of great and original promotions. These people are a joy to work with and by far are one of the best operations out there. Congratulations to everyone at Trada Casino – your hard work has paid off.
Videoslots: what more can I say? This is an amazing casino – totally player focused with loads of original tournaments not found anywhere else (Battle of the Slots for instance), they have just about every slot imaginable – easy to search – totally intuitive. And their management team is extremely helpful, professional, and are dedicated not only to our forum, but to the Casinomeister philosophy on how to treat players and affiliates as well. They are a pleasure to work with, and it's a no brainer that these guys are the best at what they do. Congratulations Videoslots for winning this award once again.
2018 shortlist:
CasinoEuro
Rizk
Royal Panda
Trada Casino
Videoslots .
Historical Best Casino Awards:
Best Casino 2017 – Videoslots
Best Casino 2016 – Videoslots
Best Casino 2015 – Videoslots
Best Casino 2014 – Club World/Guts
Best Casino 2013 – 3Dice/32Red
Best Casino 2012 – 3Dice/32Red
Best Casino 2011 – 3Dice/32Red
Best Casino 2010 – 3Dice/32Red
Best Casino 2009- Club USA/32Red
Best Casino 2008 – Club USA/32Red
Best Casino 2007- 32Red
Best Casino 2006 – 32Red
Best Casino 2005 – 32Red
Best Casino 2004 – 32Red
Best Casino 2003 – 32Red
Best Casino 2002 – Intercasino
Best Casino 2001 – Kiwi Casino
Best Casino Group 2018
"These guys have it together"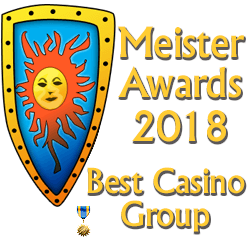 L&L Europe Group: The L&L Europe Group is one of the few casino groups that has its fingers on the pulse of the player community – they have done a bang up job this year. They are running no less than five casinos, and for the entire year of 2018 we received no PABs – none – no submitted player complaints on this group. That's pretty amazing considering that they have many active players – many of whom are members of our forum.
They have been around since 2011 having a pretty low profile until the affiliate manager of All British Casino introduced himself to me in London in 2016 stating that they were interested in getting involved with Casinomeister. They entered the Baptism By Fire in February 2016, and it was a success. In 2017, they became a bit more involved in the site – and this year they have evolved into a well honed machine. Players' questions are answered quickly in our forum, issues solved, and always in a satisfactory and professional way. Good going L&L, your hard work has panned out. High fives all around.
Their awesome brands:
All British Casino
Fun Casino
Karl Casino
No Bonus Casino
Yako Casino
Yeti Casino
Historical Best Group Awards
Best Group 2017 – Gaming Innovation Group
Best Group 2016 – Gaming Innovation Group
Best Group 2015 – 32Red Plc
Best Group 2014 – 32Red Plc
Best Group 2013 – 32Red Plc/Club World Group
Best Group 2012 – Rank Interactive/Club World Group
Best Group 2011 – 32Red Plc/Club World Group
Best Group 2010 – 32Red Plc
Best Group 2009 – Club World Group
Best Group 2008 – Jackpot Factory
Best Group 2007 – Jackpot Factory
Best Group 2006 – Trident Entertainment Group
Best Group 2005 – Trident Entertainment Group
Best Group 2004 – Vegas Partner Group
Best Group 2003 – Fortune Lounge Group
Best Group 2002 – Trident Entertainment Group
Best Group 2001 – Sunny Group
Best New Casino 2018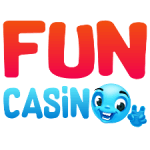 When Fun Casino was launched, I thought, "Ha! A contender for the stupid named casino of 2018 award." Well, maybe the name was a bit lame, but this didn't stop the casino to successfully maneuver its way though our Baptism by Fire process in February 2018, and to actually exceed our expectations. I was happily amazed as were many of our forum members on how swift the casino rep L&L Jan dealt with any issue to a satisfying conclusion.
Fun Casino has been been doing a bang up job this year. Jan has been announcing new games and software providers that they are hosting, and entertains the questions, suggestions, and whatever complaints stem from these threads. Most of the time it's all good because this is an awesome casino – Best new Casino if 2018.
They are licensed in Malta and in the UK, and are managed by the L&L Europe Group of casinos (see also Best Casino Group of 2018).
Great going Fun Casino! Kudos for a job well done.
Best New Casino Historical Awards
Best New Casino 2017 – PlayOjo Casino
Best New Casino 2016 – Rizk Casino
Best New Casino 2015 – Slotsmillion Casino
Best New Casino 2014 – VideoSlots Casino
Best New Casino 2013 – Guts Casino
Best New Casino 2012 – Redbet Casino
Best New Casino 2011 – Jackpot Party
Best New Casino 2010 – High Noon Casino
Best New Casino 2009 – All Star Slots
Best New Casino 2008 – Red Flush Casino
Best New Casino 2007 – 3Dice Casino
Best New Casino 2006 – Club USA Casino
Best New Casino 2005 – Vegas Splendido
Best New Casino 2004 – Maple Casino
Best New Casino 2003 – No Candidate – they all sucked
Best New Casino 2002 – Spin Palace
Best Customer Service 2018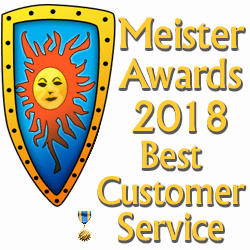 For the third year in a row,Trada Casino has nailed it: Best Customer support for 2018. Players exude their praises whenever they get a chance and rightly so. Trada Casino is one of the best run casinos in the business and sets a prime example that their competitors should take note of. These folks are dedicated to their player's playing experience – their philosophy and approach to the industry leans heavily toward player satisfaction and treating their customers right.
Trada Casino's dedication to their customers, and their above board operations set an example that I am sure a number of their competitors admire. They score on average 9.6 – 9.8 points in our reviews, only a very few casinos can do that. We had over 250 new complaints submitted in 2018 via our PAB system (formal complaints) – zero complaints for Trada Casino.
Like I stated last year and the year before, Trada Casino is a casino I am proud to list as an Accredited Casino at Casinomeister.
Best Customer Service Historical Awards
Best Customer Service Award 2017 – Trada
Best Customer Service Award 2016 – Trada
Best Customer Service Award 2015 – Betat
Best Customer Service Award 2014 – 32Red
Best Customer Service Award 2013 – 32Red
Best Customer Service Award 2012 – 32Red
Best Customer Service Award 2011 – 3Dice
Best Customer Service Award 2010 – 3Dice
Best Customer Service Award 2009 – 3Dice
Best Customer Service Award 2008 – 3Dice
Best Customer Service Award 2007 – Club World
Best Casino Manager 2018
Give this woman a raise!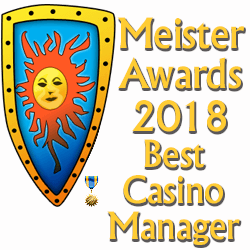 "Casino Manager" is one of the most challenging jobs in the gaming industry. Loads of players are totally cool. But then they can also be exhausting to deal with – unforgiving, confrontational – and always expecting freebies. Sometimes they're total newbies who have not a clue about what they are doing – and they need to be hand carried every step of the way. And there are the rude and abusive players (see our fan mail to get an idea about what these folks are all about). One slip-up and your chat sessions or emails are going to be posted in the public fora.
Many managers toss in the towel – they don't get paid enough for this stuff.
Rachel Morgan should be given a raise for the outstanding job she's done. Teamed up with Conor, Trada's Player Manager (aka Casino rep), she has been vigilant in ensuring that Trada's players are getting awesome treatment. Looking at the PABs this year (complaints submitted at Casinomeister) we have zero complaints concerning Trada casino. Looking at the forum, it is almost universally praise and kudos for an excellent manager and customer support. Good going Rachel – job well done.
Best Casino Manager Historical Awards
Best Manager of 2017 – Daniel – Videoslots
Best Manager of 2016 – Daniel – Videoslots
Best Manager of 2015 – Karolina – Club World Casinos
Best Manager of 2014 – Karolina – Club World Casinos
Best Manager of 2013 – Ben Clems – Guts Casino
Best Manager of 2012 – Redbet Andy – RedBet
Best Manager of 2011 – Pat Harrison – 32Red
Best Manager of 2010 – Pat Harrison – 32Red
Best Manager of 2009 – Enzo – 3Dice
Best Manager of 2008 – Pat Harrison – 32Red
Best Manager of 2007 – Pat Harrison – 32Red
Best Manager of 2006 – Emily Hanson – iNetBet
Best Manager of 2005 – Emily Hanson – iNetBet
Best Player Experience 2018
Rizk Casino Office Visit Promotion: Be a Managing Director for a Day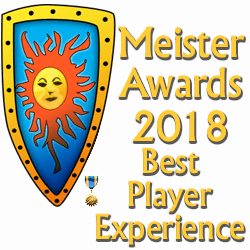 This award goes to Rizk Casino which again made a stellar effort this year to bring players and the industry closer. Rizk Casino had an exclusive contest where the winnings weren't just some big cash prize – it was a tad bit more. It was all about learning about the internal machinations of online gambling. The winner was given the opportunity to experience what goes on in a casino's workplace. Rizk's "Win the chance to be Managing Director at Rizk for the Day" was ingenious. It started with this:
Our Managing Director has agreed to work alongside a Casinomeister Member for a day in Malta. This would mean explaining the thinking behind all of the decisions that get made and will cover all aspects of the business from Customer Support, VIP, Marketing, Casino Operations and Branding.

I will give every participant €/£/$ 20 (200 NOK/SEK) of bonus money into your Rizk account completely free of charge.
This bonus money will only work on Bonanza and has 35x wagering requirement. complete the wagering and you can keep whatever is remaining.

The person that posts the BIGGEST WIN (not x bet but total win) using the bonus money that i have given them will win – and yes it will be checked. Simple as that!
So the contest took off and Ternur was the final winner – he was the chosen one to visit the offices at GiG beach in Malta. Before he left, he initiated this thread: Rizk Casino answers submitted players' questions here!! where the members began to post their questions for Ternur to be answered either in that thread or in the offices of Rizk casino. This thread turned into one of the forum highlights of the year since there is so much myth busting information in that thread. Personally, I would like to see this happening each year.
And this is what makes it the Best Player Experience of the year. There is no other website like Casinomeister where players can find out first hand how an oline casino is run. Even though only one member went, we all had the vicarious experience of how it is behind the scenes. This is nothing one should take for granted, and those threads should be required reading for anyone who takes online gambling seriously. Good going Rizk casino and to the folks at GiG.
Honorable Mention:
CasinoEuro hosted a similar promotion – it was a four week promotion of members posting the highest win-to-bet ratios on selected games. The winners were sent to Malta to participate in a massive live action roulette tournament with a prize pool of €200,000 and a guarenteed grand prize of €50,000 – all played out at the Hilton hotel in St Julians. Five our our members went: Tirilej, Aceking123, Kavaman and Gilliebean (Supababe couldn't make it so she gave her prize to Gilliebean). They were flown to Malta, to include partners, stayed at the Hilton – none of them won the tourney, but they had a fantastic time.
Update on last year's "Best Experience": Trancemokey's "Ask Me Anything About Slots" thread is still going strong – chuck full of nuggets of knowledge about the inner workings of, you guessed it, slots.
And for 11 months and over 1,750 replies, and 142,200 views, this thread is still very active with not only Trancemonkey, but other members who have behind-the-scene experience and expertise. Kudos to those members who are continuing the quest for knowledge and sharing these ideas.
Best Gaming Experience Historical Awards
Best Gaming Experience 2017 – Ask Me Anything About Slots
Best Gaming Experience 2016 – Rizk Casino Experience
Best Gaming Experience 2014 – Pat Royal Flush with $100 bet
Best Player Experience 2013 – Legalized online gambling in the US
Best Player Experience 2012 – 32Red
Best Gaming Experience 2018
Four years in a row – the gaming experience at Videoslots is still amazing.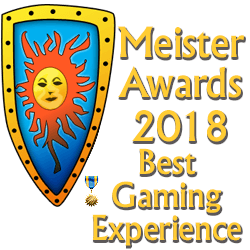 Videoslots won this award in 2015, 2016, 2017 and here they are again – big surprise? Not!
Videoslots by their nature are dedicated to the experience of their players. They were pioneers in player safety – they were one of the first casinos, years ago, to implement safety protocols setting deposit limits, loss limits, wagering limits, self exclusion. In fact, when they first launched in 2011 they were intent on listing all of the RTPs for each game. No one else was doing that back then – now for many casinos, this is standard SOP.
Check out their website – it exudes "a great experience". Finding games by software provider, type, or even popularity. They have over 3400 games (an increase from 2220 games from last year) from 109 providers. I remember it was only about a decade ago that most casinos had only one provider to choose from. Man, how times have changed.
Their site may be intuitive, and your player account may have a number of features that enable you to control your bankroll, but where they excel is with their custom created slot tournaments like Battle of he Slots. These tourneys are absolutely amazing. If you are a player and haven't tried these, you are definitely missing out.
To top it all off, they have a team of casino reps in our forum who are dedicated to our community to ensure that every one of our members is having the best gaming experience possible.
All in all – the best gaming experience of 2018. Keep it up!! You guys are doing a bang up job!
Best Gaming Experience Historical Awards
Best Gaming Experience 2017 – Videoslots
Best Gaming Experience 2016 – Videoslots
Best Gaming Experience 2015 – Videoslots
Best Gaming Experience 2014 – WMS
Best Gaming Experience 2013 – WMS
Best Gaming Experience 2012 – NetEnt
Best Games Award 2011 – Leander Games
Best Software Supplier Award 2011 – NetEnt
Best Games Award 2010 – 3Dice
Best Software Award 2010 – Microgaming
Best Software Award 2009 – Wagerworks
Best Software Award 2008 – Cryptologic
Best Software Award 2007 – Wagerworks
Best Software Award 2006 – Microgaming
Best Software Award 2005 – Microgaming
Best Casino Software Award 2018
Best and Worst Slot Releases of 2018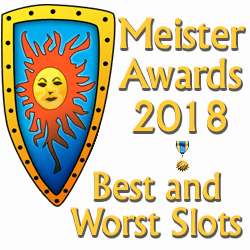 The forum members are the ones who tasked to decide on the best games of 2018, some of our members have been actively playing casino games online for over a decade – hell some for nearly two decades (old timer over here).
From Dunover – Slotmeister:
Slot Releases & The CM Poll For Slot Of The Year 2018!
Well hello readers!
2018 has certainly been a notable, even controversial year as far as new slots and developers are concerned. Last year Big Time Gaming were the most popular developer and had the winning slot, Bonanza. Prior to this, Play'n Go won in 2016 with Book Of Dead which raised more than a few eyebrows considering it was a barely-concealed copy of Novo's classic Book Of Ra Deluxe!
This last year has been dominated by high-volatility slots, primarily of the Megaways game mechanic from BTG which has been latterly licensed out to Blueprint Gaming. So the 2018 poll was a surprise in many ways as a Blueprint slot did actually win, but not a Megaways game; a simple 20-line slot of super-high variance called Napoleon – Rise Of An Empire was the clear winner. This was actually created by another Australian developer called Reel Time (not to be confused with the US-facing Real Time Gaming) and is part of their Colossal Payout series. And colossal payouts it most certainly did produce: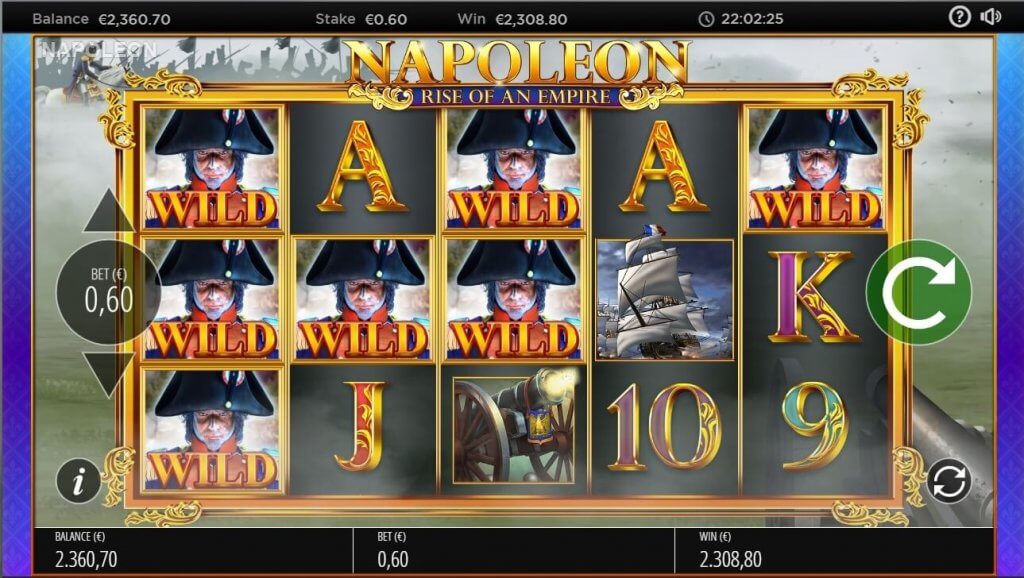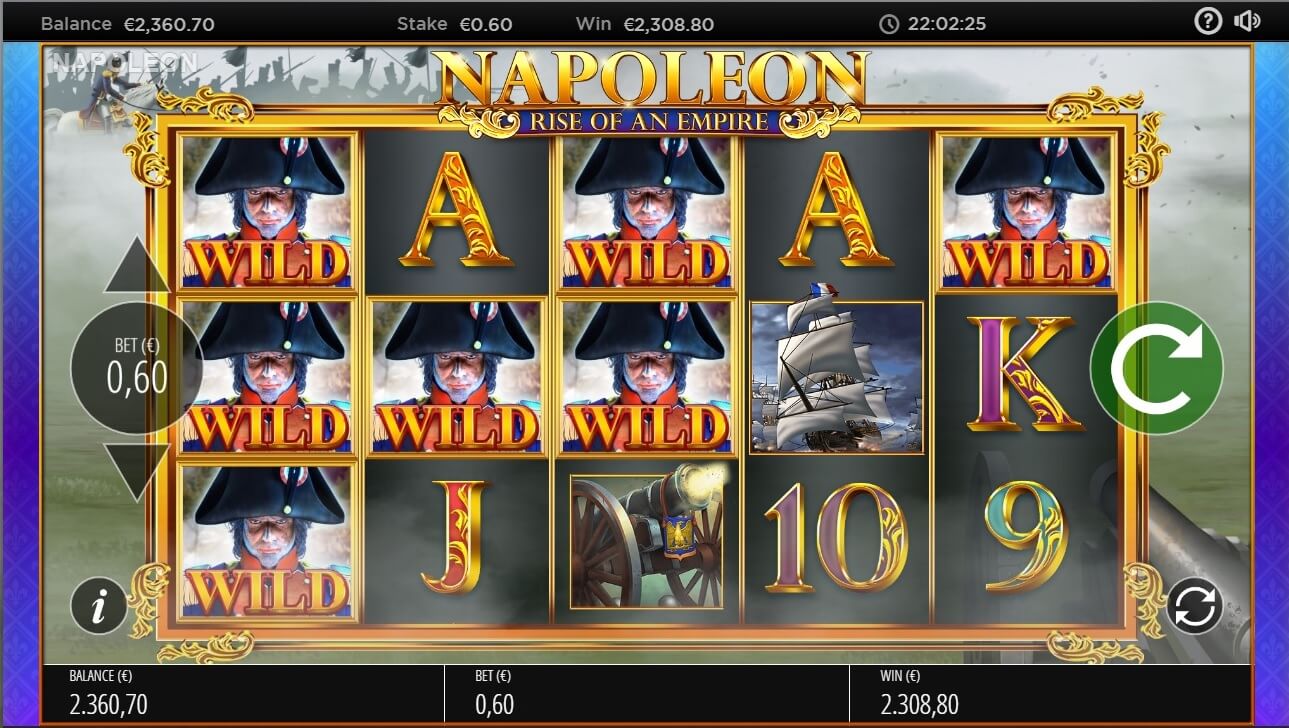 Blueprint were also the developer with most points, although as with the Book Of Dead result in 2016 this is somewhat a hollow victory as the bulk of their score was created by Megaways games which they make under the BTG licence. In 2019 Red Tiger will also be developing Megaways games so this could be interesting next year but I suspect that players may rebel against this constant barrage of the same mechanic and demand something more original. We'll see.
So moving on from Megaways, what other games or developers jumped out as us in the last 12 months? Well, we certainly have an obvious candidate here with Push Gaming who produced relatively few games and all bar one were noticed and given votes by the Casinomeister membership, which is quite spectacular especially when viewed in the context of the big developers mentioned further down this article. Again, these were mainly high-volatility games and these too raised not a little controversy when players observed the bonuses were pre-scripted and running graphics according to a RNG outcome already chosen. Nothing dodgy about that, it's within the rules and the games are still random and fair but nevertheless many players felt this should have been made more obvious; there was a heated discussion too.
Play'n Go reaffirmed their status as one of the top developers for members here with many popular releases including Legacy Of Egypt and Rise Of Olympus while Big Time Gaming had two of their five releases in the top 10 but were well down on last year's performance mainly due to the facts mentioned above. They also made the most reviled slot I ever saw in these polls, with their Book Of Gods game getting an unprecedented 11 nominations for the TOSSER award of 2018 (The Overwhelmingly Shittiest Slot Ever Released). This is however very unusual for possibly the most progressive developer of the last few years and I confidently predict their next game Holy Diver will be the total opposite – it's surely a classic in the making. Here it is – Holy Driver slot
Now I'm afraid the topic invites yet more controversy, a word which figures heavily this year. There has been an explosion in slots using the 'feature purchase' system whereby for a multiple of the base stake of say 50 or 100 the player can purchase a feature trigger and then in some cases can actually gamble it afterwards at the risk of losing it all.
An example is BTG's Extra Chilli where for 50x bet you can buy a trigger for the free games, usually awarding 8 spins, an amount which may not bode well for an increasing multiplier mechanic during the games. You can now gamble this for 12 spins or more and lose everything doing so on the basis of a 50-50 chance. Many players consider this to be irresponsible gambling and the fact that most slots offering this facility state their RTP is slightly higher when exclusively playing via the purchase seems to have inflamed feelings too.
There are of course two sides here – the UKGC has recently prevented FOBTs in land-based bookmakers from having single game stakes of over £2 but then again do not forbid non-feature purchase slots from having stakes of up to 500 or even 1000 a spin. I've a feeling there will be more to this tale in the coming year.
The final chapter of 2018 is possibly the most meaningful – what of the major Big 6 developers? Well last year was pretty dreadful as far as their releases went and it's regrettable that 2018 was even worse with their complacency and lack of invention, alongside some pretty terrible maths models and mechanics again apparent.
There has been a noticeable improvement by NetEntertainment though to be fair, with Vikings getting more than a few player votes alongside Halloween Jack with BerryBurst being a vast improvement on their ubiquitous Starburst. Other than that their games were pretty anonymous. Playtech were the most prolific developer and were ignored in general although along with Novomatic part of the reason for this could well be the limited amount of multi-platform casinos offering their software, leading to limited player exposure. You most certainly cannot use that excuse for the remaining 3 bigger developers though!
Microgaming have had yet another dismal year, with most of their platform releases being those from smaller in-house development teams such as Triple Edge and Just For The Win and they were pretty dire. There is one glimmer of hope for them though (although that 'controversial' adjective is again imminent!) with Book Of Oz. While not making the cut for the 2018 poll, I've a feeling it will score well next year and the title may well give away the reason – yes! it's another version of Book Of Ra Deluxe. When a talent show winner gets a Top 5 single with a cover version, is it the song that sells or the singer themselves? I think we all know the answer to that.
IGT seem to have lost many popular online games in recent years such as Super Hoot Loot, Fortress Of Fortunes and of course the classic Cleopatra 2. Yet again they've failed to replace them and churned out tens of generic and low-potential games, although sister company High 5 Gaming have attempted to copy one or two of those old classics, if you can find anywhere to play them.
This leads me to the final one, WMS. You find WMS and other developers under the Scientific Gaming umbrella such as Bally and Barcrest at numerous casinos, yet not one of their games was considered in the poll which is rather shocking given some of the stonking good slots they've produced before, such as Bruce Lee, Kronos, Montezuma and of course the infamous Rhino. WMS and Bally did both get a mention in the TOSSER nominations though; Bally's Wonder Woman Bullets and Bracelets slot was a horrible waste of a themed game while WMS' Zeus 2 can only be described as a waste of bandwidth. I still believe the bigger developers are resting on their laurels and are bloated and lazy as a result. All I can say is "look over your shoulders guys…"
So there we have it. A year where it appears high-variance slots with big potential are king. You may ask whether this is down to player demand for those mechanics, or is it down to the fact they are played so much that developers simply feed the need? I believe the latter to be true as when examining all the games released this year those HV ones are still a minority. Casino customers play them through choice and like to have belief they can win very big but also get a good turnaround on their money and some entertainment at the same time. It's a demand-led market so I don't anticipate this changing any time soon, although like many I'd like to see a new alternative to (ahem!) Megaways. Whether this transpires in 2019, we'll have to wait and see…..
Happy Slotting for 2019 everyone!
For a complete list of the results, click here: SLOT OF THE YEAR 2018! RESULTS!
---
Thank you Dunover and to the folks who took part in our survey.
iGaming Software Experience Historical Awards
Best iGaming Software Experience 2017 – Big Time Gaming
Best iGaming Software Experience 2016 – Play N Go
Best iGaming Experience 2015 – NetEnt
Best Gaming Experience 2014 – WMS
Best Gaming Experience 2013 – WMS
Best Gaming Experience 2012 – NetEnt
Best Games Award 2011 – Leander Games
Best Software Supplier Award 2011 – NetEnt
Best Games Award 2010 – 3Dice
Best Software Award 2010 – Microgaming
Best Software Award 2009 – Wagerworks
Best Software Award 2008 – Cryptologic
Best Software Award 2007 – Wagerworks
Best Software Award 2006 – Microgaming
Best Software Award 2005 – Microgaming
Most Awesome Screenshot 2019
Another year full of incredible screenshots sent by our great community, and every time the challenge of choosing a winner for this award becomes more complicated, so this year we have made a post where several of the most liked ones were chosen and where we invite our forum members to suggest their candidates.
After several days of voting, it has finally been chosen as the Most Awesome Screenshot of the Year 2018 with a vote of difference: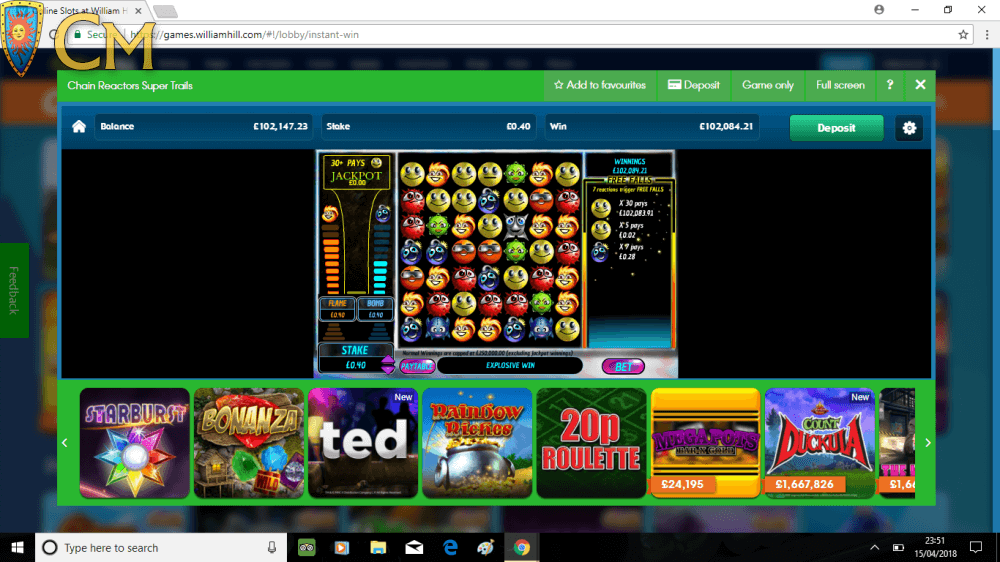 An incredible 102k win on a 0.40 spin on Chain Reactors Slot by asadzareef89:
"I have been playing years, always avoid jackpot games because I never win anything
before this win my biggest withdrawal had been 2600 at boyle casino
I deposited 10 quid 3 days ago at william hill, playing games withdrew 200, lost it thanks to it still after 22 hours i reversed and withdrew 180 to play with the 20, at a point i went down under a pound and then few wins i got up to 100. withdrew 75, kept playing different games other than bonanza as thats been taking all my money recently
tried this game for the first time and under 100 spins … "
>Read full story and Forum's Reactions here.
Congrats asadzareef89!
There were other big wins and Awesome Multipliers to mention here the >Afterlife Slot Max Win just some days after this slots had been launched: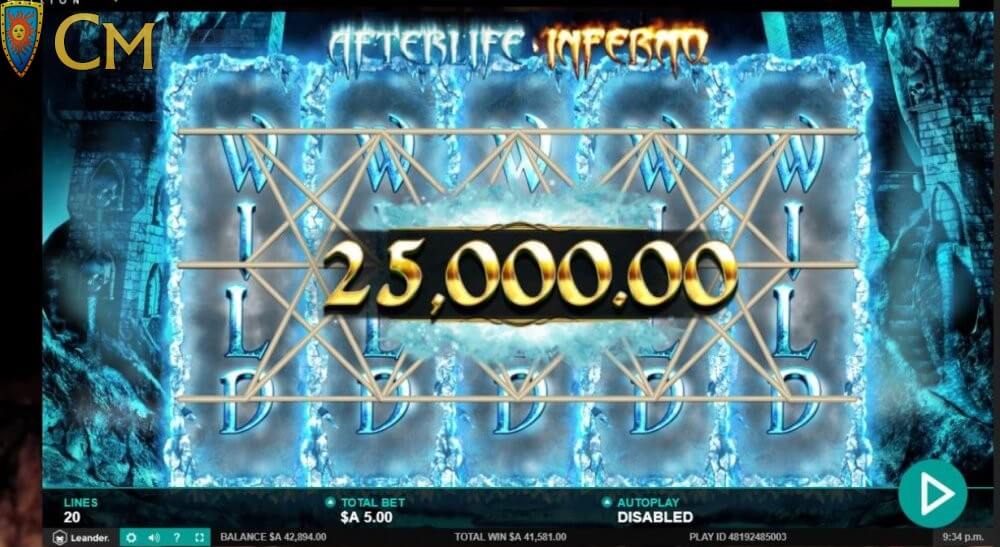 By Lucky Loser (Contradictory Nick isn't ? ;P):
"My biggest win ever !!!!!! 8316 x bet = $ 41,581.
The new Leander slot at SlotsMillion tonight.
Got 3 wild, then 4 wild and then 5 wild on the random feature. Could not believe it. What are the odds. "
Another Event More Huge Mega Jackpot from Divine Fortune Slot won by quber (sadly nobody mentions it before we started the Poll …)
So Congrats to all the amazing winners and of course play with caution guys.
Historical Most Awesome Screenshot of the year
Awesome Screenshot of 2017 – Queen Of Riches on Casumo
Awesome Screenshot of 2016 – Dead or Alive on CasinoHeroes
Awesome Screenshot of 2015 – Dead or Alive
Awesome Screenshot of 2014 – Pat Royal
Best Affiliate Program 2018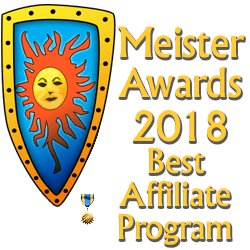 What makes an award winning affiliate program? Several things are taken into account: the reputation of their brands, the trustworthiness of their operators, the activities of their affiliate managers, and their dedication to the industry and player community as a whole.
Legend Affiliates has outstanding marks in all of these areas. They are simply awesome. Their brands Casino Max, Cherry Jackpot, and Roaring21 are solid RTG casinos that have loads of satisfied players. Rare that a complaint pops up, but if or when they do they are taken care of swiftly and professionally. You can be 100% sure that the casino operators will always do the right thing for their players. Their reputation is stellar.
Martyn Beacon, their head of affiliates, has been working with the operator for about a decade. These are the same folks than ran the Affiliate Edge affiliate program back when it was an award winning program. As most of us know, AE was taken over by unethical crooks a couple of years ago. It needs to be said that the people behind Affiliate Edge when they were award winning are now the main people behind Legends Affiliates. So if you were impressed on how the Affiliate Edge casinos were run back in the day, you will be satisfied to know that Legend Affiliates has carried on with this.
Legend Affiliates uses MyAffiliates for their back end, which I personally prefer over NetRefer and Income Access (sorry Sara). It is intuitive and easy to grab links, stats, or reports.
Lastly, Legend Affiliates are present at every affiliate conference – they are approachable, responsive, and professional. I would send by best of friends to play at their casinos as well as becoming one of their affiliate partners.
Great going Legend Affiliates!
Best Affililiate Program Historical Awards
Best Affiliate Program of 2017 – Alea Affiliates
Best Affiliate Program of 2016 – TTRPartners
Best Affiliate Program of 2015 – AffiliateEdge
Best Affiliate Program of 2014 – Affiliate Edge
Best Affiliate Program of 2013 – AffiliateRepublik
Best Affiliate Program of 2012 – Referback
Best Affiliate Program of 2011 – Affiliate Edge
Best Affiliate Program of 2010 – Affiliate Edge
Best Affiliate Program of 2009 – Referback
Best Affiliate Program of 2008 – Brightshare
Best Affiliate Program of 2007 – Brightshare
Best Affiliate Program of 2006 – Partnerlogic
Best Affiliate Program of 2005 – 32Red Affiliates
Best Affiliate Program of 2004 – Wagershare
Best Affiliate Program of 2003 – Wagershare
Ted Loh Humanitarian Award 2018
"The Ted Loh Humanitarian Award"
In 2010, we lost a true friend. Ted Loh was not only my webmaster buddy, he was a pioneer in the online gaming industry. He was also a person who always made himself available to lend a hand – to anyone. You needed help? Just ask Ted.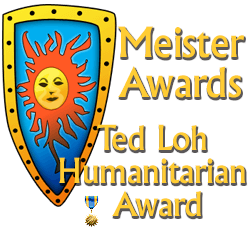 Ted was instrumental with assisting us to raise $111,000 via Casinomeister for the Casinomeister/Got2Bet 2005 Tsunami relief fund. He lived in Bangkok and was deeply involved assisting those affected – reuniting or identify the bodies of their loved ones via his Thailand themed websites. I think it's only befitting to venerate his memory and efforts by honoring those who are determined to do the same sort of thing.
---
This year's Ted Loh Humanitarian Award goes to Christine Marrah (aka Bonustreak) and for her work with Team Rubicon.
She has worked for a number of years with Team Rubicon, a disaster response group which is mostly comprised of veterans and first responders. As an active volunteer, she's in a leadership position for the organization's Region VII. She has deployed a number of times to various disasters in the US and has worked both in management positions as well as in the field performing muck-out and chain saw teams.
Good going Christine! You make an awesome example that others would be challenged to follow.
The Phoenix Award 2018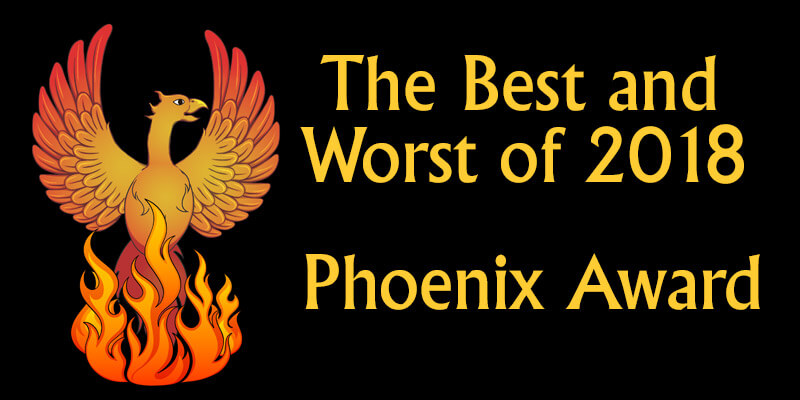 "Removing an Unnecessary Predatory Term"
The Phoenix Award is given to those persons or entities that have arisen from the ashes. In other words, something was broke and they fixed it in a big way.
This year's Phoenix Award goes to bwin for their proactive change of policy for progressive jackpot payments. For years, bwin – along with many Playtech associated casinos – had a withdrawal policy that allowed players to withdraw up to 10K per month. That's fine and dandy – but bwin was also applying this to progressive jackpots. Progressive jackpots come from pooled funds from those casinos that "subscribe" to that jackpot game. That is why those jackpots are so massive. When a player wins a progressive jackpot, he or she receives the winnings not from the casino's till, but from the software provider. In other words it is not the casino's money but the funds from a pooled source. To apply withdrawal limits to progressive jackpots can cause a multi-million jackpot winning to take years if not decades to pay out at 10k per month. Believe me folks, it has happened.
Well for a few years, bwin was in that rogue catagory for this reason – that they had this policy, and it was just a few months ago that I was contacted by their rep that this policy had been negated – it was there no more. After confirmation, bwin was removed from the rogue pit – the flames of rogueness turned into the flames of the Phoenix. I hope that they are considering to become Accredited once again (we have a history that goes way back).
Thank you bwin – that was not only a good thing but the right thing to do.
The Phoenix Historical Awards
Phoenix Award 2017 Casino Extremeg
Phoenix Award 2016 BGO Gaming
Phoenix Award 2015 Malta Gaming Authority
Phoenix Award 2012 – CAP – Casino Affiliate Programs
Phoenix Award 2011 – Kahnawake Gaming Commission
Worst Casino 2018
Lord of the underworld and everything under our feet.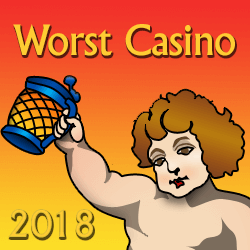 Osiris Casino is about as nasty and rogue as you can get. Besides being directly connected to AffPower – a casino group that was caught using pirated software from NetEnt and Novomatic – this casino negated a $100,000 win from a Canadian player citing a "glitch" but providing no proof. There is video posted proof of this win here on Play'n Go's Book of the Dead. And it just makes you sick knowing that this clip-shot-joint got away with this renegade act. They are "licensed" in Curacao under the wing of master license 1668/JAZ – you might as well be licensed by a house plant. At least they will provide you with carbon dioxide.
Osiris Casino (www.osiriscasino.com) is owned and operated by Game Tech Group N.V., of Dr. M.J. Hugenholtzweg Z/N, UTS Gebouw, Curaçao © 2015 and its wholly owned subsidiary, Supaze Limited of Voukourestiou, 25 NEPTUNE HOUSE, 1st floor, Flat/Office 11 3045, Limasol , Cyprus. Osiris Casino operates under Master License No. 1668/JAZ, granted by the Government of Curaçao.
What a load of horse hockey – all worthless and aiding 'n abetting in this scam.
Speaking of aiding and abetting, the real kick-in-the-nuts is the fact that a load of oblivious (or equally liable) webmasters are touting this shithole of a casino with seals at the footer of Osiris's web page:
gambling.se
casinolasku.com
casinofakturan.com
uudetkasinot.com
spinsify.com
gamblingjudge.com
Either they are owned by the same circle of jerks, or they are about as trustworthy and honest as the Worst Casino of 2018.
So high fives all around for the dweebs being this shithole of a casino. And speaking of shitholes, Osiris Casino also won the coveted Scam Casino of the Year 2018 award at Shithole Casinos.
---
Worst Casino of 2018 Runner up
Bronze Casino – another scam casino from this same group. Like Osiris casino, they take bets from the UK without a UKGC license, but what is worse, if you admit that you are a problem gambler they will give you a bonus to get you to sign up.
Player:
Good morning! I have been banned from UKGC casinos for gambling problems. Can I play here? I heard you allow UK bets! :)…I am blocked from playing at UKGC licensed casinos. I am a high roller and looking for some good deals. What can you offer me?
Bronze Casino customer support:
I would like to welcome you to casino, and let you know that on your first deposit you are entitled to a great bonus of 200%
If you'd like to see the screen shots, they are located here: Bronze Casino Rogue.
And what can be done about this? Nothing – not a damn thing. UK players are not as safe as they think they are – and the UKGC is powerless to stop this from happening. As usual, Caveat Emptor .
Historical Worst Casino Awards
Worst Casino 2017 – Burnbet/Winner.com
Worst Casino 2016 – Euromoon/Pamper Casino
Worst Casino 2015 – Casino4live
Worst Casino 2014 – SlotoBank
Worst Casino 2013 – rey8.com/Planet Kings
Worst Casino 2012 – Casino770
Worst Casino 2011 – Grand Duke Casino/Class1Casino
Worst Casino 2010 – BeTheDealer
Worst Casino 2009 – Golden Lounge (pre-32Red)/Strykke Casino
Worst Casino 2008 – Gold Betting/Golden Casino
Worst Casino 2007 – Cirrus Casino
Worst Casino 2006 – African Palace/Indio Casino
Worst Casino 2005 – Joyland Casino
Worst Casino 2004 – 1x2casino
Worst Casino 2003 – Black Widow
Worst Casino Group 2018
Encourages problem gambling – takes prohibited bets
The Alpha Interactive Group can high five each other knowing that their casino operations are the "rogue of all rogues" – the bottom feeders of the dankest, darkest slime of the deepest part of the ocean. You can not go lower. We have evidence of them encouraging players who admit having gambling problems to sign up. These players who have been self excluded from UKGC and MGA casinos – where do they go? They go here to the Alpha Interactive casinos who will take them in with open arms.
And what can be done about it? Not a damn thing. All of their casinos are "licensed" by the Curacao Master License of 1668/JAZ. You might as well be licensed by the neighborhood crack dealer. At least you might get some crack out of that.
[name of rogue casino] is owned and operated by Alpha Interactive Solutions N.V., of Dr. M.J. Hugenholtzweg Z/N, UTS Gebouw, Curaçao © 2015and its wholly owned subsidiary, Ubiquin Limited of Voukourestiou, 25 NEPTUNE HOUSE, 1st floor, Flat/Office 11 3045, Limasol, Cyprus.Casino 6Black operates under Master License No. 1668/JAZ, granted by the Government of Curaçao
In other words, it is a total sham.
@players – please do your due diligence. Do yourself a favor and Google that text and stay far away from any of those casinos.
Alpha Interactive Group includes the following clip shot joints:
Aff VIP properties: Napoli, 6Black, 14Red
Vamos Affiliates: Bronze Casino
Cozyno Casino
Gale&Martin
Magik Slots
MrJames
Ridyka
Slots Zoo
Spit Aces
And what what sets these guys above most other rogue casino groups is their affiliation with the software pirate Affpower. They have the same web design, same headers, same footers, same navigation, the same bonuses, and the same licensing. The only thing switched out is Game Tech and Alpha Interactive. A few Google searches will confirm this.
Oh, it's a tangled web we weave…
Historical Worst Casino group Awards:
Worst Group 2017 – Virtual Casino Group
Worst Group 2016 – Affpower
Worst Group 2015 – Curgam Group
Worst Group 2014 – Revenue Jet
Worst Group 2013 – Affactive Group
Worst Group 2012 – Rushmore Group
Worst Group 2011– Affactive Group
Worst Group 2010– Affactive Group
Worst Group 2009 – Mighty Slots Group
Worst Group 2008– The Virtual Casino Group
Worst Group 2007 – The Virtual Casino Group
Worst Group 2006 – Sunny Group
Worst Group 2005 – Windows Casino Group
Worst Group 2004 – Popular Casino Group
Worst Group 2003 – Wager21 Group
Worst Group 2002 – Virtual Casino Group
Worst Group 2001 – Vegas Strip Group
Worst Customer Service Award 2018
Where they treat customers like a King – Rodney King that is.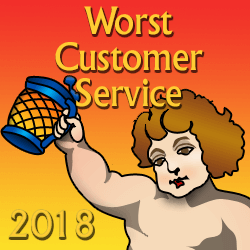 And the winner is…Danguad Limited
In some ways you have to admire the brass of this Cyprus-based casino group. They've managed to polish the turd for a surprisingly long time given the number of complaints their casinos generate. However when you look back over the body of cases — and we have a good many to refer to, almost a dozen this past year and several times that over recent years — it's rather shocking what these guys get up to:
confiscations based on retroactive Terms changes.
confiscations based on bogus violation claims (imaginary "max bet" claims in particular).
free-rolling (accepting bets from but refusing payment to) players from non-licensed jurisdictions.
no-pay and insufferably slow-pay of balances owed.
predatory Terms & Conditions.
ignored player complaints.
not responding to evidence presented on player complaints.
denying ownership and/or association with other casinos in the same group.
slow-pay on jackpots, including later refusing payment for imaginary Terms violations.
etc.
And how did they manage to get away with so much for so long? In Canada it's known as the "Colin Thatcher" school of defense: deny, deny, deny. Almost without fail the casino representatives will deny anything and everything they are confronted with.
2018 seems to be the year their roguey practices and endless BS caught up with them though, they've finally managed to get themselves blacklisted at most respected player portals (see ours at GENERAL WARNING – avoid all Danguad casinos).​
The proud recipients of these accolade are:
azurcasino.com
casinoadrenaline.com
casinoventura.com
casinow.com
crazyfortune.com
eatsleepbet.com
happyhugo.com
jackpotknights.com
muchovegas.com
realcasino.io
royalbloodclub.com
vegasberry.com
viggoslots.com
viproomcasino.com
And there seems to be a connection with them and Staybet, so these two are honored as well:
staybet.com
slotsmoon.com
Worst Customer Service Historical Awards
Worst Customer Service Award 2017 – 1xBet
Worst Customer Service Award 2016 – CasinoCashPalace.com
Worst Customer Service Award 2015 – Paradisewin
Worst Customer Service Award 2014 – SlotoBank Casino
Worst Customer Service Award 2013 – Dendera Casino
Worst Customer Service Award 2012 – Casino770
Worst Customer Service Award 2011 – SlotMadness
Worst Customer Service Award 2010 – Supreme Play/21Grand Casino
Worst Customer Service Award 2009 – TopGaming customer service
Worst Customer Service Award 2008 – Plumgaming.com
Worst Customer Service Award 2007 – Bingoisus.com
Worst Casino Manager 2018
Mainstreet Misery
From the desk of Max Drayman: PAB manager
Fairly early in the year we noticed an up-tick in the number of complaints we were receiving regarding Mainstreet casinos, Las Vegas Casino in particular. It wasn't obvious at the time but it turned out there was a common basis to these: directly or indirectly cases dating back to the previous year, or earlier, were now being dropped and the casino was telling us "old case, can't pay".
Why "can't pay" we asked and were told that their processor wouldn't allow it. That's pretty extraordinary to begin with — processors normally work for the casino not the other way around — but in cases where money is obviously owed it's the casinos responsibility to pay their bills by whatever means necessary. "Can't do it" Mainstreet told us, and finally said "give us cases for this year, no cases from previous years will be accepted."
It's important to note that Mainstreet often negotiates long-term payment schedules for players who have large wins. But now in multiple cases those payments had suddenly stopped with no intention to resume. The remainder of the monies owed was simply being confiscated.
So here's a well established casino group suddenly telling us they can't pay certain players because "the processor won't do it" AND they're arbitrarily refusing to discuss cases that date back to previous calendar years INCLUDING cases where players from those previous years had agreed to long-term payment schedules at the casino's request. They were simply abandoning those obligations.
Major league management mistake there and one that cost perfectly reasonable (and patient!) players a considerable sum of money through no fault of their own. We managed to finally get one of the players paid directly by the casino but in another case $7000-8000 owing was simply ignored, and presumably pocketed by the casino, or perhaps by their overzealous processor.
Mainstreet Group is refusing to pay players for arbitrary reasons
Mainstreet Casinos:
Las Vegas USA
Slots Plus
Sun Palace
Vegas Online
All in all a pretty crappy move by a casino group that certainly ought to know better.​
Worst Manager Historical Awards
Worst Manager of 2017 – MrRingo Casino
Worst Manager of 2016 – BetSocial/TotalESoft
Worst Manager of 2015 – Casino4live
Worst Manager of 2014 – Slotobank
Worst Manager of 2013 – Group Award
Worst Manager of 2012 – Crazy Luck Casino
Worst Manager of 2011 – Offsitebet
Worst Manager of 2010 – Blacklights Casino
Worst Manager of 2009 – Heroes Casino
Worst Manager of 2008 – Jonwood Poker
Worst Manager of 2007 – Virtual Danny
Worst Manager of 2006 – Virtual Casino Group Award
Worst Manager of 2005 – Crown Vegas
Worst Manager of 2004 – Largo Casino
Worst Manager of 2003 – (runner up) Crystal Palace
Worst Player Experience 2018
The Intrusive Source of Wealth requests
As the UK and EU law makers scramble to show how much they care about the players of online casinos, they have at the same time shown how much they don't know about the mindset of the gambler. This year we have seen the Source of Wealth requirements shoved down the throats of many players in the the UK and EU. And yeah, I agree with the spirit of the SOW: the casino needs to ensure that a single mom is not blowing her entire paycheck on slots, or that some bank employee is not using her bosses credit card. This all looks fine and dandy on paper, but in the real world it is not so simple. These gambling folk are not trying to by a new stereo system, they are gamblers wanting to gamble.
Many gamblers want to do so in private – they don't want their friends of family to know – they lurk on gaming forums (only one fifth of our forum traffic logs in and posts) that's the nature of the beast. Another natural thing about this "beast" is the fact that gamblers are going to gamble whether the government likes it or not. We have proven at Casinomeister that there are loads of banana republic regulated casinos that will take players in from any jurisdiction, to include self excluded players from the UK or EU, or players who don't want to submit bank statements or pay stubs to prove where their salaries are coming from. This intrusiveness is just sending players to these non-regulated casinos in droves. A recent poll in our forum indicates that 25% of UK/EU players will play only at casinos that do not require Source of Wealth documents. So the plan is backfiring – this percentage should never be that high.
And if you want to read up on how these requests are viewed upon by players, just read one of these threads:
Rizk Source of Wealth bullshit
Source of Wealth Poll
Casinos asking me to verify again?!
Trada and source of wealth
Betsson Source of Wealth (SOW)
L&L closing accounts and requesting Source of Wealth
CasinoRoom source of income problems for self-employed
videoslots Source of wealth Fraud department!
Casumo asking for source of wealth
LeoVegas SOW Request Email?
Source of Wealth – where is this going?
Videoslots source of wealth income etc etc etc
Rizk – source of wealth request
Those are just some of the threads that popped up this year. Reading those you will understand that this is collectively the worst player experince of 2018.
Worst Player Experience Historical Awards
Worst Player Experience 2017 – EuroVikingCasino/Nektan
Worst Player Experience 2016 – Smartlive/Everymatrix
Worst Player Experience 2015 – Everymatrix
Worst Player Experience 2014 – "irregular playing" accusations
Worst Player Experience 2013 – iovation – support blackhole
Worst Player Experience 2012 – Losing your faith in the gaming industry – Purple Lounge debacle
Worst Player Experience 2011 – US Players (again)
Worst Player Experience 2010 – US Players
Worst Player Experience 2009 – Joyland Casino
Worst Player Experience 2008 – Absolute Poker/Ultimatebet
Worst Player Experience 2007 – HippoJo – Absolute Poker
Worst Player Experience 2006 – Crystal Palace Casino – Club Player Casino
Worst Player Experience 2005 – Royal Dutch Casino
Worst Player Experience 2004 – Hamptons Casino vs the Pirate
Worst Player Experience 2003 – Black Widow Casino
Worst Player Experience 2002 – Fortyplus Casino
Worst Player Experience 2001 – Arcada Casino
Worst Affiliate Experience 2018
Freaky Freakin' Fraud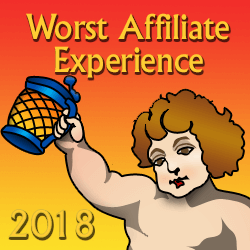 Freaky Vegas and their shafting affiliates out of UK players takes the heap of the pile in shitty experiences. The folks behind Freaky Vegas decided to redirect their UK players to FreakyVegas.co.uk (FSB Technology) without giving their webmasters credit.
It came to our attention that the Accredited Freaky Vegas Casino was redirecting our UK traffic to FreakyVegas.co.uk without an affiliate tag. Lucas Godwin, the affiliate manager, was notified about this immediately and he said he get back to us and after one email message (where he wanted to cut some deal) he played a disappearing act that would put Emilia Earhart to shame. He could not be reached via emails, the forum, Skype, Facebook Messenger, smoke signals, nothing. We couldn't reach him nor could anyone else. Trust is a must in this industry, and guess what we lost here? Trust.
He will always be remembered at Casinomeister to not only win this accolade, but this year's Fall From Grace as well.
What a crappy experience.
---
Worst Affiliate Experience II
Enforcing retroactive terms on affiliate "partners"
The beginning of 2018 saw a load of affiliate programs demand that affiliates agree to retroactive terms and conditions – and this was a result from the changes that were being imposed on them by the UKGC.
It was extremely difficult pill to swallow – the introduction for quotas became widespread for affiliate programs that were UK facing. The logic behind this was that at times casinos would need immediate responses from affiliates in case there were issues about not hosting the correct ad copy, or sending out unauthorized advertorial emails, there were loads of reasons/excuses. Affiliate programs were under intense pressure, and they had to ensure that affiliates were active, responsive, and could make changes on-the-fly.
So here we are wondering what the hell, and having to accept that this is par-for-the-course for UK facing affiliate programs. Oh really? Another incredibly bad experience of 2018.
Worst Affiliate Experience Historical Awards
Worst Affiliate Experience of 2017 – Affiliate Edge/AffiliateHub
Worst Affiliate Experience of 2016 – ICO/Quick Think Affiliates
Worst Affiliate Experience of 2015 – Affiliatehub
Worst Affiliate Experience of 2014 – enabling intellectual property theft/copyright infringement
Worst Affiliate Experience of 2013 – Retroactive changes in T&Cs
Worst Affiliate Experience of 2012 – Ladbrokes
Most Annoying Affiliate Program 2018
Parade of Morons
Hats off to the morons who either can't read or completely lack marketing skills. Casinomeister has been in business for twenty years, and we have always had a page dedicated to "advertising" or how to become Accredited. Every day I get spam mails like "Hi, do you have traffic? We are a new affiliate program with great deals blah, blah, blah, blah, blah." These get deleted – especially if they are coming from a free webmail service like gmail or yahoo. It's lazy and unprofessional – and comes across as pushy, and that is a sure fire way to get tossed into the bin. Take five minutes out of your spammy day to read up on your marketing target (me).
Educate yourself on how to make a proper cold call. Read up on our advertising policies and act like you are half way knowledgeable about the site, our goals, our policies, and maybe you'll make your boss happy. Don't come across looking like an idiot.
Most Annoying Affiliate Program Historical Awards
Most Annoying Affiliate Program of 2017 – Activewins
Most Annoying Affiliate Program of 2016 – Activewins
Most Annoying Affiliate Program of 2015 – Affutd et al
Most Annoying Affiliate Program of 2014 – Affutd
Most Annoying Affiliate Program of 2013 – Europartners
Most Annoying Affiliate Program of 2012 – Affiliate Marketing spam
Most Annoying Affiliate Program of 2011 – Mansion Affiliates
Most Annoying Affiliate Program of 2010 – Bewinners
Most Annoying Affiliate Program of 2009 – Group Award – Sloppy stupid spammy affy managers
Most Annoying Affiliate Program of 2008 – Mighty Slots
Most Annoying Affiliate Program of 2007 – Group Award – Spammy aff managers
Most Annoying Affiliate Program of 2006 – CPays
Most Annoying Affiliate Program of 2005 – CPays
Faceplant of The year 2018
"Whoops – splat!"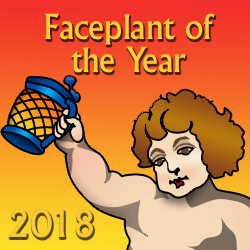 Betat and Slotty Vegas found themselves face planted on the sidewalk of the street in the heart of the Grey Zone.
Betat came on board a few years ago and were stellar in their performance. This was due mainly to their casino rep igor82 who not only was their rep, but posed as the CEO of Betat – and from what I figured, and most everyone else, a senior share holder or partner of the company. I have to admit, he worked hard over the course of a few years and they had a pretty good reputation at Casinomeister. In fact, he won the best igaming casino rep in 2013, and the casino rep Betat won best casino rep for 2014.
All was going well until this year when surprise, surprise, it was reported that the company was sold – to be precise – NRR Entertainment. Most of the time it's no big deal to me, but since this was an Accredited Casino I need to know who I am dealing with ownership-wise. I'm usually given the heads up from the CEO or someone in C-level that there is a sale going on. Unlike many other websites, I need to know who I am defending in the public fora.
I found out about the sale by reading my own forum here.
And the only way I would have found out was the way that I did: the affiliate program had been slow in payments and affiliates were not getting responses from the casino reps. I wonder how long they would have flown under the radar if those payments were going through.
Anyway, the main discussion in the forum were the rumors that NRR Entertainment had been sold to a rogue outfit which included the software pirating casino Vulkan24 Club. Now rumors are just that – rumors. But more and more webmasters started digging around nd came to a pretty solid conclusion that there were definite connections between these entries. ThePogg made some good points here that really can't be denied: Max Entertainment – The Vulkan connection.
So it seems to me that these casinos were just "groomed" in order to be touted as upstanding, banner waving award winning accredited casinos. And when the price was right – sell – and drop Casinomeister like a hot potato. They went from an Accredited Casino to the Grey Zone in seconds flat.
---
Faceplant of the Year II
Ladbrokes targeting problem gamblers – whoops!! Spat!!
According to an article published by the Guardian, Ladbrokes had a highroller who was stealing funds from his clients to pay for his out of control gambling problem. These persons allegedly contacted Ladbrokes complaining that Ladbrokes was accepting stolen funds for gambling – so apparently Ladbrokes paid these folks off in order for them to be quiet – to not report this to the UKGC.
Additionally, according to this news article, Ladbrokes did not properly process this player's Source of Wealth documentation. This violates not only the regulations administered by the UKGC but flies in the face of the ethical treatment of players.
This failure of ethics does not surprise me in the least bit. Ladbrokes had always considered itself above reproach when it came to abiding by our Accredited standards in the past. They were removed from Casinomeister's Accredited section years ago after they explained to me that they are Ladbrokes and that they have no need in dealing with our player community. Well what goes around comes around.
Faceplant Historical Awards
Faceplant of 2017 Casumo/BetfashionTV
Faceplant of 2016 Big Time Gaming
Faceplant of 2015 Revenue Jet and Winpalace
Faceplant of 2014 – Tropica Casino
Faceplant of 2013 – Topgame/BetonSoft
Worst Blundering Screw up 2012 – Betfred
Worst Blundering Screw up 2011 – Betfair (again)
Worst Blundering Screw up 2010 – Betfair
Worst Blundering Screw up 2009 – Topgame
Worst Blundering Screw up 2008 – Casino Action Group
Worst Blundering Screw up 2007 – Virtual Casino's 9/11 Promotion
Worst Blundering Screw up 2006 – English Harbour software glitch
Head in the Sand 2018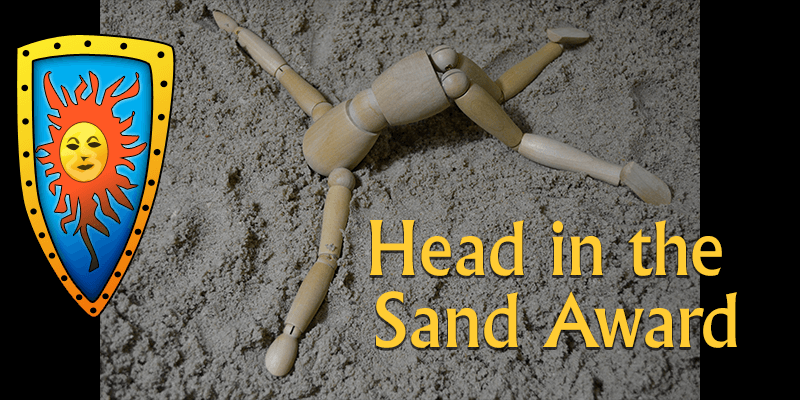 "Get yer head outta the sand!"
Even though the UKGC has mostly good intentions, it is oblivious to the fact that its draconian regulatory methods are killing the industry.
This past year we saw the panic. Affiliate programs making affiliates jump through hoops in order to continue advertising – many of the changes affiliates had to make seemed to have been conjured up by a nanny state type of thought process. Gone are the days of players doing their own due diligence, now it's up to the casinos and their advertisers. Taking the responsibility from the player and placing it into the lap of the casinos is a bad move in my opinion.
Now don't get me wrong, some of the new regs are good – in fact at Casinomeister we have always ensured that our Accredited casinos had policies in place to deal with problem gambling. Making changes on our website was not difficult at all.
But there are loads of webmaster affiliates that are not going to bother with the draconian regs and will focus on black market or unregulated casinos. The UKGC has never publicly addressed this dilemma. Many of these black market casinos willfully and enthusiastically accept UK players many of whom have no idea that those casinos are not regulated by the UKGC. The UKGC needs to pull its head out of the sand and take a look at how some other regulators are dealing with their licensees – like Kahnawake for example. They have loads of experience under their belts that the UKGC could benefit from.
Head in the Sand Historical Awards
Head in the Sand Award 2017 – Affiliates not UKGC compliant
Head in the Sand Award 2016 – Betsoft
Head in the Sand Award 2015 – the "Bonus Beaters", the "Bonus Whores"
Head in the Sand Award 2014 – Oblivious Players
Head in the Sand Award 2013 – Naive Affiliates
Head in the Sand Award 2012 – Lazy Affiliates
Head in the Sand Award 2011 – Casino Operator Bonus Pimps
Head in the Sand Award 2010 – Lotteries and Gaming Authority
Head in the Sand Award 2009 – Affiliates and Affiliate Managers
Head in the Sand Award 2008 – Hypocritical US Politicians
Head in the Sand Award 2007 – Players who Patronize the Rogues
Head in the Sand Award 2006 – The Entire Online Casino Industry
Head in the Sand Award 2005 – iGlobalMedia
Head in the Sand Award 2005 Runner Up – Chartwell Technologies
Fall from Grace Award 2018
"Spiraling downward from the graces of Casinomeister's Accredited Casinos"
These awards are bestowed unto casinos that were once an integral part of Casinomeister, but for one reason or another fell from grace and lost their accredited status.
We have a few "fall from grace" awards to hand out this year – all for differing reasons.
Fortune Lounge Group: Actually, one of the original "Fall From Grace" casinos going back to 2005 – but which was reinstated in 2007 – and here they are again. What a shame.
The real shame is that this group of casinos was a staple of our membership back in the early days of online gambling. If it weren't for sites like Casinomeister, GoneGambling, Gambling.com, Winneronline, and Got2Bet there would have been no Fortune Lounge. They were listed in our Reputable Casino section way before it became the Accredited Casino section – dating back to 2000. So what happened?
Well due to changes in management, they decided that they did not want to bother with our player community, and they cared not to deal with our arbitration service. When any complaints came up we got a speak-to-the-hand response even though it is entirely in the player's right to have any arbitration service represent him or her – not just the one picked by the casino.
So simply put, Fortune Lounge did not want to play ball with us anymore – an 18 year business relationship tossed in the trash bin. How professional – not. The only real reason I could surmise was that they were too lazy and aloof to want to deal with the Casinomeister player community. Well it's their loss – not ours. Happy trails to you.
---
Betat and Slotty Vegas – as mentioned in Faceplant of the Year 2018, I need to know who owns the casino company when these companies are in the Accredited Casino section. They sold the comany in 2017 (according to their ex-CEO) and no one said a thing to me. With the questions surrounding their new ownership, I did not have any warm fuzzy feelings and hence they were placed in the Grey Zone.
It's a crying shame because they really seemed to have had their act together a couple of years ago. But they betrayed my trust and so there ya go.
---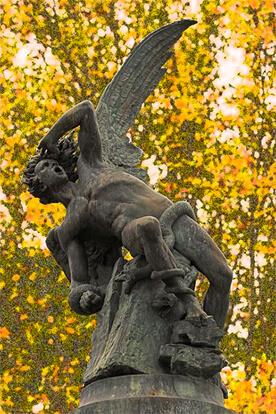 Freaky Vegas Casino: virtually went *poof* into thin air. Hell, they were actually a contender for Best New Casino 2018 this year, but they blew it. First they were screwing over their affiliates by not giving them credit for their UK players – and when this was mentioned to them – they went into silent mode.
That was a shocker since I trusted their casino rep, Lucas Godwin, who had been a member of the forum for years – he was even the first casino rep for Videoslots when they came on. So here you go from a new award winning casino to nothing. *Poof* they are gone from the Accredited section and reappeared in the Rogue Pit – and then they closed shop.
---
Casino Rewards Group This is a massive group of about 30 some odd casinos that were on, then off, then on again with the Accredited list. The affiliate manager, Renee, is amazing and could take care of any player problem that came her way – it was that the marketing office at Casino Rewards kept screwing up. There is one rule that we have for our accredited casinos is that they are not to entice players to reverse their winnings with bonuses or other promotions. Well, the Casino Rewards group kept doing this, and after a number of warnings they were placed into the Grey Zone. It's a real shame since there were the last downloadable Microgaming casino besides 32Red that were in our Accredited section.
Downloadable Microgaming software (Viper) includes 57 video poker games that are superior to anything available online. But yeah I get it, everyone is a slot-head nowadays.
So adios Casino Rewards, it was nice while it lasted. You can read their review here: Casino Rewards Review.
---
Casino Cruise – is another case of me not knowing who is operation the casino – which is crucial for me when a casino is listed in the Accredited section. When I first brought Casino Cruise on, Lloyd Apter, who I have known for years was a partner and main contact. When he left that company in 2017 things began to become pear-shaped. In February 2018, they lost their accreditation and have been in the Grey Zone since.
---
Codeta Casino – Now this is a crying shame. I had real hopes for this Codeta Casino especially since it seemed to be tapping the unexplored idea of having a casino focused primarily on live games. Apparently that didn't work out too well for them and they had a hard time paying their advertisers. Additionally their casino reps went AWOL – so into the Grey Zone they went.
---
Genting Casino which always had a very low profile at Casinomeister lost their Accreditation due to introducing retroactive terms to their affiliate program, thus violating the Accredited Standards and thus were sent to the Grey Zone. But honestly, I don't think they really care. You can read their review here: Genting Casino – Grey Zone.
Fall From Grace Historical Awards
Fall From Grace Award 2017 – Affiliate Edge/Vegas Partner Lounge/City Views/Bellerock/Buffalo Partners/Coral
Fall From Grace Award 2016 – Bet365(reinstated)/Betway/Betting Partners(reinstated)
Fall From Grace Award 2015 – Skybet and AffiliateHub – quitters
Fall From Grace Award 2014 – Wagershare casinos/Ladbrokes
Fall From Grace Award 2011 – GoWild Casino
Fall From Grace Award 2010 – Rushmore, Bwin, Betfair
Fall From Grace Award 2006 – Minivegas, Mansion, City Club Casino
Fall From Grace Award 2005 – Fortune Lounge (reinstated)
Fall From Grace Award 2005 Runner Up – Captain Cooks Casino
Stupidest Named Casino 2018
"I'm with stupid…"

More ingenuity from dope smoke filled marketing boardrooms. Take a few bong hits and name that casino!
Hands down winner is Cozyno. I am still trying to wrap my head around the idea – is it meant to sound like casi-no – but with an "o" sound for casino like cosino? Or is it a place you are not supposed to be cozy with as in "Cozy? No!"
Ah – an enigma? Or a "what the f$%@?" moment? I choose "what the f$%@?" and award these guys the Stupidest Named Casino for 2018. Good going – high fives all around.
---
Stupidest Name Casino Historical Awards
Stupidest Named Casinos of 2017 Ramses Gold, Burnbet, Smashing Casino
Stupidest Named Casinos of 2016 Bumbet, Ares Casino, Play7777, MrRingo, Pornhub
Stupidest Named Casinos of 2015 A bunch of 'em
Stupidest Named Casinos of 2014 – ToBwin/Buck and Butler/Llama casino
Stupidest Named Casinos of 2013 – WinTrillionsCasino/TrendCasino/LuckyPantsBingo
Stupidest Named Casino of 2012 – Loco Panda/Loco Jungle
Stupidest Named Casino of 2011 – iButlerCasino
Stupidest Named Casino of 2010 – Majestic Comet Casino/Yes We Can Casino
Stupidest Named Casino of 2009 – Mayflower Casino
Stupidest Named Casino of 2008 – Ministering Angel Casino
Stupidest Named Casino of 2007 – Simon Says Casino
Stupidest Named Casino of 2006 – XXL Club Casino
Tangled Award 2018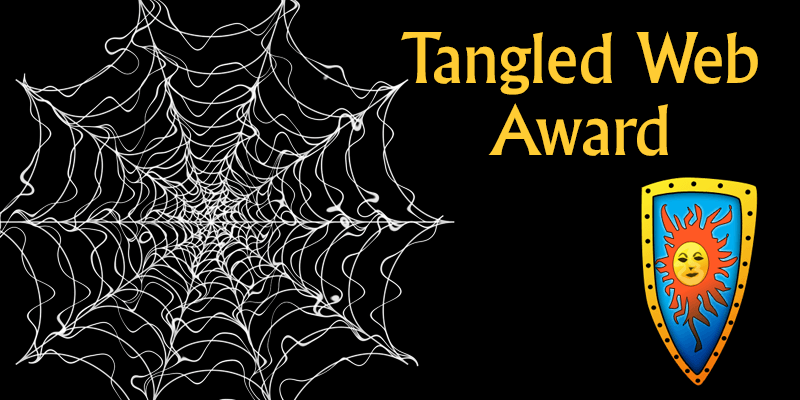 I'm a Yankee Doodle Dandy – not!
"Oh what a tangled web we weave, when first we practice to deceive…" The "Tangled Web Award" is bestowed upon those persons or entities that have gone to great lengths to either deceive, trick, or fool the public into believing something that is not true – and then they get caught out in a major way.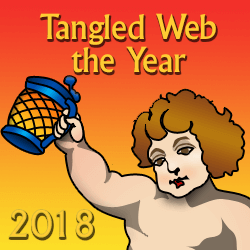 Club World Casino and its rogue brethren is enmeshed in this tangled web. They sent a shill to besmirch the reputation and financial standing of the previous owner.
This is a prime example of a deplorable act – and also goes to show that whoever planned this is not the sharpest knife in the drawer. Read on.
Alsetly was a member who appeared to the novice as a player from Boston. He had a Boston Celtics avatar and a Boston IP address. He posted here and there for a few days until he decided to start a new thread and posted this – it was about CasinoMax:
hey guys, i've seen a lot of talk on this forum and other forums about this group of casinos being under the same management and ownership as the old CWC management and owners. If that is the case then I have some serious reservations about the accreditation as xxx xxx is currently bankrupt
I replaced the name of the previous owner of CWC with xxxx's since this violated our rules. To bring you up to speed, this is the tragic tale of three brothers. Two of whom want to destroy the third. The previous owner of Club World Casino was kicked out by his brothers, Stewart and Warren, and these two brothers indecently were also working with the folks from Affpower. The first brother's award winning team at CWC left the company and began working for a new enterprise: Casino Max. Since CasinoMax launched, Stewart and Warren from CWC are doing everything in their power to destroy the third. It is absolutely disgusting.
Anyway, this "Bostonian" appeared to be an American, but as soon as he began to type, out came the Queen's English:
…wow 120 hrs is a real Kick up the back side…
Here he was talking about a payout from Mr. Green. Like what US player could give a care about talking about Mr. Green payouts.
And then he was posting screenshots of reviews from Casinolistings.com that absolutely indicated that he was in the UK – to which he added:
Not sure why your on the offensive with this. I was looking for a US based casino to play and had heard a lot about this group. I looked into it and reviews like the attached (see attached, I hope this is ok to post?) which suggested it was the same owner and used google to find more. I'm not sure how all this makes me a Brit.
Well, this is how you tell he's a Brit. Here is his screenshot:

Notice the British flags (yes Casinolistings is geo targeted).
And here is the same page as it looks like from a visitor from the States:

This Alsetly claims to be a proud American. My ass. He's about as American as a baked tomato for breakfast. Yikes!
And like I stated in the forum, since the old Club World casino company was taken over by these two ethically challenged crooks, they have gone out of their way to try and destroy the livelihood and private life of the former owner – their brother by blood. It's abhorent – I have never in my 20 years in this industry seen such dubious unethical, criminal undertakings as the present Club World owners.
Here is the thread as it unfolded: Club World Casino shill busted
It's a tangled web we weave alright.
Historical Tangled Web Awards
Tangled Web Award 2017 – 1xslot
Tangled Web Award 2016 – Affpower Casino Group
Tangled Web Award 2015 – Playros Shills
Tangled Web Award 2014 – Tobwin/77Jackpots/1Bet2Bet/
Sitting on One's Hands Award 2018
"They Care a Lot – Not!"
For the government and politicians of Curaçao who just let their online casino licensees do whatever they want. Some of these master licensed operators have free reign – violating every player protection safeguard and no one gives a flying rat's ass. This has been going on for years, and they know exactly what they are doing. I've wasted my time trying to contact them – and for them to plead ignorance won't cut it. All it takes is a 10 second Google search on master license "JAZ 1668" and there ya go. The government – or whoever is in charge of these cowboys – is sitting on their hands refusing to do anything about this rancid stain on the online casino industry.
Sitting on One's Hands Historical Awards
Sitting on One's Hands Award 2017 – USA
Sitting on One's Hands Award 2016 – USA
Sitting on One's Hands Award 2015 – USA
Sitting on One's Hands Award 2014 – Playtech
Sitting on One's Hands Award 2013 – Playtech
Sitting on One's Hands Award 2012 – RTG
Sitting on One's Hands Award 2011 – Malta Lottery and Gaming Authority
Sitting on One's Hands Award 2010 – Malta Lottery and Gaming Authority
Sitting on One's Hands Award 2009 – Malta Lottery and Gaming Authority
Sitting on One's Hands Award 2008 – Malta Lottery and Gaming Authority
Sitting on One's Hands Award 2007 – Kahnawake Gaming Commission – RTG
Sitting on One's Hands Award 2006 – Real Time Gaming
Fourth Point of Contact 2018
"Head is where the sun don't shine…"

The "fourth point of contact" is US paratrooper lingo for the fourth point of your body as it hits the ground during a parachute landing fall. RE: Balls of the feet, calf, thigh, buttocks, push up muscle. In other words, it's yer ass.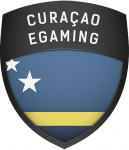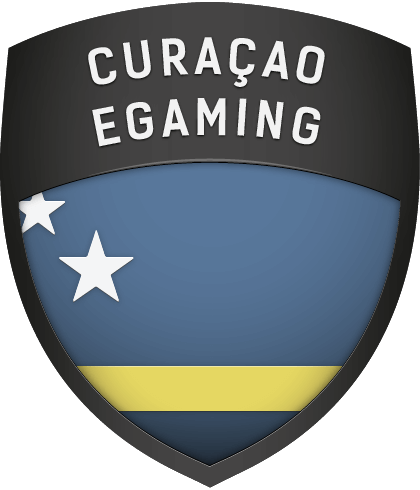 Those folks who have their heads so far up their asses to win this awesome accolade live in the sun kissed pair-a-dice called Curaçao. Specifically, those who are running the sham master license JAZ 1688. There are loads of casinos using pirated software with this license. And in most cases, as soon as they get spotted, the casinos remove the software and say "whoopsie!" Meanwhile this confidence scam of a licensing jurisdiction just collects the checks from their rogue licensees. There is no compliance. There is no player protection. There are only a group of people sitting around with their heads up their asses who couldn't give a rat's ass about their reputation nor this industry.
Fourth Point of Contact Historical Awards
Fourth Point of Contact Award 2017 – Curaçao
Fourth Point of Contact Award 2016 – Sheldon Gary Adelson
Fourth Point of Contact Award 2015 – Playtech
Fourth Point of Contact Award 2014 – Sheldon Gary Adelson
Fourth Point of Contact Award 2013 – Playtech
Fourth Point of Contact Award 2012 – Forum Trolls
Fourth Point of Contact Award 2011 – US Department of Justice
Fourth Point of Contact Award 2010 – Hyperactive Affiliates
Fourth Point of Contact Award 2009 – Congressman Spencer Bachus
Fourth Point of Contact Award 2008 – Kentucky State Governor Steve Beshear
Biggest Disappointment Award 2018
It never ceases to amaze me about how a government is so shortsighted that it believes that by banning online casinos from its populace that they are protecting their citizens. The boneheads in the Australian government had the Einstein of an idea to ban their countrymen and countrywomen from gambling online – and they even went as so for as to notify webmasters like myself to not promote online gambling to Australians. Idiots. What do you think is going to happen? That Australian players will just say "Meh. I guess the government is right. I won't play online anymore."
Yeah, right.
Instead these poor players are left no choice but to play at unregulated properties – some good, but mostly rogue operations. They have been given no options.
Gamblers are like a river – you dam the river and the river will just flow around it and find another way to carry on its way. Australians love to gamble as much as they love to party, and their government just threw them "down under" an eighteen wheeler. We have many Australian members, and it is a crying shame to tell them that they have no choice but to play at some unregulated Caribbean clip shot joint. How disappointing.
Biggest Disappointment Historical Awards
Biggest Disappointment Award of 2017 – The Australian Government
Biggest Disappointment Award of 2016 – Curaçao License – White Label Runners
Biggest Disappointment Award of 2015 – Bad Attitudes and White Labels
Biggest Disappointment of 2014 – US Market
Biggest Disappointment of 2013 – US Corporate Arrogance and Naivety
Biggest Disappointment of 2012 – Betfair/888.com
Biggest Disappointment of 2011 – Betfair/GRA
Biggest Disappointment of 2010 – HR 2267, US Market, Rival Gaming, Top Gaming
Biggest Disappointment of 2009 – Microgaming, CAP Spring Break, Rushmore Group
Biggest Disappointment of 2008 – Malta's LGA, White Label Casino Operators, Microgaming
Biggest Disappointment of 2007 – Watching US players being thrown to the wolves
Biggest Disappointment of 2006 – Unlawful Internet Gambling Enforcement Act
Biggest Disappointment of 2005 – "Abused" Casino Operators (again)
Biggest Disappointment of 2004 – "Abused" Casino Operators
Biggest Disappointment of 2003 – Truegambler's Cheating Software report/Oddson Software
Evil Player Award 2018
"There are fraudsters and there are dirty, rotten fraudsters"
Player fraud has always been a problem in online gambling, but it's never really threatened to become an overwhelming problem. However these past few years, and especially this year, has seen a marked rise in the vigor and pervasiveness of a particular kind of fraudster: Self-Exclusion (SE) scammers. These are people who claim to have done an SE at Casino X for gambling addiction reasons and then later want their losses at Casino X (or Y) refunded because of that previous SE (whether it actually existed or not).
On the surface this seems perfectly reasonable — player has gambling problem, casino ignores it, player should be compensated — except that this, like many other serious issues, is often not what it appears at first to be.
The normal cycle in the fraud-fighting battle at casinos is that when a fraudster scam gets to be too damaging the casinos will adapt to ring-fence and ultimately neutralize the threat (as best they can). Unfortunately these days that adaptation is being made much more difficult because the gambling jurisdictions are becoming increasingly politicized. Jurisdiction is managed by the government, government needs to get elected, those elected want to appear favourable in the eyes of the voters so they have a tendency to say or do what they think will get them re-elected. The end result is that governance of the gambling sector is being shaped as much by re-election strategies as the desire for good policy and the need for a healthy industry.
SE tends to fall under the umbrella of Responsible Gambling and that has become a very hot political topic indeed. Take the UK for example: "the Responsible Gambling Strategy Board proposes for the three years 2016-17 to 2018-19 to encourage responsibility in gambling, to reduce or mitigate gambling-related harm, and to increase the protection of the vulnerable." And the purpose of the RGSB (rgsb.org.uk) is to advise the UK Gambling Commission — better known as the UKGC — and ultimately the government, which they have and do. The end result has been considerably more attention being focused on Responsible Gambling practices within casinos and, as many of us have seen, fines and punishments being handed out where the UKGC perceives there to have been a failure of said companies to "meet standards".
The problem is that nowhere in the "encourage responsibility … mitigate gambling-related harm … protection of the vulnerable" mandate is there anything about dealing with Responsible Gambling-related fraud. There simply is no official recognition of the need for casinos and other industry-related bodies to detect, identify and fight player fraud as it relates to Responsible Gambling. And everyone on the industry side of the fence knows that there is whole lot of fraud to fight.
Unfortunately fighting fraud as a policy issue is hard to sell to the voters so, for the most part, there is no policy. In fact the UKGC in particular has deliberatly turned it's back on the entire issue: ADRs were specifically instructed to ignore evidence of player fraud and to not look for such evidence in future cases.
Things have evolved a bit since then but the game remains fundamentally unchanged: casinos are being left to deal with SE fraud on their own and as best they can. When there are SE/Responsible Gambling complaints against a casino they often end up taking those UKGC fines on the chin because it's simply more pragmatic to just pay up and move on. Fighting back with evidence of player fraud is not an option.
This imbalance in the playing field has seriously exacerbated the SE fraud problem. In this past year SE-related cases were by far our largest single area of complaint and the ovewhelming majority of those were fraudulent or unfounded. Other well-respected peers of ours in the industry are seriously considering to flat-out refuse to deal with SE cases simply because of the time and resource-drain they cause. And long-time professionals in the business have said as they were heading out the door for greener pastures, "Self-Exclusion policy is ruining the industry."
Yes, that's all anecdotal evidence, but it's also the pulse of industry from the inside and it's no exaggeration to say that those folks — us included — are not happy about the way this is going.
So for all those SE chancers out there who have taken the good intentions of governments and licensing jurisdictions — not to mention the casinos attempting to comply — to "protect the vulnerable" and turned that into a game of fraud for personal profit we offer the Evil Player Award of 2018: congratulations douche-bags.
Evil Player's Historical Awards:
Evil Player 2017– asshole guy
Evil Player 2016– Chipmunk_936
Evil Player 2015 – HIGHIQ
Evil Player 2014 – HIGHIQ
Evil Player 2013 – Group award to scammers
Evil Player 2012 – Rrao
Evil Player 2011 – Gid88
Evil Player 2010 – Diamondale
Evil Player 2009 – Kildare
Evil Player 2008 – BigRounder72
Evil Player 2007 – Actoreddie
Evil Player 2006 – Group award to all fraudsters
Evil Player 2005 – NY05
Evil Player 2004 – Evil Stephan
Evil Player 2003 – Rainfall
Evil Player 2002 – Evil RhondaX
Bag of Hammers 2018

"It's as stupid as a Bag of Hammers…"
What could be as stupid as a bag of hammers? Well the idiot webmasters who are promoting the casinos that are ending up in our rogue pit for using pirated software and taking bets from admitted problem gamblers (et al Bronze Casino, Cozyno Casino ad naseum), that's who. If a casino is willing to rip off its players with fake games and entice problem gamblers with awesome bonuses, how do you think they will treat you? These casino's business ethics are about as low as whale poop – promote them and you've joined the poop party.
And if you want to see who these boneheads are, just Google search the names of these crap casinos like Smashing Casino, Bronze Casino, Napoli Casino, any of the Affpower Casinos. There you will be entertained with the results of boneheaded affiliate webmaster websites who are as stupid as a bag of hammers
Bag of Hammers Historical Awards
Bag of Hammers Award 2017 – Play n' Go/Eyecon
Bag of Dicks Award 2018

"For the Dickish move of the year…"
This award is given to those who go beyond the call of duty of being a simple dick. And in fact, when there is more than one – it's a bag of dicks. This year – like the lat ithis coveted award is bestowed upon Affiliate Edge – they are run by a bag of dicks.
The Mother of all Shaftings
As many of you might remember, in 2017 Affiliate Edge bamboozled their business partners out of hundreds of thousands, if not millions of dollars by detagging players from affiliates. Dave Sawyer, aka Webzcas, took them to court over this, but the judge ruled that the case should have gone to arbitration instead of the UK court. He then ordered the legal fees to be split between Dave and Affiliate Edge. Even though Dave was only suing for about £5K, AE racked up £21K in legal fees. Just goes to show that AE knew that if they had lost the case every wronged affiliate webmaster would have come out of the woodwork.
So Dave was screwed out of roughly £12k – but his webmaster brethren came together and pitched in relieving him of this financial burden. Some of this is described here.
What a bunch of dicks.
Bag of Dicks Historical Awards
Bag of Dicks 2017 – Affiliate Edge
Forum Highlights of 2018
"The Best Forum on the Planet"
Each year I tout how lucky I am – I have the best online community on the planet at my fingertips. Each year I am at a loss of words on how much I appreciate the members of Casinomeister's Forum. Sure there is a lot of great content there – but it's the people who make it what it is.
And yeah, I appreciate everyone – those who encourage thoughtful informative banter, those who help police the site by reporting spam attacks, those who lighten up conversations that might be spiraling into a flame war. I especially appreciate the members who remind me of the importance of having a well balance approach to any issue that comes our way – even the posters who get under my skin now and then. Those are the ones who keep me in check – making sure that any decisions that I make are not fraught with either bias or emotionalism.
So here's a cyber "cheers" to our community. Regular members and the moderators – the beers are on me.

Here are just a sprinkling of some of 2018's highlights:
---
Bitstarz self-applies egg-on-face:
Ok, long story short(ish): Jasminebed, one of our senior forum members, kicked off the thread ATTN: Casino Rep – Demo play not the same as real – GameArt slots with a shout-out to the forum regarding glaring differences between the RTP of Play and Real mode in a game called Thunderbird from GameArt. She'd been playing it at VideoSlots and the rep there tried to calm everyone's concerns: "I contacted the provider and they confirmed that the RTP and math is exactly the same in Demo/real mode." The debate went on for a while, pettered out briefly, and then resumed about a month later with more and more players confirming that they'd seen and recorded suspicious RTP results in the game's Play Mode. Ten pages into the debate the rep from Bitstarz jumps in to say "I can defend the fact that demo mode and real money mode have the same RTP." Not 5 hours later VS was back with a final statement on the subject: "We have been dealing with GameArt. They have confirmed to us that RTP is different on demo compared to real money. For us this is unacceptable and we have made sure GameArt has fixed this issue." Good on VideoSlots for listening to players and conducting a proper investigation. Not so good for Bitstarz and their ill-timed attempt at polishing a turd.
Rizk + Casinomeister forums = happy days!:
Early in the year Rizk ran a competition on the forums where the lucky winner would get to work alongside their Managing Director in Malta for a day. Win the chance to be Managing Director at Rizk for the Day was very popular and a raging success. The end result was that forum member ternur won and did everyone the great service of opening it up to the Casinomeister gen-pop for anyone to ask questions that ternur would take with him to the Rizk office for answering: Your Input Please – Rizk Casino answers submitted players' questions here!!. That too proved very popular and showed us all that there's a lot more common ground between players and casinos than is usually given credit. Kudos to Rizk for creating this wonderful opportunity, to ternur for sharing his good fortune and to the membership for their enthusiastic participation. Thumbs up all around!
As the Rizk threads mentioned above were in full swing NetEnt picked up on the constructive spirit and good vibe of the thing and their rep, burgstrom, kicked off their own Q&A thread: NetEnt Open Questions. Again, very popular and great while it lasted.
Mmmmm, Donuts!:
New Slot Announcement – Donuts by Big Time Gaming Started by our resident "Unofficial T&Cs Editor", dunover, this very popular thread celebrated a new slot game, Donuts. Spanning some 21 pages of excellent back and forth debate this thread was fine demonstration of the forums at their best: spirited debate amongst experienced and knowledgable players. If I was designing slots I'd be reading this for the great insights into the slot player's wants and needs.
Debating the Afterlife:
New Slot Announcement – Afterlife Inferno by Leander Another busy thread started by resident slots-man dunover, this time Afterlife Inferno by Leander Games, one of our house-favourite game developers. This one was of particular interest to Casinomeister because it was the first slot developed with input from the (unofficial) CM Slots Focus Group with heavy involvement from long-time Casinomeister grandee Simmo!. Excellent discussion of a game in the making, warts and all.
And the Audience Participation Award goes to …:
Impromptu M2M giveaways, 51 pages and counting: hard to beat The Remarkable CM Community Thread for sheer enthusiasm.
And now, for something completely different:
Here is Practical Explanation about Next Life, Purpose of Human Life, philosophical/religious facts was a little something out of the ordinary for us:
can you tell me every single detail of your `1 cheapest Minute Or your whole hour, day, week, month, year or your whole life ??
if you are not able to tell me about this life then what proof do you have that you didn't forget your past ? and that you will not forget this present life in the future ?
Not sure what the fellow was on about but "Makes potty in shoes" ended up being his by-line. Oh and he got himself banned for being an incoherent PITA who wouldn't take a hint. So much for the meaning of life, eh?
---
Complaints!
You want to complain? Just look at these shoes! – what would our forum be without complaints! Most of these were either resolved or ended up being processed and placed in our Casino Warning section.
---
Webmaster Corner
We saw a large spike in affiliates signing up in the forum (and a number of players becoming affiliates). There are plenty of good threads there. Some good threads in the Affiliate Issues section. To include a number of affiliates programs giving guidance for their UK facing partners.
---
Screenshots-O-Rama
Screenshots-O-Rama: – is one of the most popular spots in our forum: winner screenshots, worst screenshots, high roller screenshots, low roller, we've got them all. And now with the new forum software, you can search for your friends' screenshots in their user profile. Yeah!
---
This was only the tip of the iceberg called Casinomeister's forum. There are loads of threads I wasn't able to review before getting these awards out.
And if you are not a member, why not? You are missing out on a lot of interaction with some very cool people – and a few lunatics as well. You can register here.
I am grateful for such a fantastic community. Thank you everyone for making this possible.
Forum Highlights Historical Awards
Forum Highlights of 2017
Forum Highlights of 2016
Forum Highlights of 2015 – Both a crazyman's and a gambler's dream
Forum Highlights of 2014 – Both a crazyman's and a gambler's dream
Forum Highlights of 2013 – It was a wild year
Forum Highlights of 2012 – A whole bunch of stuff
Forum Highlight of 2011 – De-roguing Grand Privé, Questions on RTP, Casinos and Responsive Gambling
Forum Highlight of 2010 – A Poll that Made a Difference
Forum Highlight of 2009 – Software Provider Intervenes with Rogue Casino
Forum Highlight of 2008 – Cynthial and Swede gettin' hitched
Best Casino Representative 2018
"Problem solvers and amicable ladies and gents"
It is quite probable that one of the reasons that Trada Casino won Best Casino 2018 is because of their amazing casino rep: Conor Dargle. He is not only extremely active in the forum, he is helpful, amicable, and 100% professional. He is a casino rep that can always be depended on for doing the right thing. Congratulations, Conor – job well done.
Honorable mention goes to Daniel Hansen who is the former rep from Videoslots and the new guy at Pragmatic casino software. He is highly dedicated to our forum, its membership, and to the Casinomeister philosophy. He is doing a magnificent job. Kudos for Daniel.
Casino Representative Historical Awards
Casino Representative of 2017 Daniel from Videoslots
Casino Representative of 2016 Mark 32Red Plc
Casino Representative of 2015 Mark 32Red Plc
Casino Representative of 2014 – BETAT
Forum Member Achievement Award 2018
"Trancemonkey"
David Wright aka Trancemonkey earns this award for his unfailing effort to bring knowledge and reasoning to our forum. Having the inside knowledge of how slots actually work, he has been relentless in informing our members on how slots behave – why, how, and what. He is a proponent of reason, logic, and myth-busting, and his presence has generated one of the most informative and long lasting threads that we have ever had: The Truth About Slots.
His dedication to our forum and Casinomeister philosophy has not gone unnoticed. Thank you Trancemonkey for making Casinomeister's forum a smarter place to be.
Member Achievement Award Historical
Member Achievement 2017 – Kasino King
Member Achievement 2016 – Jetset
Most Annoying Forum Member 2018
"Those who can't or won't be anything but a serious PITA"
Each year we deal with several thousand members, most of whom are rational, well-balanced people who are courteous and comfortable in the social environment that a busy forum is. However, every now and then someone wanders in who is flat-out annoying, and at times just plain offensive. The Most Annoying Forum Member award is reserved for these members – those who can't or won't be anything but a serious PITA.
This year's winner in this category was one such individual. He originally signed on as "Itzpjx" and pretty much straight away started in on his favourite theme: "they're all rigged". This or that slot game that was rigged, then it was roulette. Not just any roulette, ALL roulette. And soon it was "Slots are rigged end off". And so on ad nauseum. Forum members tried to call him on it but he wasn't catching the drift.
You'd think someone with that much distaste for a game, or games, would find something else to do. Not this guy. Week after week it was the same moan: rigged, rigged, rigged, everything was rigged. But hey, if moaning was a crime we'd probably all have done a little time, right?
However this guy was in a whole other league: we learned that some of the female forum members were receiving private messages from him. At first he'd start out talking about gambling and games being "rigged", of course. Then he'd quickly move on to complaining about women's fertility and finally end up with him making sexual advances. Game over at that point: he was promptly banned.
Except that wasn't the end of the story. For the next several weeks Bryan and I banned this guy over and over again: he'd keep creating new accounts, often bragging about how many he had, no matter what we said or did. In the end it was a war of attrition: we just kept playing whack-a-mole on his new accounts until he'd finally had enough and disappeared into the wilds of the internet. Good-bye!.
Most Annoying Forum Member Historical Awards
Most Annoying Forum Member of 2017 -Jaminkers
Most Annoying Forum Member of 2016 – Roulettedonkey
Most Annoying Forum Member of 2015 – kevinhopf
Most Annoying Forum Member of 2014 – Johnnygotthebon, fishby5, bpb, Chillbill, hakapuku
Most Annoying Forum Member of 2013 – WWW420XE
Most Annoying Forum Member of 2012 – Lady Soitaire
Most Annoying Forum Member of 2011 – Year of the Trolls
Most Annoying Forum Member of 2010 – Group Award – Sore Losers
Most Annoying Forum Member of 2009 – JHV
Most Annoying Forum Member of 2008 – Group Award – Ass Clowns
Most Annoying Forum Member of 2007 – ThodorisK
Most Annoying Forum Member of 2006 – Thesmacker
Most Annoying Forum Member of 2005 – Bethug
Most Annoying Forum Member of 2004 – hahacasino
Fan Mail Award 2018
"your just a pussy ass bitch"

Unfortunately this year, my fan mail was at a all time low. I only have the occassional "F&%$ you!" or "you bastard" nothing as entertaining as the days of yore. So if you want some good laughs, read some of the previous year. I promise to work harder in 2019 to have something worthwhile for this section for next year's awards. My apologies.
Fan Mail Historical Awards
Fan Mail of 2017 – jemicans
Fan Mail of 2016 – the trolls
Fan Mail of 2015 cretins, morons, and twats
Fan Mail of 2014– frank.j.faber
Fan Mail of 2013– Shamrock7s
Fan Mail of 2012– boby's reply
Meltdown of 2011 – All TopGames Casinos are Down! DDos Attacks!!
In Memoriam 2018
We lost Gary Beal this year aka garythescubaguy. I – like so many others – was shocked to hear of his passing, it seemed like I had just spoken to the guy. He was a fixture at most of the affiliate conferences in the days of yore giving advice on SEO and website security. He was also posting regularly in our Webmaster section of the forum on SEO tips and how to make your site secure. He left the industry for a couple of years, but I saw him again at the SiGMA in November 2017, and he was excited about getting involved with the industry, and with Casinomeister once again. We were planning to revamp the Affiliate Webmaster section with up-to-date tips and tricks every webmaster needs to know. He was a prolific and knowledgeable writer and had a lot to say.
And now he's gone.
Our condolences to his family and loved ones. Gary was a pretty fascinating guy. He is sorely missed.