"Problem solvers and amicable ladies and gents"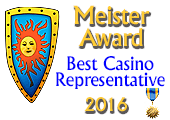 Casino reps are some of the most important groups of folks in our forum. Their presence is what makes our forum special – their involvement with the player community makes a huge difference in the i-gaming community since they are a personal conduit connecting players with the casino. The casino representatives help us solve problems, answer questions, and hopefully provide players with a great gaming experience.
There are some outstanding casino reps, but one has really shone this past year: Daniel from VideoSlots.
Daniel is a problem solver and seems to be in monitoring the forum 24/7. When the forum was down during our relaunch in December, members were looking for him on our Facebook Casinomeister fan page. He is not only taking care of player issues in a cool, calm and collective manner, he is man with the plan for VideoSlots' promotions – which are ever-going. Maintaining he presence in the top VideoSlots threads: VideoSlots Newly Accredited – which has been going on for three and a half years, but the VideoSlots presents Battle of Slots, he is always there.
Winner of Casinomeister's Manager of the year 2016 and 2017, Daniel is a valuable asset to not only VideoSlots, but to our forum at Casinomeister. Congratulations are in order for Daniel – and to VideoSlots for hiring the guy.
Casino Representative Historical Awards
Casino Representative of 2016 Mark 32Red Plc
Casino Representative of 2015 Mark 32Red Plc
Casino Representative of 2014 – BETAT