"Lying liars who lie and make threats."
And the winner is…CasinoCashPalace.com.
A thread popped up in our forum – a mixture of "have you ever heard of these guys?" to "I'm waiting to be paid." What was discovered was that this casino's license was revoked by its licensor – Curaçao AntillePhone. And if they would go to the lengths of canceling this casinos's license, well you know they've got to be bad.
Anyway, one of our members was trying to find out about his pending payment and was getting a bit frustrated – understandably so. So he posted in our forum, and at Askgamblers and CasinoListings. Well, that seemed to have lit the fire in someone's crack pipe. Here is a copy of the email this poor player received:
"I write you by this method because I work in the shadows, you have been threatening a Casino, they are fixing some issues in order to pay you.

I want to be very clear with you fucking berk, you have two choices, one it´s to wait peaceful to get paid without doing your stupid things or the second and the most stupid (as you are) is threatening them and write everywhere your bullshit, if you choose this way, we are in WAR, we have your address, and everything about you fucking piece of shit.

The choice it´s yours, thing twice, after the next stupid action from your side, no way back from our side. We are not afraid to anything fucking red neck & motherfucker.

I´ll be watching you very close!"
The email used was [email protected] which shows up here in a Google search:
"VENDO
10% DE CASINO ONLINE
$1 MILLÓN PESOS, CON LICENCIA
INTERNACIONAL.
[email protected]"
The dude is trying to sell 10% of his share of an online casino – internationally licensed – NOT: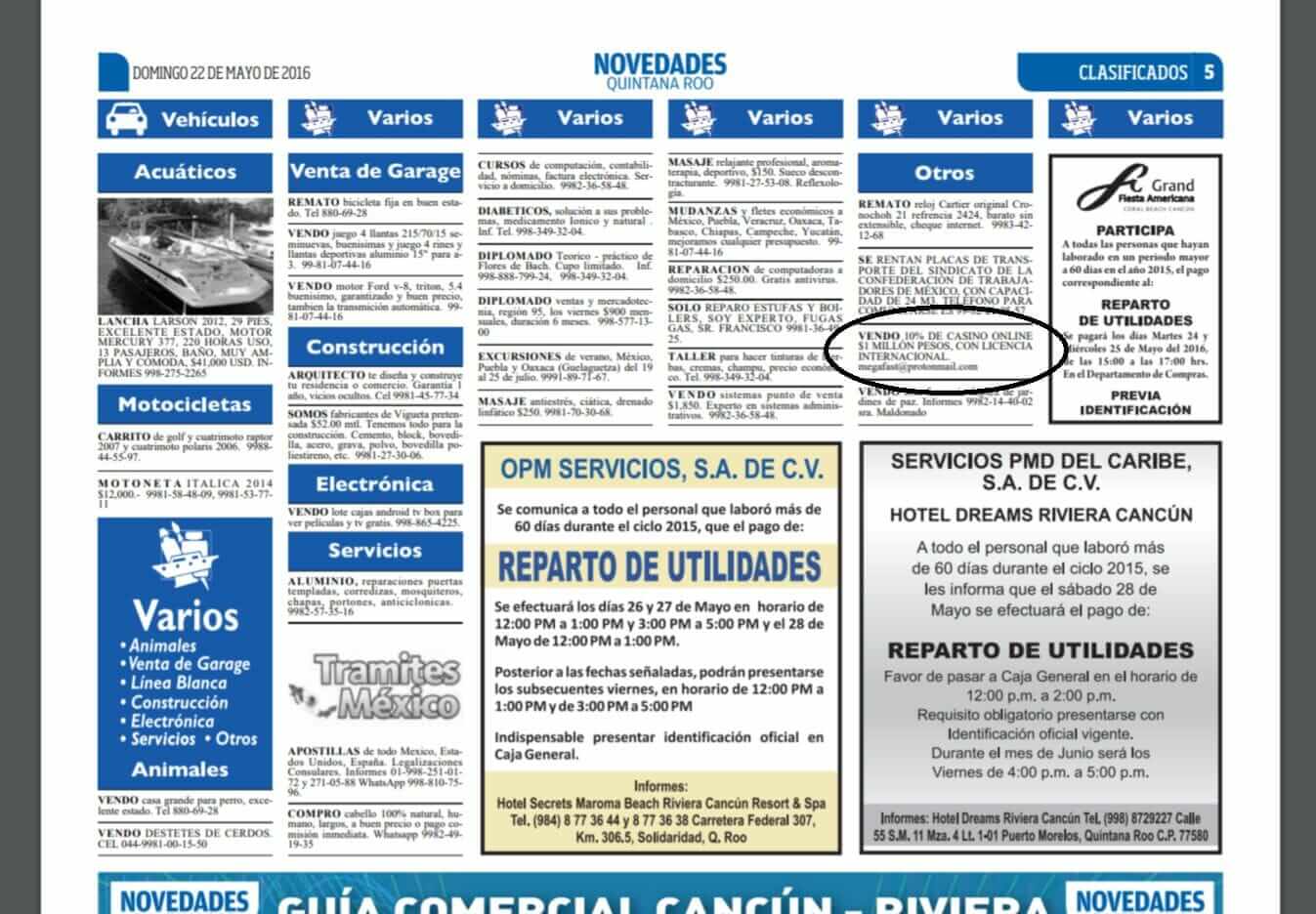 So after this player posts this, he gets more emails telling him he'll get paid after he removes his postings in the fora.
Well, no need for that. This craphole of a casino (which by the way is still unlicensed and probably has pirated software) has won the coveted "Casino Customer Service on Crack Award."
Good going!
Worst Customer Service Historical Awards
Worst Customer Service Award 2015 – Paradisewin
Worst Customer Service Award 2014 – SlotoBank Casino
Worst Customer Service Award 2013 – Dendera Casino
Worst Customer Service Award 2012 – Casino770
Worst Customer Service Award 2011 – SlotMadness
Worst Customer Service Award 2010 – Supreme Play/21Grand Casino
Worst Customer Service Award 2009 – TopGaming customer service
Worst Customer Service Award 2008 – Plumgaming.com
Worst Customer Service Award 2007 – Bingoisus.com