Well, it seemed that we almost had a lot of really rich members in our forum this year. Primeslots, who have done a number of dodgy things in the past, wanted to give their players £1 million pounds each. At least that what it seemed like.
Some spammy affiliates sent out a badly worded spam mail which included the following lines: We are happy to inform youthat you are entitled to 1000000£…open an account at primeslots.com using your email address and you'll be immediately eligible to 1000000£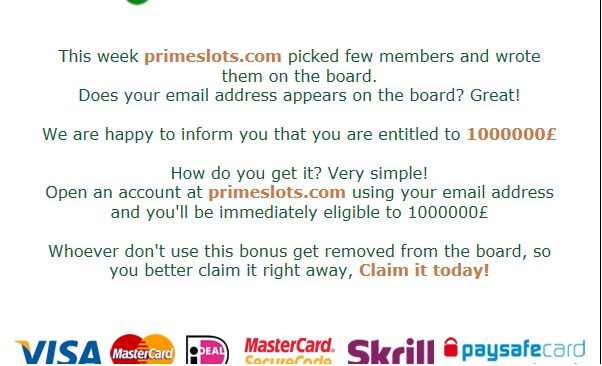 Besides being grammatically challenged, this casino promo just gave away a lot of money – theoretically. The casino representative explained it away as bad affiliates sending bad promos – which was also defined as spam by the membership. No one had "signed up" or asked for this email.
The casino rep said that he would speak with the misguided affiliates, and tell them to stop. Unfortunately, this is bad marketing oversight – warnings are clearly not enough.
Affiliates that send bogus promotions via unsolicited emails should be shut down – period. Giving warnings is an anemic way of dealing with morons who know exactly what they are doing. It's like telling a bank robber "Don't do it again, it's against the law."
For anyone with an email address – the torture never stops.
More here at Primeslots want to give me £1 million pounds.
Evil Marketing Historical Awards
Evil Marketing Award of 2014 – Incredibly manipulative spam
Evil Marketing Award of 2013 – Telephonic bonus offers
Evil Marketing Award of 2012 – Mona Casino
Evil Marketing Award of 2011 – Cashtherake
Evil Marketing Award of 2010 – 7Red Casino
Evil Marketing Award of 2009 – Gold VIP Club Casino
Evil Marketing Award of 2008 – Gold VIP Club Casino