Afterlife Inferno Slot Review

Introduction
Leander Games latest brainchild is a Slot called Afterlife Inferno, which is based on the first installment of Dante's Alighieri's famous Trilogy: The Divine Comedy. In it, the Afterlife offers three possible realms: Inferno, Purgatory and Paradise – or to give them their proper Italian names: Inferno, Purgatorio and Paradiso. Inferno is Dante's vision of Hell, which consists out of 9 concentric circles, spiraling down to  the centre, where 'Dis' resides, or as we may better know him: the Devil himself. Obviously a dark theme, with fitting musical accompaniment. Irrespective of your favorite theme and/or musical preferences, this Slot may well have a certain appeal to you anyway, at least if you care for rewarding pay-tables, variety and innovativity! Take a look at the following:
 Afterlife Inferno Slot Features
High Variance Video Slot, 20 Fixed Lines, RTP 96.5%

Inferno Slot Paylines

Max Win per Single Spin: 8,500x Stake
3-5 Bonus Symbols award Free Spins
5 Bonus Symbols in view pays 500x
3 Different Free Spin Options
Multipliers up to 15x
Sticky Wilds & Increasing Multipliers
Random 1 to 5 Wild Reels Feature with Re-Spins
3 Free Spin Options explained:
In Afterlife Inferno, hitting 3 (or more) 'Gates Of Hell' Scatter symbols, will transport you to the 'City of Dis', where you can choose one of 3 different Free Spin options – featuring Sticky Wilds, Increasing Multipliers and Random Multipliers up to 15x.
Inferno Free Spins:
This option awards you 15 Free Spins, whereby each winning spin will trigger a Random Multiplier – which has minimum of 3x and a max of 15x – to increase your win. These Free Spins can also Retrigger: 3, 4 or 5 additional Scatters will add another 15 spins, and award the triggering win amount with the active Multiplier. That could result in a nice 5 Scatter win, with a max multiplier of 15x! Making a 7.500x total bet per single spin possible.
Purgatory Free Spins:
The Purgatory also starts you off with 15 Free Spins. With each winning spin here however, you will see your Multiplier increase by one. On top of that there are Extra Free Spins to be won: 2 Scatter symbols during the Bonus award +1 Free Spin and 3 Scatter symbols award +3 Free Spins. Theoretically the Multiplier has no cap, but we will just have to see about that 'in the field', so to speak.
Paradise Free Spins:
This time you are awarded 12 Free Spins with Sticky Wilds. Any Sticky Wild Symbol that appears will either have a number on it, or an Infinity Symbol: the number you see is the amount of spins that Wild will stay locked in its place. Infinity Symbol Wilds will of course remain in their positions for the remainder of the Bonus. At any time, the number of spins displayed on a triggered Wild, can randomly increase. Unfortunately, there are no possibilities for a Retrigger or Extra Spins.
Hell Freezes Over Feature explained:
This is perhaps the most exciting Bonus Feature that this Game offers, one could say what it's all about: in a randomly triggered event, 1 to 5 Wild Reels will be added to you screen. The Reels come to a halt, and after paying you any resulting winnings, a regular WILD Symbol on screen, will expand into another full Wild Reel, which will in turn trigger a free Re-Spin, whereby any previously triggered Wild Reel(s) stay in position. This will be repeated until no more regular Wild Symbols appear on screen, or you have all 5 Reels Wild.
You can win up to 8.500x total bet per Single Spin in this Feature! And don't forget that the regular Wilds multiply any win they are in, by 2x, giving you huge potential even without having to achieve several Wild Reels.
Additional Info:
Software Provider Leander Games has developed this fantastic Slot in close collaboration with a dedicated 'Slots Focus Group', derived directly from within the Casinomeister Community: this was done in three rounds of extensive beta testing, where each round ended with lengthy feedback from each participating individual. Everything was taking into consideration, and helped deliver the currently released end product. This is to my knowledge the first time members of a forum have been involved in such a manner, and besides the fact that it's just very cool to have been part of, i also am of the firm believe that these kind of developments are the way to go: forward that is!
PayTable
Wild substitutes for all symbols except for Bonus and Scatter symbols.
All winnings on paylines including at least one Wild symbol, will be doubled.
All wins are multiplied by the stake bet on the winning payline, except for Scatter wins, which are multiplied by the total bet.
The stake bet on the winning payline is the value in total bet divided by the number of paylines
Symbols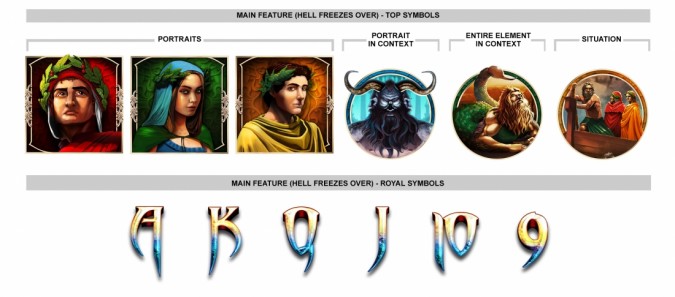 User Comments
'This is a special game as it's the first slot developed with input from the (unofficial as of yet) CM Slots Focus Group. This means that during its development several superb and respected CM members were asked to trial the test version and suggest improvements – an example being the random wild reels feature which was cumulative until some of us pointed out that this would exclude it from bonus wagering.
So this game designed by Simmo! should tick boxes with most players as we've collectively reviewed and tried it during development. Aside from that this is a superb game as you would expect from a guy with such extensive knowledge of games and the industry with a great theme and effects etc. No childish candies and cartoons here! Sit back and enjoy the introductory video and see what you think as all feedback will be gratefully received…'
'Loved testing this. The music and atmosphere are superb. A far cry from the 'gling gling gling' ELC jingles we're accustomed to these days 

…'
'This is simply a solid 20- liner that has something for everyone (ok, most), yet what it does, it does well. Again, credit to the audio design. Graphics are good if unspectacular, but convey the theme brilliantly all- round and is unlike most of the sh-…. 'rubbish' churned out by the big 3 


20- liners are becoming antiquated, but give me a good one of those any day over 243 or Megaways. The only concession I'll make is for THAT game but in general rolling reels- type games kinda blow.
A well- crafted game wins over some bug- ridden hot mess like Bonanza any day 

…'
'I've given this slot a lot of play in demo money mode and really rather like it, it'll be the next slot I feature on my channel in real money play (at a very modest 40p play or suchlike, I ain't no high roller 

 ).
It definitely needs to be in 'fast play' mode (and even then it can feel a bit slow when wins of as little as 0.2x stake generate an animation sequence), and unless I'm missing it there are no autoplay stop triggers beyond number of spins played? During a lengthier session I quite like to leave autoplay running with a modest stop trigger of maybe 25-50x stake, so that if I go to get a drink or for a pee or suchlike, I'll still get to see the win on the screen if something reasonable has been hit in my absence. (Although I do appreciate it autostops on what is deemed to be a BIG WIN, these are things I like to configure myself.)
The three different free spins modes all have their own appeal, and the Hell Freezes Over feature is great, especially as because it's a 20-liner, it can be fairly generous with how many reels it turns fully wild. (And TBH I'm finding the MEGAWAYS WARS rather tedious, it's quite nice to get back to a good old 20-liner.)
Hopefully this will be a successful slot, I think it's far more deserving of players' time and funds than nonsense like Bonanza and its evil twin Extra Chilli, and as long as people go into it with their eyes open as to its variance (i.e. don't do £1 spins on a £100 deposit!), it should deliver a solid player experience over a decently enough sized spin sample.'
Some comments taken from our Oficial Afterlife Slot Announcement thread.
Exclusive Promo Win a Break in Florence & Other Prizes!!
To celebrate the launch, Casinomeister has teamed up with 3 casinos to run a competition where you can win a 3-day break* in Dante's stunningly beautiful birthplace of Florence in Italy (or a cash prize of £500) along with a number of smaller prizes for the best screenshots posted over the course of the competition.
The competition consist of a series of "micro-competitions" which will each run for 2 or 3 days…
Winner Screenshots
17 May 2018 By Lucky Loser
"My biggest win ever!!!!!! 8316 x bet = $41,581. The new Leander slot at Slots Million tonight. Got 3 wild, then 4 wild and then 5 wild on the random feature. Couldn't believe it. What are the odds."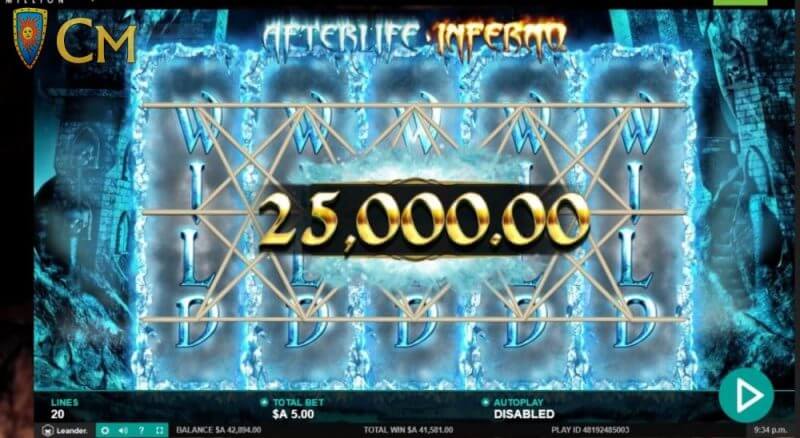 25 May 2018 By me_and_ed
"Just over 650X, played the sticky wilds bonus, ended up with a couple wild lines"